Welcome to the Chapel of the Christ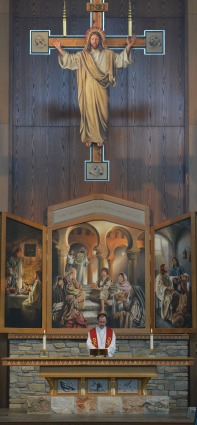 Dedicated in April 2010, the chapel was built to commemorate the 150th anniversary of WELS (Wisconsin Evangelical Lutheran Synod). The 150th anniversary committee stated that an MLC chapel would be "an outstanding celebration project, since it symbolizes our church's focus on the means of grace and its commitment to preparing workers for carrying the gospel into the world." Thousands of gifts were freely given for this chapel—for no other reason than to know and worship and proclaim Christ.
Today's campus family gathers for chapel twice daily, Monday through Friday. Professors lead morning chapels; tutors and students, as well as the campus pastor and vice president for student life, lead evening chapel. God's people gather Monday nights for Compline, a service of prayer for the end of the day. They also celebrate special services, including Holy Communion, for school openings, Reformation, and various other occasions. The chapel also hosts weddings and sacred concerts.
We invite you to come and join us at the Chapel of the Christ. Worship services and concerts are open to the public and free of charge. If you are unable to come to campus, consider joining us virtually for live or archived viewing via our MLC-TV broadcasts at mlc-wels.edu/streams. You may also take a virtual tour to learn more about the art, architecture, and sacramental focus by following the links below.
Learn more …