Contact Continuing Education/Graduate Studies
Help With Your Login/Password
Viability Deadlines
Course Viability Deadlines
Satellite Courses: 5 weeks prior to the start of the course (Need to have at least 5 enrolled at that time)
Online Courses: 3 weeks prior to the start of the course (Need to have at least 3 enrolled at that time)
Courses with insufficient enrollment by the deadline may be cancelled. 
If you know you are going to take a course, register before the viability deadline.
How to Withdraw from a Course
You may withdraw from a course without charge any time before the courses begins.
Contact us at
continuinged@mlc-wels.edu
For information about withdrawing from a course that has already begun.
Also includes information on refunds.
CLICK HERE
Paying for Courses
Pay Online
Credit Card or Debit Card (Assessed a non-refundable fee.)
E-Check (Assessed a non-refundable fee.)
____________
Pay by Check
Send check to:
Martin Luther College
ATTN: Continuing Education
1995 Luther Ct.
New Ulm, MN 56073
Include your Student ID# (found on your invoice) to ensure amount gets credited to your account.
Avoid late charges by mailing payment at least 1 week prior to the start of course.
NOTE: Our summer satellite instructors cannot accept payments. All payments must be received at the Continuing Education Office before the course begins. 
Title Funds or Congregational Payments
Steps to Take if  You Are Planning to Pay for Multiple Invoices
Individual registers for their course.
Individual immediately submits the invoice to their administrator to ensure that payment is received at MLC before the course begins.
For privacy reasons, MLC cannot submit an individual's invoice to anyone but the person who registered. 
The administrator then submits all invoices to the district or congregation to request payment.
All payments sent to MLC for multiple invoices must include the names of the individuals on the invoices that are being paid. MLC cannot process payments without knowing who the payments are for. 
Switching from Credit to Clock Hours
Requests submitted prior to the beginning of the course will receive a differential refund
Requests submitted once the course begins will not receive a refund.
All requests must be made by emailing
continuinged@mlc-wels.edu
OpenLearning@MLC Is Back
June 13 & 14, 2023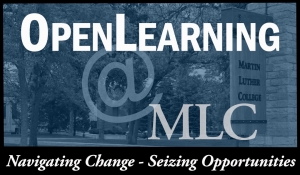 OpenLearning@MLC is an online virtual conference open to WELS/ELS called workers and hosted by the Office of Continuing Education at Martin Luther College.
How can AI transform the way you teach?

How can AI transform student assessment?

What are we going to do now that Saxon Math is going away?

How do we empower parents as family spiritual leaders?
At the 2023 OpenLearning Conference, we'll be immersed in these and many other timely questions! We'll explore tools and understandings that will help us reach all our students—to fulfill both the educational mission of our schools and the Great Commission!
Face-to-Face Courses 2023