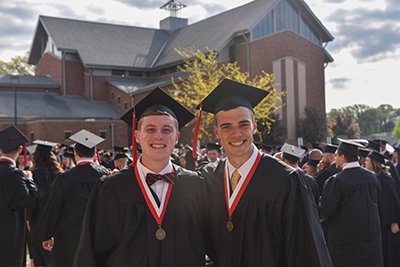 On Saturday, May 15, 170 students earned degrees marking the completion of their ministerial training at Martin Luther College. This included 32 preseminary Bachelor of Arts degrees, 110 Bachelor of Science in Education degrees (including 18 early childhood education), nine Bachelor of Science degrees, (including one staff ministry degree, six educational studies degrees and two theological studies degrees), two seminary certifications and one staff ministry certification.
In addition, 10 students received their Master of Science in Education degrees, and five students earned their Master of Science in Educational Administration degrees and one received a Master of Arts in Theological Studies.
The Commencement Service in the MLC gymnasium was conducted by presiding minister Rev. James Pope. MLC President Rich Gurgel presented the commencement sermon on the theme, "You Are Servants By and Of Boundless Grace," and Dr. Jeff Wiechman, vice president for academics, assisted with the distribution of diplomas.
The sermon text chosen by the class, Ephesians 3:7-9, states: "I became a servant of this gospel by the gift of God's grace given me through the working of his power. Although I am less than the least of all the Lord's people, this grace was given me: to preach to the Gentiles the boundless riches of Christ, and to make plain to everyone the administration of this mystery, which for ages past was kept hidden in God, who created all things."
Gurgel commended the graduates on their graduation theme. "I am so happy for the verse you chose as your class verse.  The right people are listening to the right message.  Your passage reminds you that the public ministry for which you have all studied, and into which many of you are about to be called, is a great privilege of grace to those who serve in it."
 Gurgel went on to explain why God would want the graduates to face this reality of ministry.  "He [God] wants you to grasp, as did Paul, the astounding difference between the depth of the sin of your heart and the depth of the grace in the heart of your Savior!  All of which will lead you also to marvel with Paul, as you find yourself called into public ministry, what an astounding gift of grace that is!   Though with Paul we must confess ourselves to be less than least of God's people."
That understanding, Gurgel pointed out, will clarify the importance of sharing Paul's perspective through ministry. "When we recognize that we are servants of the gospel by boundless grace to us, we learn what it means to be servants of boundless grace to others."
Gurgel assured the graduates, as they apply this grace of God's word in their classrooms and congregations, ". . . you will know why God has placed you there with them! You who are a servant by boundless grace get to be a servant of boundless grace as you amaze the hearts of those you serve by showring them that where sin abounds, there grace always abounds more.  Such is the boundless nature of the gospel of which you are a servant!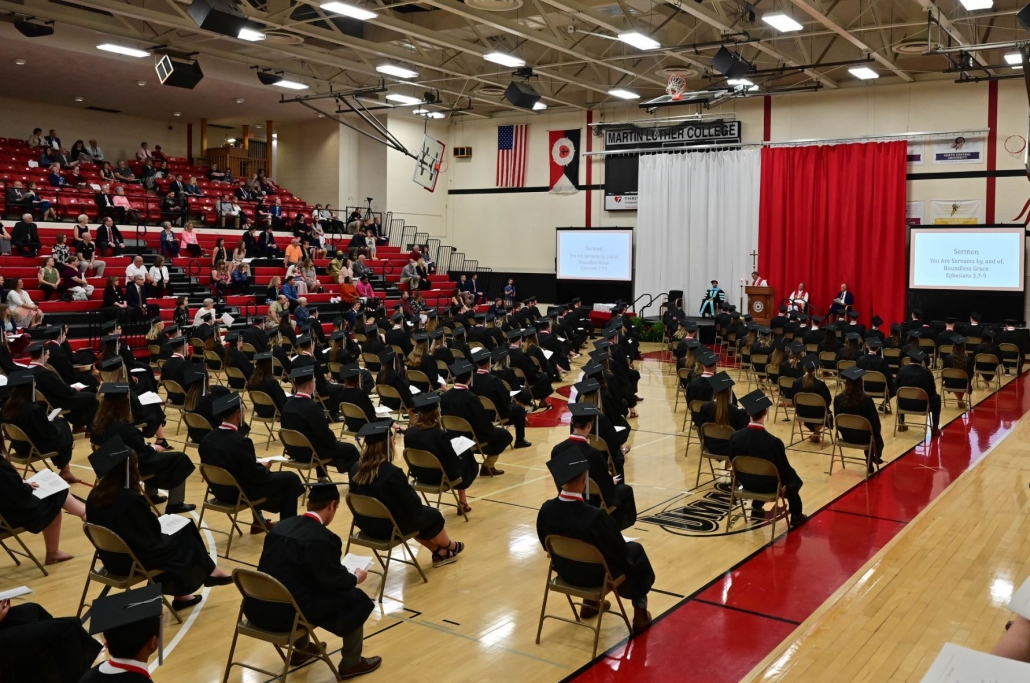 https://mlc-wels.edu/wp-content/uploads/2021/05/NPK_9220.jpg
267
400
Leah Matzke
https://mlc-wels.edu/wp-content/uploads/2015/04/mlclogo1.png
Leah Matzke
2021-05-18 08:46:19
2021-05-20 09:07:07
Commencement 2021