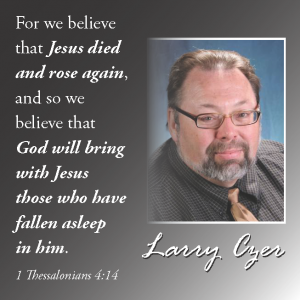 In the early morning hours of June 26, 2023, our dear friend and colleague Larry Czer received his crown of life. Larry was surrounded by his family as he passed, their grief matched by deep confidence and joy. As his wife, Ramona, said, "Heaven is Larry's home, and his Savior's waiting for him."
Larry dedicated his life to the service of his Lord and his Lord's church. A 1979 graduate of Dr. Martin Luther College, he served in four different ministry settings:
1979-1981 Principal and grade 1-8 teacher at Christ Our Redeemer LS-Bend OR
1981-1987 Principal and grade 6-8 teacher at St. John LS-Fox Lake WI
1987-1992 English and pre-algebra teacher at West LHS-Hopkins MN
1992-2023 English professor and coach at (Dr.) Martin Luther College
Larry had a deep love for literature, which he shared with countless college students through the years. He also made an impact in MLC athletics, where he served as the women's golf coach for eight years and the women's basketball coach for seven years. One outstanding highlight occurred in the 2011-12 season when his basketball team had the most successful season in MLC program history, finishing 12-2 in the UMAC and earning an NCAA tournament berth.
Whether Larry was filling the role of teacher, coach, husband, father, grandfather, or friend, his faith in his Savior was always evident.
Please continue to pray for Ramona, their children, their grandchildren, and all their extended family. With them, we find joy in the knowledge of the Resurrection—of Jesus and of all who die in the faith.
As Paul told the Thessalonians: "Brothers and sisters, we do not want you to be uninformed about those who sleep in death, so that you do not grieve like the rest of mankind, who have no hope. For we believe that Jesus died and rose again, and so we believe that God will bring with Jesus those who have fallen asleep in him." (1 Thessalonians 4:13-14)
The funeral is planned for Monday, July 17, at 4:00 pm in the MLC Chapel of the Christ. Visitation will begin at 1:00 pm.