My name is Chad White, and I serve as a staff minister at Holy Word Lutheran Church in Austin, Texas. I have been serving in this call since April of 2002. Wow! It's hard to believe that it's been over 14 years! God has blessed me with a wonderful, very supportive wife and ministry partner of 21 years, Cindy. He has also given me my three beautiful children, Emma (17), Bryant (15), and Danni (12).
How did I become a staff minister? Good question! I am what people often call a "second career" called worker. In other words, I started my career going to college to be an electrical engineer at UW-Madison, and then working for IBM and Motorola for several years before God redirected me into life as a staff minister. While working at Motorola here in Austin back in the late 1990s, I served as secretary to our church council and then as an elder while also attending various Bible studies. As an elder I got to see and work with people on a more intimate basis, helping them in their walk with the Lord. Through these experiences, spending more time in the Bible, and the encouragement and mentorship of Pastor Don Patterson, God's grace changed my heart and led me to consider the possibility of full-time ministry. Over the next couple of years I continued to speak to Pastor Patterson, my wife, church leaders, and friends about being a called worker. Then, in the spring of 2002, God provided a unique opportunity for me to leave my job as an engineer and work full-time at Holy Word as a staff minister. It was a major change in my life and the life of my family but one that I never regret and something I thank God for regularly.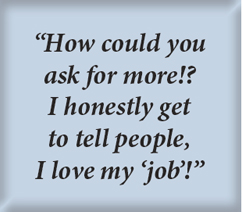 Over the next 10 years, I had the wonderful privilege of serving Jesus full-time in my church while also taking classes towards my synod certification in staff ministry. I took on-line classes and also traveled to MLC almost every summer for on-campus classes. I can't thank God or my church enough for providing that education for me. It opened new windows for me into the world of called ministry. I met some great professors and was able to not only learn from them in class but also spend time together with them in social settings outside of class. Their encouragement to me was invaluable. I also met other incredible, gifted people seeking full-time ministry. Lifetime friendships were formed with those people whom I still turn to today for guidance, encouragement, and comfort as we do ministry together, but in separate places, sometimes across the globe. Most importantly, my education prepared me to serve God's people in the ways I needed. I was much more confident in teaching the Bible after my Bible and doctrine courses. I can also remember going into ministry situations after taking my professional classes (i.e., youth and family ministry, caring and counseling) and being able to directly apply what I had learned. It was awesome!
What do I do as a staff minister? Well, that's a good question too, and the answer to that question for every staff minister can be different, depending on the congregation and setting. Here at Holy Word, God has called me to serve in many different ministries, and those ministries have changed in the years since I started. Originally, I was largely involved with outreach to the community, like following up with church visitors, leading faith-in-action teams, and organizing for evangelism events, including a large outdoor Easter sunrise service. As time went by, I also got involved with family ministry (premarriage courses, marriage counseling, parenting classes/ counseling) and youth ministry (the teen group at our church, mission trips, district teen activities, youth Bible camps). My call has also included visiting shut-ins and people in the hospital, prison ministry, teaching Bible studies, leading and serving on assimilation teams (we call them "connection" teams here at Holy Word J), presiding in worship services, various administrative duties, and even preaching occasionally when needed and with guidance from the pastoral staff.
What would I say are some of the highlights of being a staff minister? For one, I feel like I have the dream job. I really do! I get to do something I love, serve Jesus full-time. I get to work with others who love Jesus and want to serve him too in a grace-centered environment. And on top of it, God has graciously allowed me to make a living doing it. How could you ask for more!? I honestly get to tell people, "I love my 'job'!" Second, I love working with people and helping them grow as disciples of Christ. I believe there is no greater experience than to share the truths of God's Word with people and then sit back and watch God work. Sometimes it's not always in the way we think or in the timing we desire, but it's always what's best. That gives a lot of peace and contentment in my work. And there's no greater good that you can do for someone than to help them grow closer in knowing, trusting, and serving their Savior. A cool side benefit is that while ministering to others you often get ministered to in return, equally or even more. Finally, I would say it's a tremendous joy to work with other Christians every day. I am blessed so much more than I deserve with a great staff at Holy Word, an incredibly gifted and supportive wife who is also basically a full-time called worker, and many faithful, Christ-centered lay leaders. To be able to work with them every day is such a refreshing change from much of my experience in my secular job.
To someone who is considering full-time ministry, whether you are young and still in school, or are already deep into a secular career, I would say give it a fighting chance. If you're young, full-time ministry may seem like a lot of schooling, work, and stress for little pay. If you're older with a family and career, full-time ministry might seem like too big of a change. Whatever your hesitations, give full-time ministry a fighting chance. Dig deep into God's Word. Consider the amazing sacrifice and gift that Jesus gave to you and ask how you might best serve him with your life. Consider God's promises that he can overcome all challenges and obstacles. Consider God's promises that he will provide for all your needs as you seek first his kingdom and his righteousness. Jesus gave all of us the great commission, "Go and make disciples . . . " For me, the best way to fulfill that commission was to become a full-time called worker. I love it! God has blessed me in SO many ways through it!
https://mlc-wels.edu/wp-content/uploads/2015/04/mlclogo1.png
0
0
Leah Matzke
https://mlc-wels.edu/wp-content/uploads/2015/04/mlclogo1.png
Leah Matzke
2016-07-13 10:34:06
2016-07-13 10:34:06
Chad White: "I love my 'job'!"