Picture a small congregation in the suburbs of Seattle. There is one pastor, three teachers for Pre-K through grade 8, and a layman as our youth leader. This is where I grew up, and the youth leader was my dad. I loved being at church and youth group, and I loved the relationships I had with the people there. They were family. After graduating high school I spent a year at public university and then took a year off, all the while getting more involved at church – leading youth group, doing liturgy, and organizing fellowship activities.
One evening I told a friend that I'd love to just do that all the time, but that I didn't really want to preach or be an LES teacher. He told me about staff ministry. This led me to MLC and eventually to Call Day, when I was assigned to one of the largest churches in the synod.
It certainly was a culture shock to go from what I expected ministry to look like, based on my small church upbringing, to what my ministry would actually be like. I was called to be minister of family and youth, with hundreds of families and more youth than the total membership of the congregation I came from. Needless to say, the Lord was challenging me.
It's been ten years, and I am still blessed to serve at St. Paul's.
As family minister I am responsible for all the programs that assist our families in raising disciples of Jesus. This includes all of our children's ministries, and I'm thankful to have a group of volunteers who serve as our children's ministry team to help coordinate Sunday school, Wednesday school, Christmas and Easter for Kids, and VBS. It also includes youth activities, with a couple youth nights each month, retreats, summer mission trips, and quite a lot of one-to-one ministry to teens – texting, talking, counseling, or just going out for coffee, all for the sake of being a Christian friend and mentor to them.
Equipping parents to have strong marriages and lead their families spiritually is the most important part of family ministry. For this reason, in 2013 I achieved my master's degree in family life education. This helped me develop skills in pre-marriage education, marriage counseling and enrichment, parenting, and financial management. I provide a variety of opportunities for couples and parents to plug into classes, workshops, and counseling to help them grow in these areas.
Like most called workers, my ministry isn't limited to the things that fall under my title. I teach confirmation class, visit shut-ins and the hospitalized, lead Bible classes, organize special events, and serve as advisor to various committees, boards, and the council. A few years ago I took on all of the technology management for our church building, including our web and social media presence, an ever-expanding opportunity for us to reach people with the gospel. Our worship space includes a projection screen, a sound system that can handle a full praise band, cameras for recording and streaming, and an assisted listening system. It takes a full team to manage all of these elements, along with an advisory committee to oversee everything, and I work with them to establish priorities and set the budget.
There is always more ministry to be done than I can find the time for, and this is why it's a blessing to work on a team. I serve alongside three pastors, another staff minister who serves as our church administrator, a full-time office secretary, a full-time custodian, a part-time bookkeeper, and a part-time cemetery manager. We have dozens of volunteers in our building each week, helping with various aspects of the weekly ministry of the congregation. I love sitting down with couples for pre-marriage sessions, getting to know them and helping them see how their marriage can be a picture of Christ and the church. Even marriage counseling, which is so often a difficult and heartbreaking process, is something I really enjoy, because I have seen how the gospel can reunite couples who thought all hope was gone. I have hopes of developing an area marriage workshop in the next year or two.
I've often said that my favorite thing to do in my ministry is mission trips. We take our teens to mission congregations throughout the US and Canada, and provide manpower for canvassing, VBS, and sports camps in situations where the congregation has lots of opportunity but not enough people to make the most of it. We're working on the next step, which will be to take teens to a mission in Costa Maya, Mexico, to teach ESL and share God's Word in an area that is hungry for the gospel. As I spend time with teens on these trips, I see the power of God's Word at work. Sometimes the work our teens do bears immediate fruit, and we see someone come to understand God's love for the first time. Often, we are planting seeds. But I see the teens themselves changed by their experiences, matured and built up to be more confident in sharing their faith with others. Many are inspired through these experiences to begin training for the ministry. Even when they don't, they come away more equipped to serve God with their lives. It's a joy for me to be a part of that maturing process for them.
I left my small home church in Washington State to become a staff minister in hopes that I would get to spend all my time at church, doing youth work and teaching God's Word. I certainly get to spend a lot of time at church, and I get to do so much more than I bargained for. I'm amazed, humbled, and thankful that this is the life God has given to me.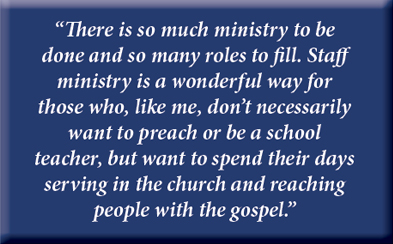 https://mlc-wels.edu/wp-content/uploads/2015/04/mlclogo1.png
0
0
Leah Matzke
https://mlc-wels.edu/wp-content/uploads/2015/04/mlclogo1.png
Leah Matzke
2016-07-13 08:52:03
2016-07-13 08:52:03
Staff Minister: Brandon Steenbock