"What do you want to be when you grow up?"
I remember the very first time that someone asked, "What do you want to be when you grow up?" As a tiny child, I confidently answered, "I want to be a pastor." I have always wanted to be a called worker. However, the kind of ministry that I wanted to be involved in shifted dramatically. I wavered from pastor to teacher and back again. By the time I was in high school, I discovered another option, staff minister. I was exposed to staff ministry at a summer camp in Wautoma, Wisconsin. I had spent my whole life attending Camp Phillip, and I loved it. When I learned that some of the year-round workers were staff ministers, I knew exactly what I wanted to do.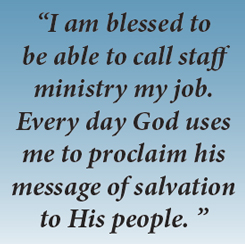 I am currently serving as a staff minister at Grace Lutheran Church in Oshkosh, Wisconsin. It is impossible to talk about Grace Lutheran Church without including its school. The church and school have a rich history, dating back to 1882. I was called to serve the homebound members of Grace, to minister to the youth of the congregation, and to coordinate fellowship opportunities for the congregation. I work alongside Pastor Jeffrey Duquaine, Pastor Chadwick Graham, and Mr. David Fulton as a part of Grace Lutheran's senior leadership team. My ministry is always changing to fit the needs of the congregation and school.
"I was baptized, confirmed, and married at Grace." It still surprises me how often I hear this statement. Some members of Grace wear this as a badge of pride; for others the only way to find out is by looking at old church records. God's children are one half of what makes being a staff minister so special.
As I drive through the city of Oshkosh I am frequently reminded of saints past and present. A joy in my ministry is visiting homebound members. A portion of these visits is certainly social; I hear many different stories, stories about the history of the congregation or what it was like to work at the local dump. But the driving factor behind all of these visits is means of grace ministry. It is refreshing to visit Christian brothers and sisters who yearn for the gospel. It is a humbling experience to hear such gratitude for such a simple service.
The congregation's dedication to Christian education has shaped the way in which my talents are used on a daily basis. Depending on the time of year, I spend 2-10 hours a week engaging with the students who attend Grace Lutheran School. These interactions range from catechism class to the playing field and many places in between. Coaching is one small example of the ministry surprises that I have experienced. I had no idea that I would be coaching soccer and basketball, but for the past four years that's exactly what I've done. Coaching is a unique opportunity to help young athletes apply the Word of God.
C.S. Lewis wrote, "Is any pleasure on earth as great as a circle of Christian friends by a fire?" At Grace, I would substitute the word fire with meal, maybe even potluck. Lenten meals bring together Christians from all age groups; the bus arrives from WLA, the disabled taxi service pulls up to church, and adults scramble to make it to church from their jobs. Sandwiched between church services is the midweek meal. The cafeteria is overflowing with people from every generation. Most evenings during Lent, I leave church with my face hurting from smiling so much.
When I am asked today, "How do you like your job?", I have the same confidence that I had when I was asked, "What do you want to be when you grow up?" I am blessed to be able to call staff ministry my job. Every day God uses me to proclaim his message of salvation to his people. This is the other half of what makes staff ministry so great. I am equipped with the powerful and effective Word of God.
On a given day, I may have the opportunity to proclaim Christ's love and forgiveness to a 10-year-old who is crying under a coat rack because she feels overwhelmed with guilt and then a few hours later to share the Lord's Supper with a 90-year-old lady who desires nothing more than to be in heaven with her Lord.
Roles & Responsibilities
Minister to the homebound

Visit each homebound member once a month

Youth ministry

Teach a weekly Bible study
Provide a monthly fellowship activity (open gym, game night, movie night)
Provide youth with an opportunity to go to a youth rally each year
Path to Victory basketball camp

Fellowship

Church picnic
Lenten meals
Easter breakfast
Thanksgiving meal
Brewer game
Adult volleyball league

Member ministry

Teach Bible classes
Monthly devotions for church organizations

School ministry

Grade 5-6 confirmation
Coach soccer
Coach basketball
https://mlc-wels.edu/wp-content/uploads/2015/04/mlclogo1.png
0
0
Leah Matzke
https://mlc-wels.edu/wp-content/uploads/2015/04/mlclogo1.png
Leah Matzke
2016-07-13 09:02:04
2016-07-13 09:02:04
Staff Minister: Matthew Werner