Coordinator of Music Ministry & Elementary Education/Fellowship
Sometimes you think you know where you're supposed to be, and find out that you're wrong. Sometimes you don't know where you're supposed to be until you get there.
I remember sitting around the island in the church basement kitchen when I was in 8th or 9th grade, at a youth group Bible study. (Why we were in the kitchen, I have no idea.) One question asked about our personal life goals. I answered immediately, "I want to do post-graduate work in psychology." My friends – and our leader – looked at me with reactions ranging from "What?" to "You're crazy." Truth be told, I didn't really know what "post-graduate work" meant, but I knew it was academic and impressive, so I wanted to do it.
Fast-forward a few years. The fall of 1999 saw me enrolled at Wisconsin Lutheran College aimed directly at a bachelor's degree in psychology, with minors in theology and communication. My ambitions had been clarified; I didn't want to do research so much as be a Christian psychologist. Fast-forward another two years. Okay, maybe not a psychologist with a doctorate, but a counselor with a master's degree. I loved college academics, but was reaching capacity.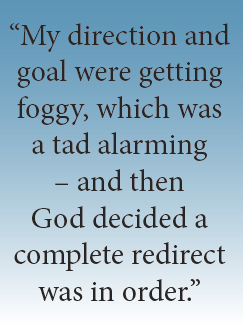 But there was more afoot than just ambivalence toward "more school." I was wrestling with the intersection of psychology and Christianity altogether. The theories, ideas, and practices of modern secular psychology fascinated me, but I could not seem to reconcile many of them with God's unbendable truths about himself, human nature, sin, and faith, as revealed in his Word. My direction and goal were getting foggy, which was a tad alarming – and then God decided a complete redirect was in order.
Over Christmas break of my senior year, in January 2003, I received a divine call from St. Andrew Lutheran Church in Middleton, Wisconsin, to serve as their staff minister for worship. Their district president had approved adding my name to their call list based on my significant involvement with worship at WLC through the campus ministry office.
I'd been involved in worship music to one degree or another since about second grade, and I had a vague notion of what a staff minister was, as a friend's church had one – but could I do that? I didn't go to Martin Luther College, and I'm female. Turns out, yes, I could do that! The leadership at St. Andrew had done due diligence, and my role was intentionally and properly placed under the authority and supervision of the pastor. St. Andrew would also provide funding for me to pursue staff ministry certification at MLC. With those questions answered, my path was clear: that was where I was supposed to be, in full-time ministry. What a gift from God!
One of the distinct advantages of staff ministry for a congregation is having a staff person focused on one specific area of ministry. As staff minister for worship, I coordinated, supervised, and directed all aspects of the worship ministry: music, primarily; but also hospitality (ushers, greeters, and nursery); visual arts; altar care; and audio-visual tech. I collaborated with our pastor on unique liturgies, music choices, and questions of worship philosophy and style. We maintained a second worship site for a few years. I mentored kid and teen volunteers, maintained our music library and copyright compliance, assisted the worship elder with budgeting, and kept track of things like advent candles, pew pencils, and that one black cloth to drape over the cross on Good Friday.
Nine years later, in 2012, God sent me another staff ministry call, to Cross of Christ Lutheran Church in Boise, Idaho, where I currently serve. Music ministry again, yes, but this time 50/50 with kids' ministry. And again I asked the question, "Can I do that?" Not "be a staff minister" this time, but . . . kids' ministry? I had a few sessions as a VBS teacher under my belt, but that was it. I was unsure if I had the skills and temperament for it. (I like things to be orderly, and kids are not usually orderly.) I knew I didn't have the training. I had no educational background, and I hadn't even taken the youth and family ministry certification course yet! But again God graciously made the path clear: that was where I was supposed to be, stretching my comfort zone and learning new skills in order to further his kingdom.
My official title at Cross of Christ is Coordinator of Music Ministry and Elementary Education/Fellowship. I assist the pastors in expanding our musical horizons through songs from various sources and styles, accompany worship on piano and organ, direct the adult choir, and involve and mentor musicians of all ages. I administrate Sunday school, which is our main youth education program, by recruiting, training, and supporting staff under the oversight and guidance of the pastors; encouraging family participation; and leading the kids in music. I developed and now maintain a program of monthly fun and faith-related activities for Kindergarten-grade 2 and grade 3-5, which are interspersed with family activities throughout the year and larger events like Christmas for Kids, Easter for Kids, and vacation Bible school. And now, despite being single, I have nearly 80 kids I love dearly, with whom I thoroughly enjoy interacting, no matter how disorderly they are. Apparently I can do this!
Sometimes you think you know where you're supposed to be, and find out that you're wrong. Is that not the essence of life with God? So often I lean on my own understanding and end up going confidently in the wrong direction – and then God graciously gets my attention, forgives me, and puts me back on track.
Sometimes you don't know where you're supposed to be until you get there. Staff ministry was not on my radar until God put it there. Neither was kids' ministry. Not all of life's decisions and directions are as clearly marked as mine were; some of us just need things to be obvious! But I thank God almost daily for where he has put me, past and present, because it is always right where I am supposed to be.