"Here am I, send me!" After graduating from Shoreland Lutheran High School in 1980, I chose to attend Dr. Martin Luther College to become a teacher in our WELS schools. I was ready to serve and become a teacher, sharing God's Word with children. I made it through three years at DMLC and proceeded in another direction. I dabbled in the computer world and then became a letter carrier with the US Postal Service. Tugging at the back of my mind, however, was this feeling of wanting to serve in the ministry.
During my time in secular work, I was active in our church's ministry, serving on different boards, leading youth groups and teaching Sunday school. While my family and I were at St. Mark's in Green Bay, Wisconsin, our congregation, led by Pastor John Parlow, called a staff minister to serve. Mike Pfeifer was called to serve alongside Pastor Parlow and the lay volunteers. It was an eye-opening experience for me. This seemed like a new ministry position that I might like to take on. It would mean something different almost every day, and you wouldn't be locked into a classroom structure. Pastor Parlow and Staff Minister Pfeifer encouraged me to take on the challenge of becoming a staff minister.
My wife and I talked about how we would make this work. Our three young children at the time would all be in school full-time in the fall of '98. My wife was ready to re-enter the classroom as a teacher and went to MLC for recertification classes. I made inquiries to MLC to see what it would take for me to become a staff minister. It had been 15 years or so since I had been at DMLC, and some of the classes would count towards my degree. I have to tell you, the next few paragraphs led me to totally trust God and his words from Jeremiah 29:11, "For I know the plans I have for you"—this is the Lord's declaration—"plans for your welfare, not for disaster, to give you a future and a hope."
While my wife was at MLC in July, the principal of Trinity- Belle Plaine, Minnesota, resigned. Trinity leaders asked her if they could put her on a call list, because they knew I wanted to head back to school. We talked about the opportunity and decided to trust in God and see what happens. The next Sunday she received the one-year call to serve as the grade 7-8 teacher. We had to let them know quickly so they could make plans. In a matter of weeks, we decided to take the plunge and put our home on the market, move the family to Minnesota, put in for a transfer with the post office, and sign up for classes at MLC.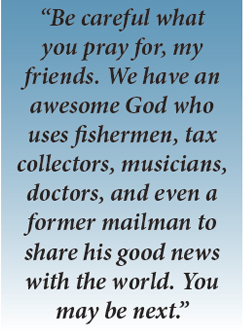 By August 8, Cathy and the kids were in Belle Plaine and I was in Green Bay awaiting a transfer. We weren't ready for me to go full-time as a student, but MLC had night classes and they were the ones I needed. I was able to transfer to Shakopee, Minnesota, and take the night classes. The classes went well and the year was winding down. Cathy received a call to teach at St Paul-Arlington, Minnesota, just up the road. She accepted and I became a full-time college student in the fall. It was exciting being in the classroom again and being the "old guy" in class. In 2001, I was assigned to Cape Coral, Florida, for my internship year in staff ministry. The family and I moved to Florida, and Cathy was called to be a preschool teacher at Abiding Love. God's hand was once again leading us and providing. In May of 2002, we went up to MLC for Call Day and graduation for placement. I was assigned to Deer Valley- Phoenix, AZ. I have served here since my assignment. We were able to finish up in Florida in June and drove across I-10 to Phoenix.
I was called as the youth and family minister for Deer Valley. My duties include Sunday school (Kids for Christ), YES Group (Youth Excited to Serve-teens), Junior Youth Group (grades 3-5), evangelism, technology, and other duties. I love serving God's people in the many hats that I wear. Over the years, the role has morphed into different aspects of ministry, but that is what I love about staff ministry. We've been trained in several aspects of ministry, and while we may not use them all at the same time, eventually God will use us in different roles.
Staff ministry allows the congregation to mold their staff to meet the needs of the congregation. There are music ministers, nurses, administration ministers, outreach, youth and family, college campus, senior ministry with nursing homes, and even prison ministry. Sharing the gospel in any one of these formats is exciting and rewarding.
As the need for pastors increases in our church body and the availability declines, I would hope we could see the excellent use of staff ministers in ministry. One question to ask when evaluating what a congregation needs: Do we need someone to preach, or do we need someone to do ministry? (This is in reference to calling a second pastor.)
I'd like to encourage all of you who are on the fence about serving in the public ministry. Talk to your pastor, spouses, fellow Christian brothers and sisters and ask them if they could see you in the ministry. Evaluate your gifts and pray. Be careful what you pray for, my friends. We have an awesome God who uses fishermen, tax collectors, musicians, doctors, and even a former mailman to share his good news with the world. You may be next.
https://mlc-wels.edu/wp-content/uploads/2015/04/mlclogo1.png
0
0
Leah Matzke
https://mlc-wels.edu/wp-content/uploads/2015/04/mlclogo1.png
Leah Matzke
2016-07-13 10:18:02
2016-07-13 10:18:02
Staff Minister: Mike Mundstock