By Eleanor (Hookstead) Mutterer, DMLC '45 (HS) and '48 (College)
I was only thirteen years old when I began my seven years at Dr Martin Luther College.  The Chicago Northwestern train left at twelve am from Janesville, WI.  It split at Wyeville; "my" car went west; the others went north.  I was glad at Wonewoc and LaCrosse because other DMLC students boarded there.  It was still a long ride to New Ulm.  We'd arrive at 1:15 pm.  Our trunks or suitcases were picked up later with the college truck.  We walked from the train station up the hill to our dorms.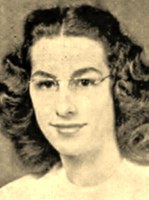 I lived on the third floor (really the attic) of Hillcrest Hall.  Third floor was for the high school students; second floor was for the collegiates.  There were double beds with a few single beds in each room.  Large rooms held four or five girls; smaller rooms held three.  Our closet was under the sloped roof; long, dark, and only walkable a few feet.  One dresser with four or five drawers served all three of us.  Our rooms and beds were assigned.  Seldom were we allowed to change, except at the beginning of a new school year.  All wash bowls, bathtubs (2) and toilet facilities were on the second floor.  One older girl was assigned to be the overseer so that all beds were made and the rooms ready for inspection by 7:45 am.  All "janitor" work was assigned to girls each week.  We were glad when we had a week of no duties.
Dress code was an unwritten rule.  No white socks to school; only "silk" stockings.  If you were well-to-do you might have silk; most of us had rayon or cotton.  Special care was given to whatever you had, because it was wartime!  We went to Annex (Old Main) to eat each meal.  It could be a cold winter walk, even twenty inches of snow if the boys hadn't shoveled before breakfast at 7 am.  Breakfast was mandatory unless we were sick.  Girls were in one dining hall, and boys in the other, closer to their dorm.  Two or three matrons sat at the table in front of us girls.  They were to see that we were well-mannered at our assigned tables.  Assignments were changed a couple of times in the school year.  It was always a highlight to sing "Sie leben hoch" for someone's birthday.
Tables were set up by the "kitchies".  But the food was gotten from the serving counter by someone from the table.  This duty was rotated.  Sometimes we could get some seconds.  All of us had given our ration cards to the kitchen.  Often we had a white colored gruel with black peppercorns floating on it.  Edible it was, but not tasty.  We thought "Shipwreck" was great, a sort of casserole of leftovers.  All meals were begun and closed with prayer.  Dishes were stacked at the end of the tables and after prayer were carried back to the counter again.  Then it was to the library, music hall, or your room.  Music lessons and practice periods were interspersed in our weekly schedule.
School was a joy for me.  First the faculty and all students gathered for chapel at 7:45 am.  The presidents of the school conducted these services.  Third "normals" played on the big organ A.  We had fifty-five minute classes.  Then with a quick change of rooms the morning went fast.  Two classes were held in the afternoon with band or chorus after that.
We'd have a little "free time" before supper.  (Dinner was always at noon.)  After supper, at 7 pm girls gathered around tables on the first floor of our dorm.  We were assigned a place at the table for our study hall area.  The chapel at seven was conducted by our matron or a third normal.  It was all business then for two hours, unless the silence was broken with a pencil or a pen falling to the floor.  Someone might fall asleep, or even fall off the chair.  By nine pm it was hoped all assignments were complete for the next day.
Now one could relax or have a snack.  Or you could buy candy or ice cream from the "shaggers".  These were guys from the boys' dorm canteen.
Lights were to be our by 10:30 pm.  Maybe you could study by the hall light, and hope the matron wouldn't find you.  A radio program played very softly might not be detected.  To alarm all, a pail would go tumbling down the third floor steps after 10:30 once or twice a year.  But to the matron's consternation, all third floor girls were sound asleep!
Twice a year each class could have a picnic in the park of their choice.  Class officers, previously elected were in charge.  Games, food, and fellowship entertained us, girls and boys!  There were strict rules; our dorm was locked at 10:30.  Late comers were campused for two weeks.  The only trip downtown was to church!  St. Paul's was the only Synodical Conference church.  We walked down and back up the hill.  Slacks were permitted under a dress when it was very cold.  But they were to be removed downstairs at church before we entered the church proper for worship.  Hats were to be worn in church.  Sunday morning breakfasts had a little more variety.  The boys had a saying: "Rolls and Ristow!"  We had to walk down to register for communion.  That was at the Hinnenthal parsonage across from the church.
Young Christian couples began their life-long lives at DMLC.  Teachers could marry at the end of their three college years.  The girls marrying preachers had a long wait!  Seniors in high school who had their eye on an "intended" might have to wait seven years.  There was no marriage possibility before Sem graduation.  But what a blessing were all the rules and regulations.  Seven focused years made it possible to graduate without debt or family responsibility.
"To God be the glory; great things He has done!" – CW 399:1