By Dr. Wayne Wagner DMLC '72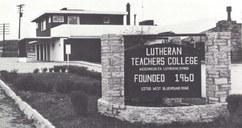 In 1960 WELS opened Milwaukee Lutheran Teachers College, a two-year college that shared facilities with Wisconsin Lutheran High School.  The college was closed in 1970 because "the need for teachers [in the WELS] is not as great as was projected" when the college was begun (Wisconsin Synod Herald, September 1969). The college was renamed Wisconsin Lutheran College for part of its existence, but it is not to be confused with the current WLC, a WELS-affiliated liberal arts college that opened in 1973.
About 650 persons graduated from the two-year program at MLTC/WLC over its short life, with over 90% of them continuing their training at DMLC. Many of the professors also moved to New Ulm in 1970, having been called to the DMLC faculty. Several former students or faculty currently teach at MLC: Professor Earl Heidtke, Dr. Kermit Moldenhauer, Professor Joyce Diels, Professor Emeritus Joyce Schubkegel, and myself.
In the 1970 Slate, the final yearbook of the college, President Robert Voss wrote: "WLC, we shall miss you, but we shall never forget you. May your spirit never die." In the hearts of many who attended or taught there, his hope has come true. How many of these do you remember?
A motel for a dormitory
A dining hall that had an earlier life as a supper club (with a huge bar and cozy red booths in a cocktail lounge, but no cocktails)
"Chicken Little"
The White Tornado – a very special school bus running on the private Bluemound Road route
Rides to church from members of Christ the Lord-Brookfield and St. John-Wauwatosa
Getting called to the dean's office after supper
Housemother Mrs. Schnell and her little black doctor bag
Tutoring in Milwaukee area schools
Fireside chats at profs' homes
Choir, Pep Band, Children's Theater
Cheering on the Spartans
Exordium (school paper) and Slate (yearbook)
Relaxing after classes in the dormitory swimming pool, or cleaning it on Arbor Day
Trips to Kenosha (Will it be Shakey's Pizza or the Brat Stop?)
Taking the city bus to the Milwaukee Public Library to do term paper research
Signing in and out at the dormitory office whenever you left campus, except for class
Curfews
Writing a letter to President Richard Nixon and receiving a reply
And maybe sometime you can ask me about hiding a pet mouse in a dorm room—but only if you tell what you were hiding in your room.
Do you have an MLTC story? Please feel free to share it with Dr. Wayne Wagner (wagnerwl@mlc-wels.edu) or Alumni Director Steve Balza (alumni@mlc-wels.edu).