1869-1870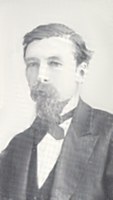 Lewis O. Thompson served as the second president of Northwestern College, which was still called Northwestern University and still struggling to find its true purpose as well as its financial footing.
Considered a very capable teacher, Thompson joined the faculty in 1866 and remained until 1871, with his short presidency running from 1869 to 1870. During his year as president, the board redirected the purpose of the college from an English-speaking university, the vision of previous president, Adam Martin, toward a German-speaking ministerial education school, training German-speaking pastors for German-speaking congregations. Thompson also published the first college catalogs, 500 in English and 500 in German.
After leaving in 1871, he went on to serve as pastor in Cottage Grove, Wisconsin, and Peoria, Illinois.
The Northwestern College Alumni Society Lewis O. Thompson Grant for Worship and Music is awarded annually to a preseminary student based upon his academic achievement, campus citizenship and participation, potential for pastoral ministry, and excellence in worship leadership and music. Northwestern College served as the WELS preseminary college from 1865 to 1995, when it amalgamated with Dr. Martin Luther College to form the present Martin Luther College.