1885-1893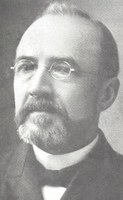 Pastor Otto Daniel August Hoyer (1849-1905) served as Dr. Martin Luther College's first permanent director, or president. He was born in Germany and educated in America, graduating from Northwestern College-Watertown WI in 1872 and continuing his pastoral training at Concordia Seminary-St. Louis.
In 1883, the year before DMLC opened its doors, Hoyer was invited to serve on an eight-member college building committee. Their first directive: choose a site for the new Minnesota Synod ministerial training college. Under the committee's direction, New Ulm edged out Shakopee, and ground was broken here on the hill. The new school opened on Luther's birthday, November 10, 1884.
During the first academic year, 1884-1885, Hoyer accepted DMLC's call to be theological teacher and director, leaving the congregation he was shepherding in St. Paul. He succeeded C. J. Albrecht, who, though considered the father of DMLC, served as director for just one year.
Hoyer served as director for eight years, 1885-1893. In 1887, the normal, or teacher preparation, department of the college opened, and in 1893 an even more dramatic change took place. The Minnesota, Wisconsin, and Michigan Synods, which had merged into one body—the Joint Synod of Wisconsin and Other States—repurposed DMLC as the Joint Synod's sole normal, or teacher-training, college. Its theology department closed, and all pastors-in-training enrolled at Northwestern College-Watertown WI, which had been providing preseminary training faithfully since 1865. In addition to the two-year normal program, DMLC also maintained a three-year preparatory program for both future teachers and future pastors.
The Lord of the Church deemed that the newly fashioned Dr. Martin Luther College of 1893 have a new director. Pastor Hoyer was called to be director of Michigan Lutheran Seminary in Saginaw, and Pastor John Schaller was called to replace him at DMLC.
Otto Daniel August Hoyer died in 1905, at the age of 56.