1884-1885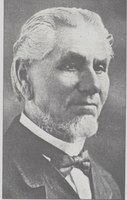 Pastor Christian Johann (C. J.) Albrecht (1847-1924) is considered the "Father of Dr. Martin Luther College." Born in Eschenau, Germany, and educated at Krischona, a preparatory school for missionaries in Switzerland, Albrecht emigrated to the U.S. in 1872. He served in Lewiston and Greenwood Township, Minnesota, before being called to St. Paul's-New Ulm in 1882. He was serving both as pastor of St. Paul's and president of the Minnesota Synod when the synod resolved to build a ministerial training college. The St. Paul's congregation offered several thousand dollars and four acres of land atop the hill, and soon construction of Old Main began.
On November 9, 1884, Pastor Albrecht preached the dedication sermon for the new college, based on Matthew 5:14: "Ye are the light of the world. A city that is set on an hill cannot be hid" (KJV). Classes began the next day, Luther's birthday. Albrecht served as the first director, or president, of the new college for one year. He continued to teach religion there until 1893, while still serving as St. Paul's pastor, a call he held for 42 years. His obituary in the 1924 Northwestern Lutheran stated that at St. Paul's, Albrecht baptized 2,583 children, confirmed 1,868, solemnized 646 marriages, administered holy communion to 82,744 communicants, and buried 935. He preached the funeral sermon for DMLC's first music professor, Fritz Reuter, in June 1924, and just 28 days later, he died as well.
Albrecht married Maria Frey before emigrating to the U.S. in 1872, and they had 10 children. Maria died in 1893.
The Albrechts of Eschenau Memorial Fund was established to honor the memory of C. J. Albrecht, his sister and his three brothers, who emigrated from Eschenau, Germany, in the 1880s and went into ministry in the Minnesota Synod. Income from the fund is distributed to students with financial need.