1908-1919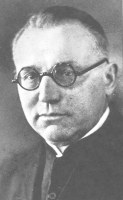 Pastor Adolf Ackermann (1871-1950) served Dr. Martin Luther College as director (president) from 1908 to 1919. Born in Mittelschlecthbach, South Germany, he decided at age 14 to become a missionary in America. In 1885 he arrived in the United States and by October was enrolled at the newly-founded Dr. Martin Luther College in New Ulm, Minnesota.
Five years later, upon graduating with a Bachelor of Arts degree, he held the unique distinction of receiving the first diploma granted by the college, proud to become the first graduate, alphabetically, of the first class. To complete his study for the pastoral ministry, Ackermann received a theological degree at Concordia Seminary-St. Louis.  He was called to the faculty of his college alma mater in 1894.
In 1908, after Professor John Schaller left the college to become director of the theological seminary near Milwaukee, Professor A. Ackermann, at age 37, was called to replace him as DMLC director. During Ackermann's tenure two new buildings were constructed: Summit Hall and the Aula, later called the Music Hall. Summit was a state-of-the-art, fire-safe dormitory with connected water supply, electric lighting, and plumbing. The smaller of the two new buildings, the Aula featured an auditorium for morning/evening chapel and other assemblies, together with some smaller practice rooms.
Ackermann's outgoing personality and community involvement unfortunately brought the college to the brink of closure. The prosperous German-speaking college and community were caught in a maelstrom of anti-German patriotism. Director Ackermann joined in speaking publicly against America's possible involvement in the war. The Minnesota State Department of Public Safety threatened to close the college. Under pressure, Ackermann resigned along with city officials.
The Minnesota Synod apologized to their former director. He was called to serve congregations at Essig and Brighton, and in 1922, he accepted a call to Immanuel-Mankato, where he served until his death at the age of 79. During his time at Immanuel, Ackermann was also elected to become the 13th president of the Minnesota District of the WELS, a position he held for 12 years, 1936-1948.