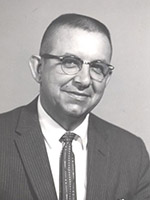 1914-1998
Conrad I. Frey (1914-1998), though known as "Stubby" for his stature, was nonetheless an administrative giant. During 14 years in office (1966-1980), Frey used his organizational skills to give the college presence throughout the synod. The post-WWII era of rapidly increasing contacts and media communication, the college's vision for expansion, and synodical demands for mission outreach caused him to become the first full-time, non-teaching president.
Born to a pastor's family, Frey was trained in the WELS' educational system. After graduating from Northwestern College (1935) and the WELS seminary (1938), he practiced education for two years at Michigan Lutheran Seminary, its first tutor.
In 1949 Stubby, now married to Charlotte Frey (no relative by birth), returned to Michigan Lutheran Seminary as president.  During the nine prior years, he had gained experience as a pastor in Michigan parishes at Kawkawlin and Detroit during WWII. The economic swirl, particularly in Michigan, allowed him and the Michigan District to observe its effects on social mobility. Returning soldiers and Midwestern congregation members looked for work throughout the USA.
The new MLS president seized the opportunity for growth. He took classes in education at Michigan State University. He led faculty discussions on curricula and organization. The Wisconsin-Missouri synod struggles during Frey's years at MLS (1949-1966) did not hinder progress in synodical schools, fostering expansion instead.
Frey was called to Dr. Martin Luther College in 1966 to capitalize on prior advancements at the college. He fit the mold, serving in many capacities at home and abroad. He arrived at DMLC shortly after a sabbatical year as the synod's first "friendly counselor" to a foreign mission (1964, Hong Kong). At the college he oversaw the consolidation of the synod's teacher-training facilities in New Ulm (1970) and the college's accreditation through the North Central Association of Colleges (1980).
Affable and approachable by nature, Frey was elected to the Aid Association for Lutherans Board of Directors, became the WELS representative to the Center for Reformation Research, and served locally on the board of Citizen's State Bank.
As MLC president, he oversaw the construction and development of several additions to campus: the library, residential dorms, off-campus faculty homes, the MLC print shop, Backer Memorial Organ, Luther Memorial Union (gymnasium, cafeteria, and student union), the Lancer Football Bowl, and the program for college practice teaching and supervision.
President Frey died in 1998. His service in the Lord's kingdom was broad and deep.
Our gratitude to Professor Emeritus Arnold Koelpin for writing this biography and to Professor Emeritus Arthur Schulz for his research on the DMLC presidents.