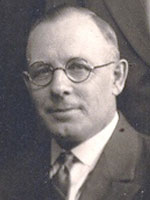 1920-1935
Edmund Robert Bliefernicht (1882-1947), fifth president of Dr. Martin Luther College, championed Christian education at a time when post-WWI anti-German sentiment was waning and Germans were adapting to life in America. Specifically, the college benefitted from Bliefernicht's mature insights and guidance during his 38+ years of service (1908-1947), 15 of those as president (1920-1935).  His successor, President Carl Schweppe, paid him special tribute, noting how "his fame as an educator not only became known throughout this part of Minnesota, but throughout the whole synod."
Born in Watertown, Wisconsin, "Stubby"—as classmates called this 5'4" youth—was educated through high school in his hometown Lutheran schools. There he also began studies for the pastoral ministry, graduating from Northwestern University, Watertown, in 1903. Before attending the theological seminary in Wauwatosa, he pursued a summer session at the University of Wisconsin in classical studies, taught for a year in a one-room Christian day school at Columbus, Wisconsin, and filled a vacancy at his college alma mater. These early field experiences sharpened his appreciation for the importance of a sound Christian education.
Bliefernicht was a teaching president who enjoyed the classroom. Multi-talented, his first call to a pastorate at Darfur, Minnesota, ended after only a few months when he transferred to become a full-time professor at Dr. Martin Luther College. There he married a local girl, Lydia Schapekahm. The professor, warm-hearted and modest in character, disciplined by nature, was demanding in the classroom. Male students were to wear suits and ties; females to be properly dressed; and all students to be punctual, prepared, and precise.
His accomplishments in classroom and administration made a lasting impact. He was on demand for conference essays and speeches at synodical and teachers' conventions. He organized and edited the School Bulletin (predecessor to the Lutheran Educator), wrote An Elementary Christian Psychology, and authored A Brief History of Dr. Martin Luther College (1934). Noteworthy for campus development, he coordinated and personally supervised the building of the new Recitation Hall (1927), later called the Academic Center and now known as Wittenberg Collegiate Center.
The stress took its toll. Bearing both his heavy workload and also the weight of the Depression, he suffered a severe heart attack in 1934. As a consequence he stepped down as president but continued as vice president and teacher of religion and education until his untimely death at age 64, a faithful servant to the end.
­­­
Our gratitude to Professor Emeritus Arnold Koelpin for writing this biography and to Professor Emeritus Arthur Schulz for his research on the DMLC presidents.