1980-1993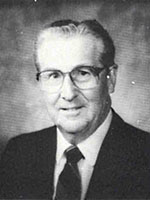 President Lloyd Huebner (b. 1925) trained for the pastoral ministry in WELS ministerial schools, graduating in 1951. His early parish ministry in Akaska, South Dakota (1951-54), and Wood Lake, Minnesota (1955-1958), groomed his aptitude for friendly, spiritual encouragement. This led to a more demanding call to establish a new Christian high school, Lakeside Lutheran, for the rural areas about Lake Mills, Wisconsin (1958-1967).
In 1967 Huebner entered his college career as the DMLC dean of students. Accepting the presidency in 1980, he was already intimate with college leadership. But new circumstances quickly arose. DMLC reached its enrollment peak in Huebner's early years, and this very success brought a declining need for teacher graduates, which led inevitably to alarmingly small student enrollments.
Huebner answered this and the various other needs of the college with his many gifts. His natural bent for personal neatness and order led him to remove unneeded service buildings and shunt vehicle traffic to the very edges of campus, creating the lovely central mall with its beautiful foliage and its friendly walking and talking spaces.
On the academic side, Huebner, with Academic Dean Arthur Schulz, encouraged curriculum study, faculty development, and regional college certification. The 80s also brought a new challenge, the computer; Huebner quickly moved to support faculty and student computer literacy and usage. Meanwhile, WELS requests to expand the educational mission of DMLC demanded presidential study and action. With his faculty he introduced the now popular secondary education majors (formerly, the Secondary Teacher Education Program) and initiated the bold consideration of the Staff Ministry program, which began in 1993.
Huebner's pastoral manner through all this activity is well seen in the Excelsior dedicated to him in 1993 and titled "A Lord and His Castle." He wrote: "Our Lord often used the weak things . . . to accomplish His purpose. In fact, Jesus, the Almighty Son of God, came to earth not as a proud king, but as a servant. He was born not in a costly and ornate castle, but in a manger. However, his manger bed and his painful and shameful death by crucifixion do not dim his greatness but become our glorious throne before which we reverently kneel. Through his humble birth and wondrous work of redemption, our gracious king has made us members of His royal family and heirs to eternal life, our heavenly castle."
To faculty and students alike, President Huebner always remained a pastor as well as administrator.
Written by Professor Emeritus Darvin Raddatz WLS '59

---