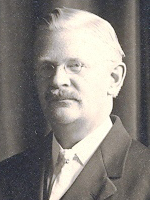 Pastor John P. Meyer (1873-1964), fourth president of Dr. Martin Luther College, was born to Pastor Johannes Meyer and Anna Meta nee Behnken in Zittau, Wisconsin. His father had trained for ministry at Hermannsburg Mission in Germany. In 1893 John graduated from Northwestern College in Watertown and in 1896 from the Theological Seminary in Wauwatosa. As his first assignment, he served St. Stephen-Beaver Dam, Wisconsin, for nine years.
In 1902 Pastor Meyer was called to become professor and dean of men at his alma mater, Northwestern College. But his talents lay elsewhere than in dormitory supervision. The next year he moved to Dr. Martin Luther College in New Ulm to teach Latin and Greek.
"Nixie," as the white-haired professor became affectionately known, wed Lydia Reinke, a marriage blessed with four children.
Service to the college was interrupted in 1915 for pastoral reasons.  Meyer accepted an assignment to settle problems at a congregation in Oconomowoc, Wisconsin. Three years later, in 1918, he was called back to become professor of education and president of Dr. Martin Luther College.
The Meyer presidency was short, as just two years later he was called to succeed his untimely-deceased brother Hermann as professor at the synod's Wauwatosa seminary. His assignment to teach Doctrine and New Testament was later amplified to include Genesis, Ancient Church History, and Lutheran Confessional Writings. For 16 of his 44 seminary years, he also served as president.
Professor Meyer's service had a major impact on the church at large. The New Ulm years gave insights for his service on the synod's Board of Education. Known for his theological clarity and writing ability,  Meyer used the letter "M" to identify himself as author in over 250 articles in the seminary Quarterly and the synod's magazine, the Northwestern Lutheran. 
Professor Meyer died on November 10, 1964, at age 91. Just two weeks earlier, he had preached his last sermon at St. Marcus in Milwaukee, where he had been pulpit assistant for 37 years. On the previous Friday he had taught his full schedule of seminary classes.
Our gratitude to Professor Emeritus Arnold Koelpin for writing this biography and to Professor Emeritus Arthur Schulz for his research on the DMLC presidents.