1993-1995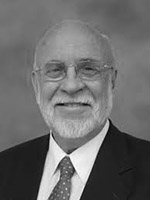 John Lawrenz served as president of DMLC during the crucial DMLC-NWC amalgamation years of 1993-95. His challenge? To create—within two years—the best possible teaching-learning climate for a single WELS College of Ministry. Since their founding, the two colleges of ministry had developed different cultures and traditions. After the shocking vote, both colleges needed to work together and better appreciate their diverse educational pathways and goals.
President Lawrenz brought to his task an ideal education. Twenty years of study in synodical schools culminated in a 1970 MDiv from Wisconsin Lutheran Seminary. Together with a year of tutoring at DMLC, this background provided a fine grasp of the differences in the synod's colleges. Lawrenz also pursued postgraduate education in Old Testament at Brandeis University (PhD) and worked in field archeology through Tel Aviv University. In short, he gained a scholar's attention to both detail and the broader understandings of higher education.
As a called worker, Lawrenz served as a parish pastor in Gainesville, Florida, from 1973 to 1978 and as president of Michigan Lutheran Seminary for 16 years. Here he developed empathy for young people living in a dormitory as well as an understanding of the professional and personal concerns of faculty.
As amalgamation neared, President Lawrenz attended to both student and faculty concerns. He arranged meetings of representatives from both student bodies to address student concerns large and small. He also arranged meetings of faculty representatives where they discussed academics as well as family concerns and the promotion of new friendships. Near the move-in date, the DMLC faculty was organized to befriend arriving NWC faculty and help them adjust to a new community. DMLC faculty also warmly welcomed incoming students, recognizing that displacement from one's familiar home, whether self-chosen or not, can be difficult.
The Lord blessed Lawrenz's activity well. His caring, people-centered preparations had achieved the goals of amalgamation admirably.
Meanwhile the synod-elected Board of Regents for the newly created MLC had called a new president to head the new college. This allowed DMLC President Lawrenz to pursue new and vital careers in both Christian higher education as well as mission work in Ukraine and East Asia.
Dr. Lawrenz and his wife, Phoebe, both wonderful servants of the Lord with broad vision and amazing adaptability, have now retired in Milwaukee, though John still busily serves the church wherever needed.
Written by Professor Emeritus Darvin Raddatz WLS '59
---