1959-1987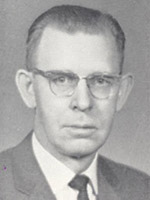 President Carleton Toppe (1914-1998) began his ministry at Northwestern College in 1948 as professor of English. He became registrar in 1954 and then served as the college's fifth president from 1959 to 1987.
His presidency saw great changes at the school, all introduced with care and deliberation. Two dormitories, a gymnasium, and a remodeled auditorium were added to campus. The preparatory department was separated from the college department and renamed "Northwestern Preparatory School." The college sought and was granted accreditation. And the curriculum was redrawn, with a reduction in required credits, a reduced emphasis on languages, and the addition of many electives.
A gifted teacher and leader, Carleton Toppe served the college and the church well for four decades. In his retirement he wrote a history of Northwestern College, Holding the Course: Northwestern College 125 (Northwestern Publishing House: 1990).
The Northwestern College Alumni Society honors the NWC presidents through memorial scholarships. The Carleton Toppe Grant for GPA and Religion is awarded annually to a preseminary student based upon his campus citizenship and participation, potential for pastoral ministry, and excellence in academics, especially religion.
Northwestern College served as the WELS preseminary college from 1865 to 1995, when it amalgamated with Dr. Martin Luther College to form the present Martin Luther College.