QUESTIONS: 507-217-1731 or alumni@mlc-wels.edu
JOIN US JUNE 18-JULY 4, 2018
LUTHER LANDS, AUSTRIAN ALPS, ITALY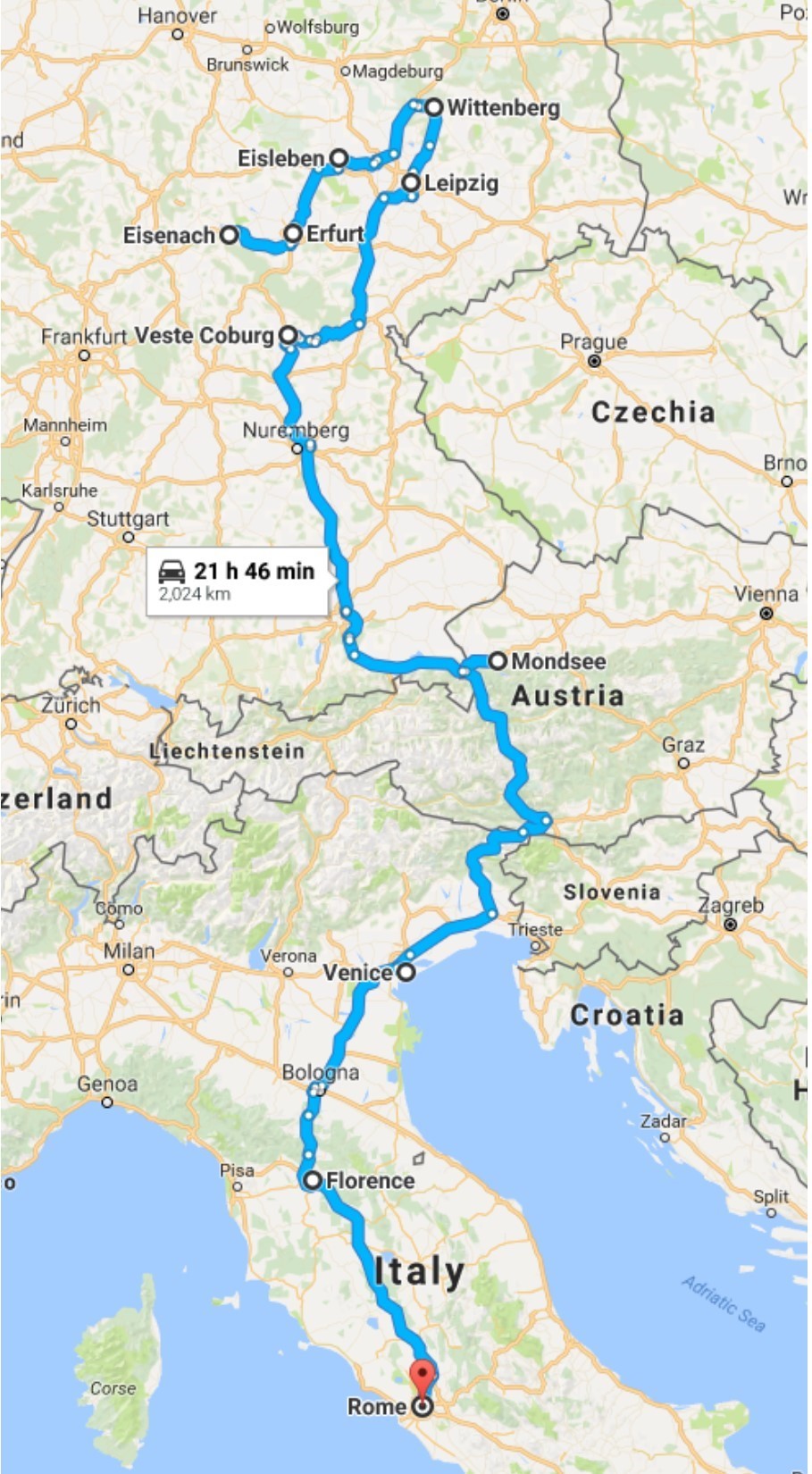 UPDATE: THANKS TO ALL WHO EXPRESSED INTEREST IN JOINING THIS YEAR'S TOUR. OVER 130 REGISTERED FOR THE TOUR ON SEPTEMBER 2. A RANDOM DRAWING FROM THAT GROUP PUT 79 ON BOARD AS CONFIRMED PASSENGERS. AN ADDITIONAL 17 GUIDES, FAMILY MEMBERS, AND PHOTOGRAPHERS BRINGS THE GROUP TOTAL TO 96 – THE ABSOLUTE MAXIMUM WE CAN ACCOMMODATE. THE REMAINDER WERE PLACED ON A WAIT LIST IN THE ORDER IN WHICH THEIR NAMES WERE DRAWN. IN THE EVENT OF A CANCELLATION, WE WILL CALL THE LIST IN THAT ORDER UNTIL WE FILL THE SPOTS. YOU MAY STILL REGISTER WITH THE UNDERSTANDING THAT THERE WILL BE A FAIR NUMBER OF PEOPLE AHEAD OF YOU ON THE WAIT LIST.
The MLC Alumni Tour will celebrate its 10th year in 2018 with its first international tour. Many previous travelers have asked if we would consider a trip to the Luther Lands. Others have asked if Rome might ever make our list. Lord willing, the 2018 tour will check both boxes and then some. We've put together a 16-day trip (June 18-July 4, 2018) that will provide a nice overview of Luther's life and ministry with 6 nights in Germany. It will also hit the "Big 3" Italian tourist destinations with 2 nights each in Rome, Florence, and Venice. In between the two, we'll enjoy three nights of fresh mountain air and spectacular sites in Salzburg and the Austrian Alps.
Two groups will travel simultaneously with one starting in Germany and working its way south while the other starts in Rome and works its way north. Both groups will spend our 3 nights together in Austria.
Highlights will include:
Travel in Europe will be via deluxe motor coach. Accommodations will be in 3-4 star hotels with complimentary breakfast each day. Half of the evening meals will also be included. Base land tour cost will be $3395/person for double occupancy, $3995 for single occupancy. The group flight from Minneapolis will be an additional $1000. It includes parking and coach shuttle service from MLC in New Ulm or Bloomington Lutheran Church. Those flying with us also receive a hotel stay at the Staybridge Suites near the airport on July 4.
We are blessed to have very knowledgeable MLC professors joining us as guides. They will provide insights about our stops and also lead us into the Word with daily devotions. Those starting in Rome and working their way north will be led by Professor Keith Wessel and President Mark Zarling with Alumni Director Steve Balza along as tour manager. Those starting in Germany and journeying south will have Professor Jim Danell and Professor Paul Koelpin leading with Event Coordinator Michelle Gartner handling logistics.

Promotional materials were sent in mid-August with registration opening on September 2. A deposit of $1000/person will be due by October 1 with remaining payments due on December 1, February 1, and April 1. Questions? Please contact Steve Balza (alumni@mlc-wels.edu or 507-217-1731) or Michelle Gartner (gartneml@mlc-wels.edu or 507-217-6157).