The 2021 Homecoming weekend is set for October 1-3. After a relatively quiet campus for Homecoming 2020, we are excited to welcome back alumni and families for this year's celebration. Lord willing, we will be operating as "normal" with the talent show, athletic competitions, alumni gatherings, and closing worship open to all once again. If you are planning to stay in a local hotel, make your reservations early as the first two weekends in October are also Oktoberfest in New Ulm. A full schedule of events is posted below and we will update or add to it as details are finalized.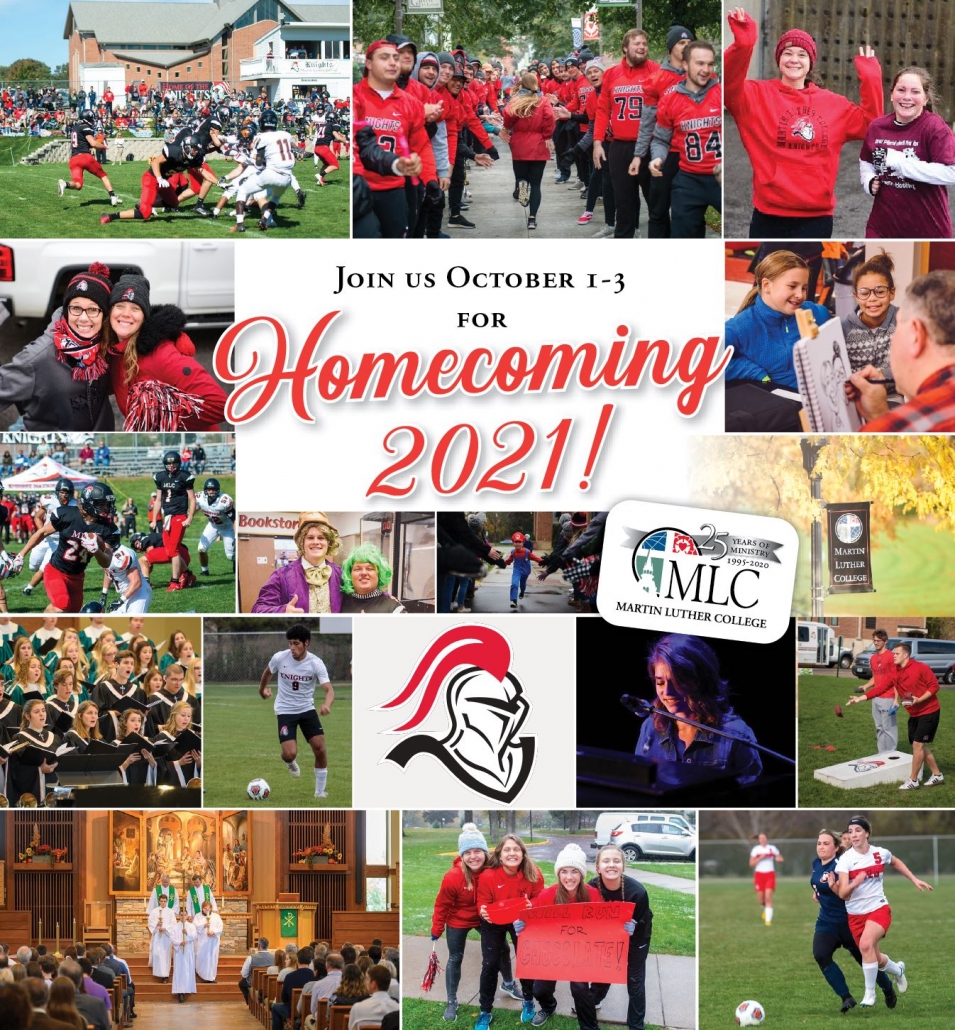 Friday, October 1
8:00     MLC Alumni Association Annual Board Meeting (Chapel Fellowship Room)
10:30    Morning Chapel (Chapel of the Christ)
Guest preacher Rev. Karl Schauland (MLC '08)
Guest Organist: Dr. John Nolte (DMLC '68)

8:00     Talent Show (WCC Auditorium)
Saturday, October 2
9:00     Sprinter Fun Run (LSC/Sprinter Statue and Worldwide)
9:30     FREE Family Fun Zone (LSC/Ultimate Frisbee Field)…games, activities, kettle corn, cocoa/coffee
Alumni Registration (LSC Lobby)…register and claim your free t-shirt or bookstore gift card
12:00   Football vs Greenville (The Bowl)
2:00     Men's Soccer vs North Central (Soccer Pitch)
4:00     Alumni Mixer (Kegel Club)…come and go between 4-7:30…complimentary snacks/fellowship
4:30     Women's Soccer vs North Central (Soccer Pitch)
Sunday, October 3
9:30    Worship (Chapel of the Christ)
Preacher: Pres. Rich Gurgel   Organist: Dr. John Nolte   All student choirs will be participating.
10:30  Brunch (Cafeteria)
11:30    Alumni Disc Golf Tournament (Luther Hollow)
1:00     Wind Symphony Concert (LSC Auditorium)
2:30     MLC vs WLS Soccer (Soccer Pitch)
The 2020 Homecoming weekend was not what we planned for and far from normal, but a wonderful blessing nonetheless. The Lord provided nice weather and the campus family came together to celebrate as best they could. Over 700 alumni and friends across the globe participated in the 10th annual Sprinter Fun Run. The talent show (unable to be broadcast due to licensing) was performed twice (in the auditorium on Thursday and outdoors on the football bowl on Friday). Most athletic teams (Cross Country, Volleyball, Football, Men's Soccer, and Women's Soccer – a week earlier) were able to compete in intrasquad scrimmages (archived recordings available on Knightvision). A 25th-anniversary worship service (video) was held on Saturday evening and twice on Sunday morning and a Musical Showcase (video) featuring the Wind Symphony, Handbells, and all four choirs closed out the weekend.