The 2022 Homecoming weekend is set for October 7-9.  We look forward to once again coming together to celebrate our school and its students – present and past.  If you are planning to stay in a local hotel, make your reservations early as the first two weekends in October are also Oktoberfest in New Ulm. The schedule of events below will be updated as details are finalized.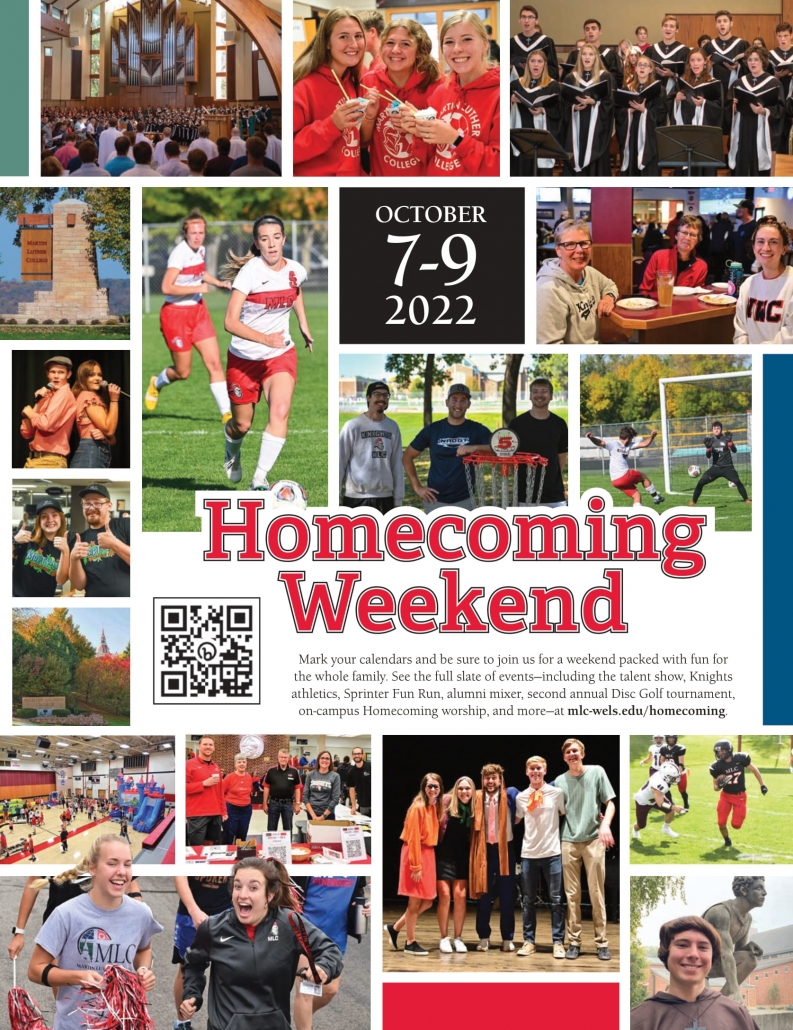 Friday, October 7
8:00    MLC Alumni Association annual meeting (Library Board Room)
10:30  Morning Chapel
Guest Preacher: Rev John Boggs, NWC '93, WLS '97
Guest Organist: TBD
TBD    Talent Show (Auditorium)
Saturday, October 8
TBD   Sprinter Fun Run (1 mile…details and RSVP info coming soon)
TBD   Family Fun Zone (carnival activities for all…coffee, cocoa, sno cones, bounce house, etc.)
TBD   Alumni Registration (LSC Lobby)
1:00   Football vs Crown (The Bowl)
2:00   Women's Soccer vs UM-Morris (Soccer Pitch)
4:00   Alumni Mixer (Kegel Klub)
4:30   Men's Soccer vs UM-Morris (Soccer Pitch)
Sunday, October 9
9:30   On-Campus Worship (Chapel of the Christ)
10:45  Brunch (LSC Cafeteria)
11:30  Disc Golf Tournament (Luther Hollow Course…details and RSVP info coming soon)
TBD   Men's Soccer vs WLS (Soccer Pitch)
2021 Homecoming Review. The return of alumni, family, and friends for Homecoming 2021 was a special blessing that was not taken for granted. The Talent Show drew its typical large crowd on Friday night as a variety of videos and musical acts entertained the audience. Over 500 alumni and friends across the globe participated in the 11th annual Sprinter Fun Run to start off our Saturday.  The Family Fun Zone followed and filled the gym with inflatables (including Papal, the Mechanical Bull), laughter, and joy. Men's Soccer came away with a solid 5-2 victory over North Central while Football and Women's Soccer both battled valiantly before falling just short in overtime efforts. The Alumni Mixer drew over 200 to enjoy some free food and fellowship with friends. After a somewhat soggy Saturday, the Lord poured out some autumn awesomeness with temps in the mid-70s for our Sunday. The Homecoming worship in a full Chapel of the Christ included some sensational singing and a solid message from President Gurgel. The first-ever Homecoming Disc Golf Tournament in Luther Hollow, a Wind Symphony concert in the Auditorium, and the WLS/MLC "Civil War" soccer match concluded the fun-filled weekend.