The 2022 Homecoming weekend is set for October 7-9.  We look forward to once again coming together to celebrate our school and its students – present and past.  If you are planning to stay in a local hotel, make your reservations early as the first two weekends in October are also Oktoberfest in New Ulm. The schedule of events below will be updated as details are finalized.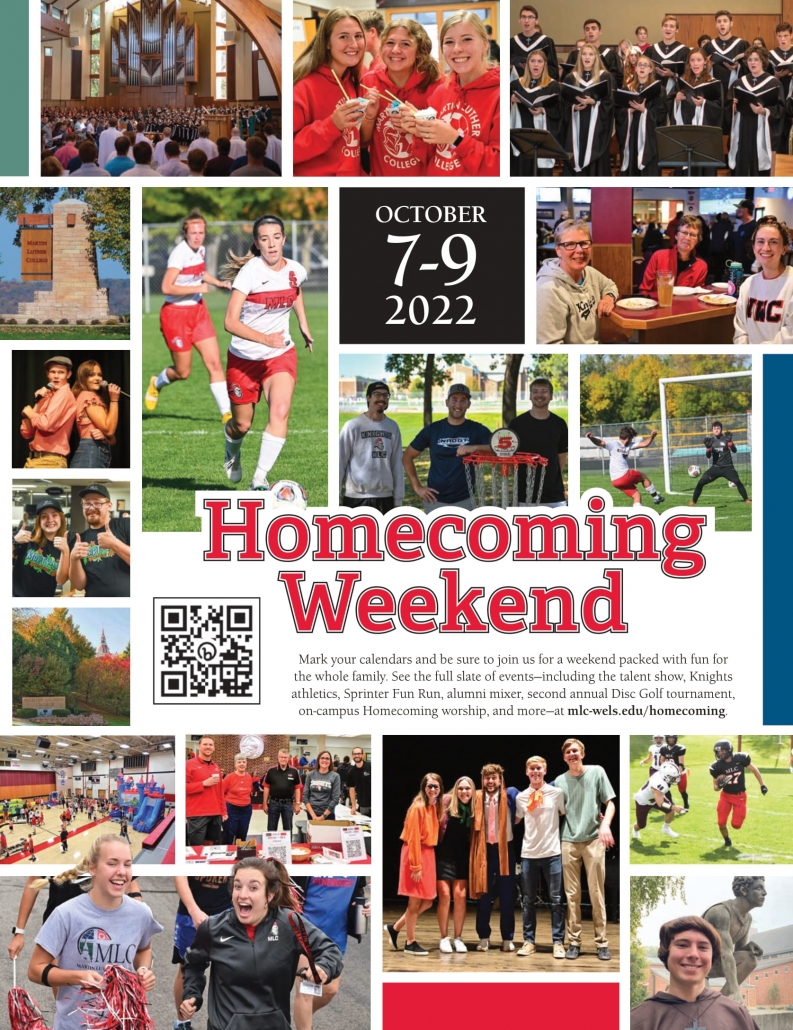 Friday, October 7
Bookstore Hours: 9:00-4:00
8:00    MLC Alumni Association annual meeting (Library Board Room)
10:30  Morning Chapel
Guest Preacher: Rev. John Boggs, NWC '93, WLS '97
Guest Organist: Dr. John Nolte, DMLC '68
8:00    Talent Show (Auditorium)
Saturday, October 8
Bookstore Hours: 9:30-3:00
8:30   Sprinter 1 Mile Fun Run/Walk (Betty Kohn Fieldhouse…details and RSVP)
9:15    Betty Kohn Fieldhouse Dedication (1800 Boettger Rd)
10:00   Family Fun Zone (Gym…carnival activities for all…coffee, cocoa, snow cones, bounce house, etc.)
10:00   Alumni Registration (LSC Lobby)
1:00   Football vs Crown (The Bowl)
2:00   Women's Soccer vs UM-Morris (Soccer Pitch)
4:00   Alumni Mixer (Kegel Klub, 416 19th St N)
           Come and go as you please between 4-7:30…complimentary snacks/fellowship
4:30   Men's Soccer vs UM-Morris (Soccer Pitch)
Sunday, October 9
9:30   On-Campus Worship (Chapel of the Christ) – view livestream
10:45  Brunch (LSC Cafeteria)
11:30  Disc Golf Tournament (Luther Hollow Course…details and registration)
2:00   Men's Soccer vs WLS (Soccer Pitch)
The 2023 MLC Homecoming Weekend is slated for September 30-October 2. Volleyball is scheduled to play home games on Friday night and Saturday afternoon while Football will host a Saturday afternoon game as well. In addition, annual events such as the Talent Show, Sprinter Fun Run, Alumni Mixer, Sunday Worship, Disc Golf Tournament, and Men's Soccer vs WLS are all being planned. Mark your calendars and plan to join us here on the hill!