MLC Alumni Association members share a common bond. Well trained and prepared to share their Savior, they are committed to serving Him however and wherever the Lord chooses to use them.
The MLCAA is made up of more than 10,000 graduates and attendees of Martin Luther College, Dr. Martin Luther College, Northwestern College, and Martin Luther Academy/Dr. Martin Luther High School. Together, we support and pray for the current students and the ministry of MLC. We also take advantage of opportunities to gather together and encourage one another.
The board meets on campus annually during homecoming weekend to provide direction, plan events, coordinate funding efforts, and devise communication plans. They also meet throughout the year via teleconference. The 2021 on-campus meeting took place on October 1 and the 2022 gathering is slated for October 7.

The Association is extremely excited about the successful completion of the $100K Fishers of Men campaign (2017-20) that endowed a scholarship and placed a statue of Jesus on the campus mall as a 25th-anniversary gift to our alma mater. Learn more about that campaign here. The 2020-22 project seeks to raise funds for NEW Christian Worship hymnals for the Chapel of the Christ. This year, 70% of all gifts will support the scholarship and 30% will go toward the hymnals. Learn more about this year's effort and please consider supporting these worthy goals. Online gifts via credit card or e-check can be made here or checks can be sent to MLCAA, 1995 Luther Ct., New Ulm, MN 56073.
To share your thoughts as to how MLCAA can better serve you and our alma mater, please contact our current president, Jason Oakland, at jasonoakland@martinlutherneenah.org or any of the other current board members listed below.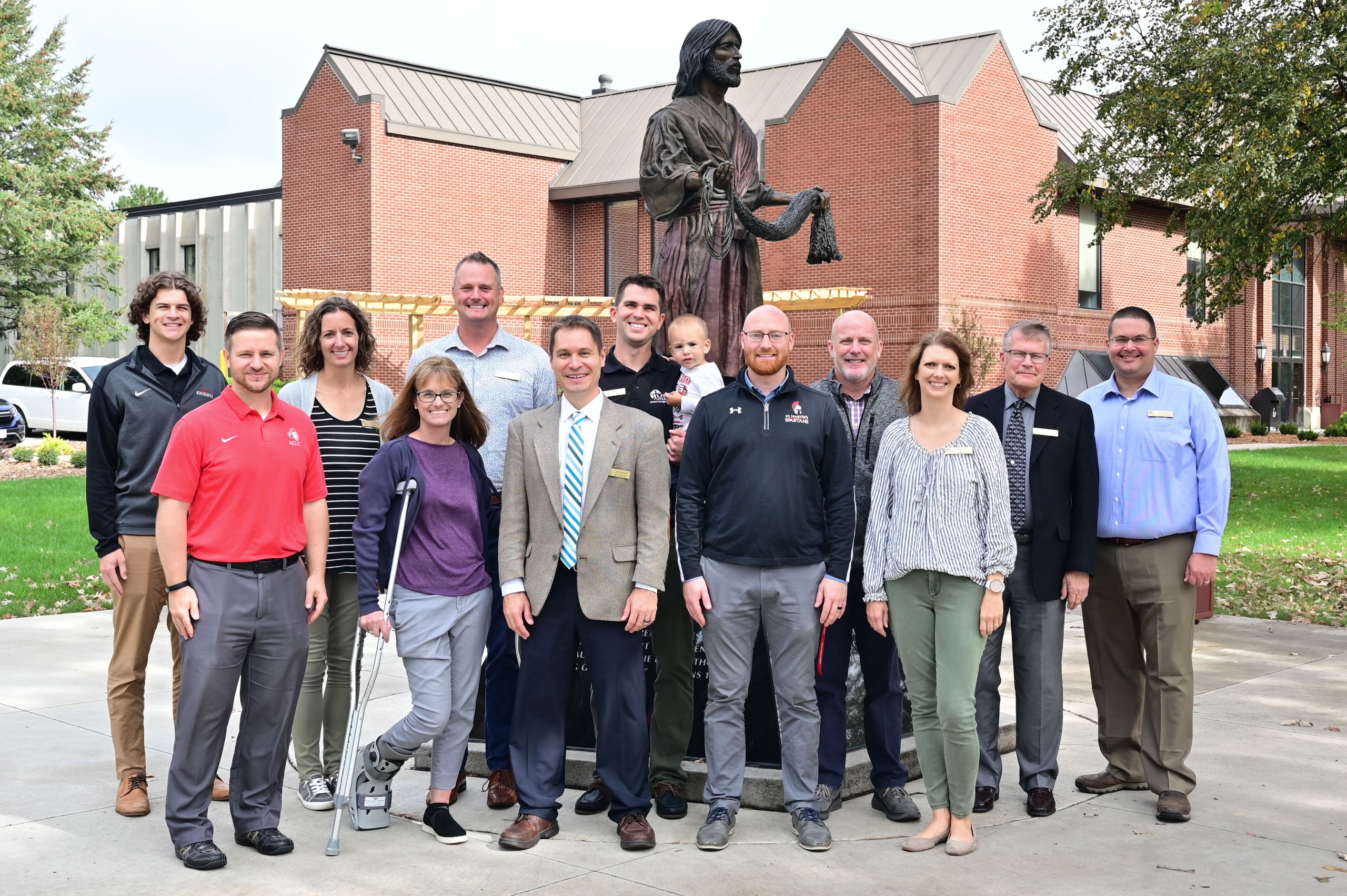 2021-22 Board Members
Front Row (left to right)
Joel Russow – Tallahassee, FL (MLC 2006)
Michelle Lewis – Alpharetta, GA (MLC 1997)
Karl Schauland – Rockford, IL (MLC 2008)
Jon Niemi – Watertown, SD (MLC 2006)
Kelly Diersen – New Ulm, MN (DMLC 1995), financial secretary

Back Row (left to right)
Josh Schroeder – Milwaukee, WI (MLC 2020)
Sarah Zahrt – New Ulm, MN (MLC 1999)
Ben Priebe – Phoenix, AZ (MLC 2003)
Phil Hunter – Wesley Chapel, FL (MLC 2011)
John Boggs – Royal Palm Beach, FL (NWC 1993)
John Nolte – Neenah, WI (DMLC 1968)
Jason Oakland – Neenah, WI (MLC 2000)

Not Pictured:
Dan Albrecht – Milwaukee, WI (MLC 2010)
Steve Balza – New Ulm, MN (DMLC 1993), ex officio
Abe Degner – Missionary in Paraguay (MLC 2006)
Adam Frey – St Paul, MN (MLC 2007)
Tonya La Duca – San Jose, CA (DMLC 1994)
Mandy Pavelchik – Mankato, MN (2003)
Nathan Zastrow – Yakima, WA (MLC 2008)
Do you know an MLC, DMLC, NWC, or DMLHS/MLA graduate that would be qualified and eager to serve? Nominate them through this online form. Elections for 1-4 new members are held each fall at the homecoming weekend annual meeting.