By JoElyn Krohn, MLC financial literacy coordinator
"What can we do to help our student cover the cost of college and avoid loan debt?"
Maybe this is a question you've been thinking about as the final spring semester payments are due and next year's application for financial aid is looming.
Educational expenses for 2020-2021 at MLC have been set. There was a slight increase to tuition, but the funding allocated to financial aid was also increased to compensate for this change.
| | | | |
| --- | --- | --- | --- |
| | Tuition | Room & Board | TOTAL |
| 2019-2020 | $15,870 | $6,260 | $22,130 |
| 2020-2021 | $16,420 | $6,480 | $22,900 |
What Are Some Strategies for Paying for Educational Costs?
1. APPLY FOR FINANCIAL AID
Students and families are primarily responsible for covering the cost of attending college, but financial aid can assist them. Students applying for aid must complete the FAFSA (Free Application for Federal Student Aid) and the MLC Financial Aid Application by April 15.
The information from the FAFSA determines each student's eligibility for financial aid. (Over 95% of families received some form of financial aid from MLC this year!) NOTE: Families will need to report 2018 income for their 2020-2021 FAFSA.
Since not all circumstances can be explained on the FAFSA, we encourage you to communicate special circumstances impacting your family's financial situation to the financial aid office so we can offer special consideration. Forms explaining your special circumstances can be found on our website: https://mlc-wels.edu/financial-aid/special-circumstances.
2. SEARCH FOR SCHOLARSHIPS & GRANTS
Scholarships and grants are a great way for students to reduce the cost of education. MLC has several merit-based renewable scholarships.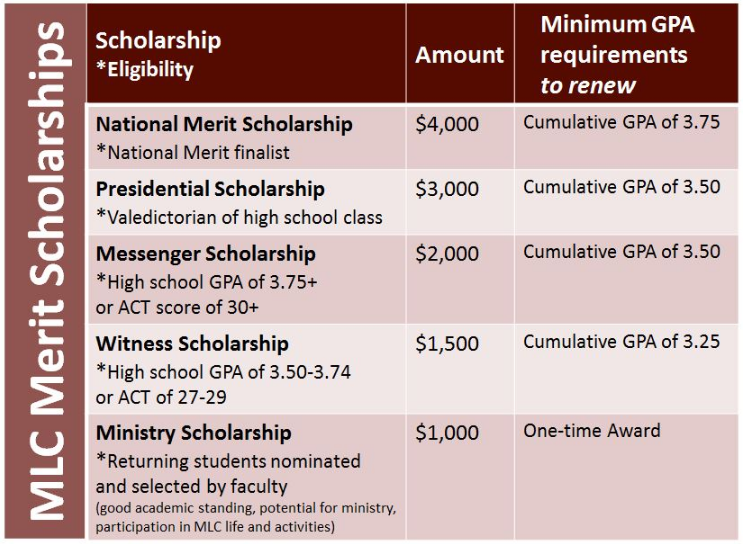 In addition to merit-based scholarships, we also offer donor-funded scholarships and grants. Donor-sponsored scholarships (based on merit) might require a certain GPA, a project, or a paper. Donor-sponsored grants (based on financial need) might require students to write an essay expressing their financial need and their desire to serve in the ministry.
Students should also pursue scholarships in their communities, through their employers, through their parents' employers, and by using one of the many scholarship searches.
Millions of dollars are given in scholarships each year. The process of searching for and applying to the many scholarships is time-consuming, but it can pay off big-time! For more scholarship information, please review the information on our scholarship page: www.mlc-wels.edu/financial-aid/scholarships/
3. SEEK EMPLOYMENT
Not every student can handle a job in addition to school work and acclimating to a new college campus, but sometimes it's essential for covering out-of-pocket costs.
Many on-campus jobs are available in the cafeteria, library, music department, athletic department, and various offices. Students also work as tutors, teaching assistants, and resident assistants. We make a concerted effort to expand student jobs whenever possible.
Many off-campus jobs are available as well. New Ulm area residents often contact MLC requesting student help. Some jobs are flexible, like tutoring a grade school student, and some are more structured, like working a shift at a company in town. Both on- and off-campus job opportunities can be reviewed on the Student Employment website: https://mlc-wels.edu/student-employment/.
Even if students are not working during the academic year, the summer is an excellent time to save up money for school. It's very possible for students to earn around $3,000, which covers about half of the room and board charges. Students who contribute to their college education often take greater pride in their accomplishment. It also helps prepare them for the reality of balancing all the bills and responsibilities after college.
4. TAKE OUT LOANS
Taking on debt is a responsibility that should not be taken lightly. Student Loan Hero* (https://studentloanhero.com/student-loan-debt-statistics/) reveals alarming statistics regarding student loans and the burden on individual students. Unfortunately, student loans are a necessity for many families in order to help shoulder the increasing costs of higher education.
If a family must take out loans for college, we advise you to start with the federal loan eligibility. Federal Direct loans typically have a lower interest rate and much more flexible repayment options. Subsidized loans are a great option, since the government covers the interest that accrues while the student is enrolled at least half time.
The general rule is this: Do not borrow more for your education than you will make your first year after college. The base salary for first-year teachers at synod code is currently $29,511. Our graduates continue to stay under this total. Of the 2019 graduates that took out loans, the average loan debt was $27,196 (with an estimated repayment of $288/month based on a 5% interest rate).
What Is MLC Doing to Help?
MLC leaders have prayerfully considered how we can better serve the needs of students—even beyond the many grants and scholarships available. We've developed two very beneficial programs: Congregational Partner Grant Program and MLC Direction.
Congregational Partner Grant Program: MLC matches dollar for dollar, up to $1000, the gift a congregation gathers to apply to the tuition of their MLC student. In each of its four years of existence, more students were able to take advantage of the program. Most recently, in 2019-2020, MLC provided $486,000 in matching funds to 600 students. More information can be found on our website: https://mlc-wels.edu/financial-aid/congregational-partner-grant-program.
MLC Direction: August 2015 marked the first year of this program. As the full-time financial literacy coordinator, I help students better understand financial topics and make wiser financial decisions now, alleviating financial pressure in the future.
First-year students meet one on one with me. We review how much they've borrowed for the current year, project what they'll need for future years, estimate what their repayment plan might look like, and discuss strategies for reducing loan amounts.
Graduating students also meet one on one with me. We review their total loan debt, estimate their future payments, and create a personalized budget based on projected income and expenses.
All students complete a few online topics through CashCourse, a non-profit organization that provides personal finance tools and learning modules to students. cashcourse.org
All studentsare also invited to group presentations throughout the year, where guest speakers present on various financial topics, including the basics of investing, understanding credit, and avoiding identity theft. First-year students are required to attend a group session on basic money management in the fall semester.
Many excellent resources are available to students and families on our website: mlc-wels.edu/financial-aid/mlcdirection and also on our Facebook page: www.facebook.com/mlcdirection.
We hope that the MLC Direction resources, meetings, online topics, and group presentations will help students develop better financial understanding and habits. Through hard work and support from family and the college, students can minimize their debt and maximize their income. After all, if they live like a college student now—scrimping and saving—they won't have to in the future!