This is

BIG NEWS!
The MLC Administrative Council has approved Congregational Match increases of 10%, each year, until 2027-2028 academic year! The diagram below has been provided to assist your congregation in planning for these annual increases.

To partner with MLC and reduce student indebtedness, please use the link in the next section of this page to complete the form and send in your congregation's contribution. Together we can make a difference!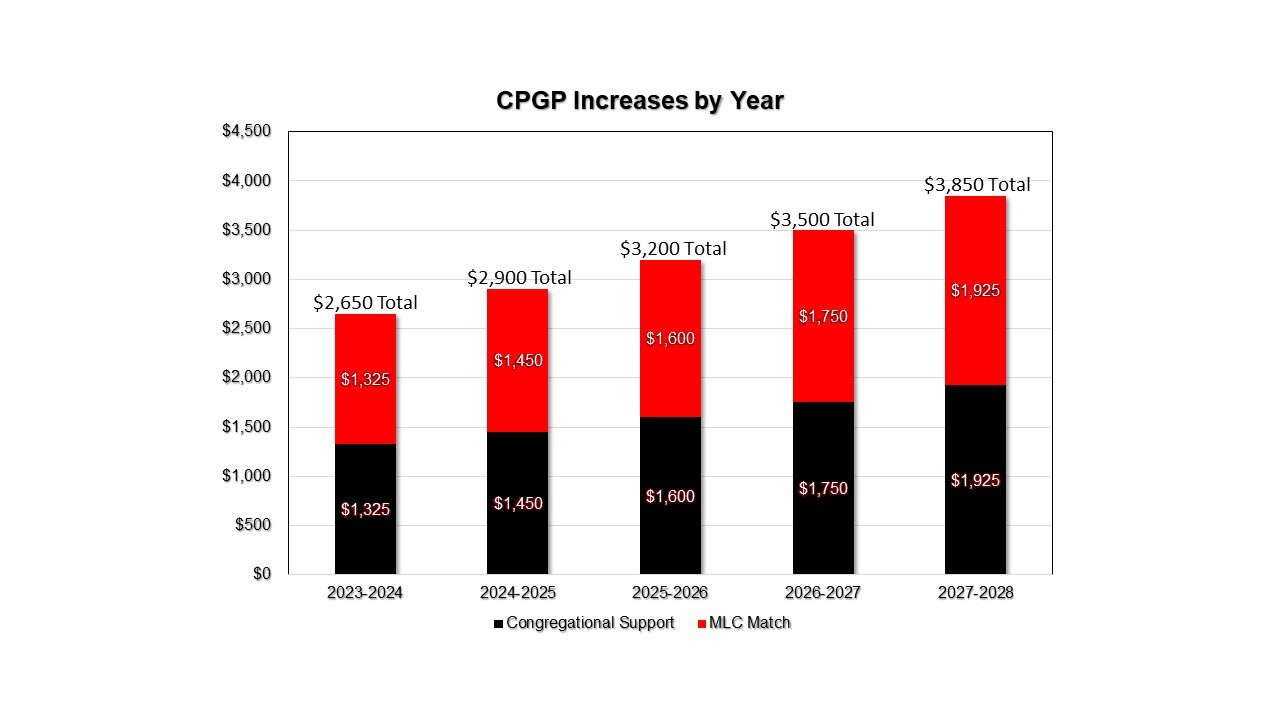 Churches: Support Your Students!
This program allows congregations to encourage and support their members who are preparing for the public ministry at MLC.

Congregations complete the required form and submit the funds directly to MLC. MLC matches that grant for each student. The student must be a member of the congregation that submits money for the program.

For the 2024-2025 academic year, MLC will increase the matched amount from $1,325 to $1,450 per student! 

Grant amounts must be whole numbers. Our system cannot process cents.
Program Details
Deadline for submission is July 15, 2024, for the 2024-2025 academic year. Submissions postmarked after July 15, 2024, will be credited to the student's account as a congregational grant but will not receive the MLC match.

Late applications will be accepted for students not attending the fall semester. Deadline for students admitted for second semester is December 15, 2024.

Monies remitted for matching may come from the church's annual budget, endowed sources, or donations to a specific fund. If a specific fund has been created, neither the student(s) nor the students' family members can contribute to this fund with the intent of receiving a tax benefit.

Monies must accompany this form to be considered formally submitted.

Congregation monies will be applied to the fall semester, and MLC matching funds will be applied to the spring semester. MLC will return church funds for any student who withdraws prior to completing 60% of the fall semester.

Print and complete the participation form using the Congregational Partner Grant Application. Once completed, mail the form and accompanying monies to the address specified on the form.
Be the Match
Congregations and individuals who want to support the program but do not have any members preparing for the public ministry at MLC can still contribute to this grant program.

The continuation of this program in future years relies heavily on donors. Your contribution can help MLC match the congregational grants for years to come.
Support this program with your gift:
Call the MLC Mission Advancement Office at 507.354.8221 ext. 295 or
You can also text CPGP to 507.223.4344 to give to this program.
To God Be the Glory
We at MLC thank Jesus for the wonderful support and interest of so many congregations who seek to help their students train for ministry. Truly, God is able to do immeasurably more than all we ask or imagine.
Follow us on Instagram for Financial Aid information such as dates/deadlines and scholarships!
Follow us on Facebook to stay on top of important Financial Literacy topics!