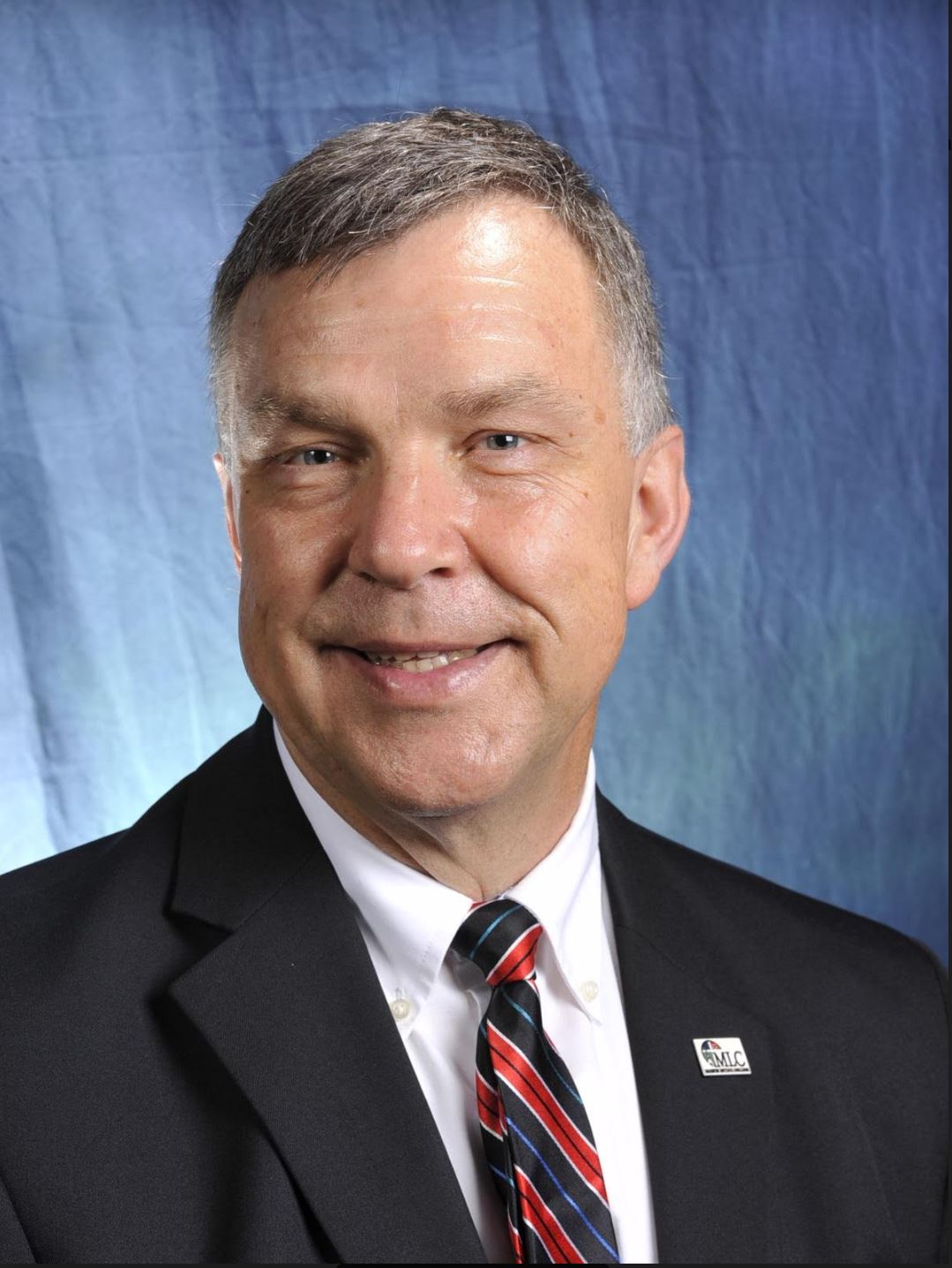 Martin Luther College is pleased to announce the arrival of its new president, Rev. Richard Gurgel.
President Gurgel replaces President Mark Zarling, who retired this June after serving the college from 2007 to 2020.
President Gurgel brings decades of experience in both ministerial education and parish ministry, as well as 18 years of experience as an MLC parent. Rich and his wife, Sue, have five boys, all graduates of the college he is now leading.
Pastor, Professor, Parent: From 1999 to 2020, Gurgel served as a professor at Wisconsin Lutheran Seminary (WLS) in Mequon, Wisconsin, where future pastors complete their ministerial training. There he taught Christian education, homiletics (preaching), and Christian doctrine.
In 2010, he was appointed WLS's first director of the Grow in Grace Institute, the continuing education arm of the seminary. There he partnered with people on and off campus to begin retreats for pastors and wives, establish a mentoring program for new pastors, and make formal continuing education courses more accessible to pastors.
Prior to his tenure as a seminary professor, Gurgel served as the pastor of two WELS parishes: Gethsemane in Oklahoma City (1986-1992) and David's Star in Jackson, Wisconsin (1992-1998). He also served as an emergency instructor for one year while still a seminary student, teaching religion and language arts, and coaching basketball at Kettle Moraine Lutheran High School in Jackson, Wisconsin (1982-1983).
"God wastes nothing," he says. "At each place, God had so much for me to learn in order to be a blessing to those he called me to serve. That encourages me that he can help me through another (steep) learning curve as I serve with my new partners in ministry at MLC."
He brings another perspective to this call as well. For almost two decades, Rich and Sue were MLC parents, "making tuition and room and board payments to MLC and watching how our sons were blessed as they grew in Christian maturity on this campus."
It is through these three lenses—pastor, professor, and parent—that Gurgel sees the college's blessings as well as its challenges.
Blessings: "Without claiming that we have the perfect worker training system in the WELS," he says, "we have many reasons to give thanks for the careful and thorough training we expect that the next generation of our pastors, teachers, and staff ministers will receive. Since almost every future called worker in our synod is part of the MLC family at some point, MLC is a pivotal part of maintaining that careful and thorough training. A rich heritage has been handed down to us, and now is our time to pass that on to others."
That rich heritage is founded on another blessing: the gospel itself. "As president, I also hope to guard our Lutheran understanding of the centrality of the gospel as it comes to us in the means of grace. If we lose our focus on the comfort and the power of the life, death, and resurrection of Jesus, then we lose the beating heart of our Christian faith and the power and strength to serve in the public ministry.
"We are not all about creating Bible trivia experts on this campus," he continues, "but about raising up witnesses for Christ who have tasted and seen for themselves how good and gracious is their saving God. That love of Christ empowers faith and ministry."
Challenges: Also looming large in Gurgel's thinking and praying are three challenges the college faces: reducing student debt, enhancing campus facilities, and offering students the best education possible, one that simultaneously holds firm to the unchanging gospel and rises to meet the needs of a rapidly changing world.
Student Debt: Regarding that first challenge, Gurgel wants to explore how the college can better collaborate with students, parents, donors, and the synod to reduce significantly the debt many students carry as they leave MLC."As a synod, we have a huge stake in raising up a new generation of well-trained and faithful called workers. We must do all we can to avoid sending students out with educational debt that will burden them for years in public ministry and hinder their ability to raise a family. We are in this together as a synod. There is much more that we can do."
Facilities: The second challenge focuses on the campus itself. Gurgel would like to expand and update the aging buildings and infrastructure here on the hill. He sees this not only as an issue of good stewardship but also as an important factor in recruiting new candidates for the public ministry.He says, "We need to remain an attractive option in an increasingly competitive market as high school students make decisions about the college they will attend. While it is only the gospel that can shape and form the next generation of servant-hearted leaders for our schools and churches, we do not want our campus and its facilities to become a deterrent to our ability to welcome them to our school."
Educational Excellence: The third challenge is ongoing for every faculty member. "We must make sure we are equipping our students with an outstanding education that prepares them well to be ministers of the gospel in the 21st-century world. We have much to give thanks for, but we cannot close our eyes to where we can grow."
A President's Prayers: As President Gurgel takes the mantle, he does so in humility and prayer.
"I pray that God keeps me ever learning what it means to shepherd this campus with a humble gospel heart, in a way that proves a blessing to all who call this campus their home (students, faculty, staff, and administration). For our students, I pray that God will continue to use our campus to grow within them humble servant hearts, like their Savior's, so that they stand out as lights in the darkness of a me-first world. For our faculty, staff, and administration, I pray that everyone who serves on this campus finds joy—under the cross—in that service.
"I have slowly learned," he continues, "that I will be of little use to anyone I've been called to serve if my own soul is not feeding daily on the width, height, length, and depth of the love of God that is in Christ Jesus my Lord. I have learned not to apologize for spending a considerable time each morning in Word and prayer so that God's grace may bless me and enable me, in whatever way he might please that day, to be a blessing to others."
Quick Facts: President Richard Gurgel Family
Rich's wife, Sue, taught kindergarten for the past 17 years at Christ Alone Lutheran School in Mequon, Wisconsin. They enjoy supporting their five boys with their God-given callings and families:
Philip MLC '06 is the Hispanic outreach pastor at Trinity Lutheran Church in Waukesha, Wisconsin. He and his wife, Christa, have two sons, Theophilus and Amadeus.
Brad MLC '08 is the principal and upper grade teacher at St. Peter Lutheran School in St. Peter, Minnesota. He and his wife, Bethany (Warnecke) MLC '08, have four children: Kayla, Mason, Elianna, and Aiden.
Stephen MLC '11 is the principal and grade 7-8 teacher at St. Paul Lutheran School in Rapid City, South Dakota. He and his wife, Megan (Ziel) MLC '11, have two children: Warren and Whitney.
Nathan MLC '14 teaches physical education, business, accounting, and economics at Manitowoc Lutheran High School in Manitowoc, Wisconsin.
Ryan '20 will be continuing his pursuit of the pastoral ministry this fall at Wisconsin Lutheran Seminary.
---
Education
B.A. Northwestern College 1981
M.Div. Wisconsin Lutheran Seminary 1986
D.Min. Trinity Evangelical Divinity School 2010
---
Ministry
Kettle Moraine Lutheran High School 1982-1983
Gethsemane-Oklahoma City 1986-1992
David's Star-Jackson, Wisconsin 1992-1998
Wisconsin Lutheran Seminary 1999-2020
---
Hobbies
Hiking, biking ("I did the New Ulm circle tour twice in my first week here!"), theater performances, baseball ("I especially enjoyed coaching Little League and high school ball for about 25 years.")
---
Music
Classical, sacred choral ("My favorite musical events by far each year have been the MLC and WLS Christmas concerts.")
---
Books
Books on the art and science of preaching the gospel and on leadership in the public ministry, John Grisham novels, biographies, historical fiction
---
Did you know? Achieving a longtime dream, President Gurgel became a certified Gallup Strengths Coach. He hopes to use that training at MLC—and later, in his retirement—to help people grow in all their God-given callings.
https://mlc-wels.edu/wp-content/uploads/2015/04/mlclogo1.png
0
0
Leah Matzke
https://mlc-wels.edu/wp-content/uploads/2015/04/mlclogo1.png
Leah Matzke
2020-07-23 10:16:45
2020-07-27 08:26:59
Martin Luther College Welcomes New President