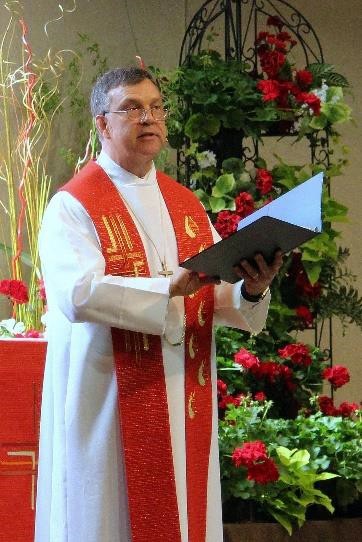 We thank the Lord of the Church that he has led Rev. Richard Gurgel to accept the call to serve as president of Martin Luther College.
Professor Gurgel brings years of parish and teaching experience to his new ministry. Since 1999, he has served as a professor at Wisconsin Lutheran Seminary in Mequon, Wisconsin, teaching in homiletics, systematics, and Christian education and directing the continuing education arm of the seminary, the Grow in Grace Institute.
The MLC Governing Board issued the call September 26, and Professor Gurgel officially accepted October 21, saying, "With a deep awareness of my weaknesses as a jar of clay, but with a still deeper appreciation for Christ's forgiving and empowering grace, I accept the call to serve as Martin Luther College's next president. May God give me a double portion of the servant-hearted, gospel- filled spirit with which President Zarling has so faithfully served.
"It will be a privilege to partner with you in the great task that God has set before us as the WELS College of Ministry. God has used and continues to use what happens on MLC's campus to prepare one generation after another of Christian witnesses to proclaim the gospel of his kingdom in classrooms and congregations and communities around the world. Truly a city set on a hill cannot be hidden!"
Rev. Mark Zarling, retiring president of MLC, is grateful that such a faithful shepherd will soon assume the leadership mantle. "Professor Gurgel is a shepherd gifted with many abilities and with a heart that beats with the gospel of Jesus Christ. I am thrilled that he has accepted and am confident that Jesus will use him mightily for the good of this important ministry."
Rev. Earle Treptow, president of Wisconsin Lutheran Seminary, wrote, "We hate to see him leave the seminary. The gifts the Lord chose for him make him an excellent fit for the work asked of him here—preparing future pastors to preach and teach and encouraging our current pastors to grow in all of the callings the Lord has given them through formal and informal learning opportunities. At the same time, we are thrilled to have him take up the duties as president at MLC. Both students and faculty know the critical work being done at the college. All of us are convinced that the Lord has prepared him for this time and this calling. We know the Lord's promise to equip Professor Gurgel with what he needs to serve and we look forward to seeing the blessings the Lord will grant in the coming years."
The campus family of Martin Luther College asks all members of the synod to pray for Rich and his wife, Sue, as he finishes his ministry at Wisconsin Lutheran Seminary and they make the move to New Ulm. We also ask God to bless our dear seminary and to provide the next professor to serve there quickly.