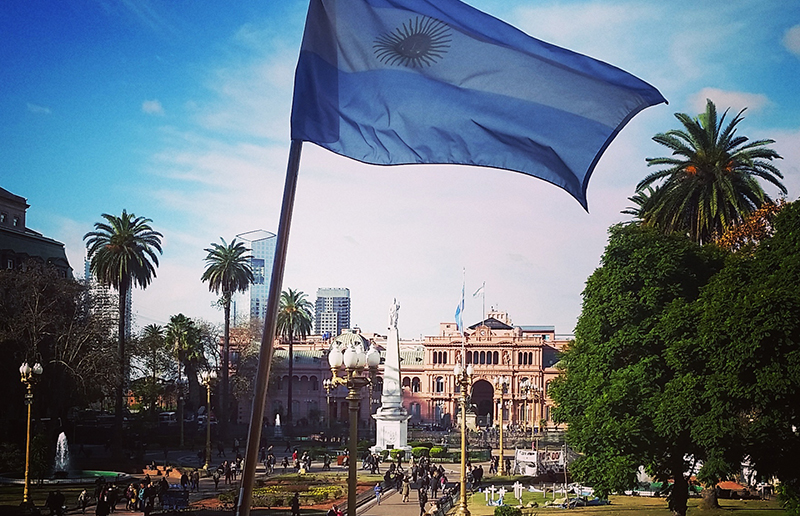 Professor Paul Bases took 37 participants on this summer's Spanish immersion experience to Argentina.
The annual five-week, six-credit immersion course includes homestay programs, seven hours of daily language instruction, guided excursions, tango classes, and a weekend gaucho ranch excursion.
Most notably, students are required to take a Spanish-only pledge, speaking nothing but Spanish for the entire five weeks. Since 1995, "Profe" Bases has taken 470 participants on immersion trips to Spanish-speaking South American countries.
Any MLC student may sign up for these courses, no matter what their level of fluency. Students from Bethany Lutheran College (Mankato MN) and Wisconsin Lutheran College (Milwaukee) also sign up for the courses, as do current teachers and pastors.
This year, for instance, Pastor Phil Hunter MLC '11, WLS '15 and his wife, Andrea (Steinbrenner) Hunter '10, participated. Pastor Hunter led worship services—in Spanish, of course. "It's open to any and all who wish to study Spanish in an intensive high-quality program," Bases says. "It's a great way for both current students and called workers to work on their language proficiency skills."
For those who want additional experiences after their first immersion course, Professor Bases also offers satellite immersion programs in Guatemala, Ecuador, and Chile.
Of the 550 education majors on the MLC campus, 27 are Spanish majors. Another seven students carry a Spanish minor. And preseminary students see the value of the language as well, with 30% (52 out of 172) taking Spanish courses to fulfill their nonbiblical language requirement.
Learning a foreign language is not merely an avenue to greater cultural awareness. It also opens doors for the gospel. With about 400 million native speakers, Spanish is the second-most widely spoken language in the world, making mastery of this Romance language a ministry training asset.
One Spanish course— Communicating Christ—is focused exclusively on sharing the gospel. (The most widely spoken language in the world, with almost a billion native speakers, is Mandarin Chinese, which is also offered at MLC.)
"Those students who graduate from MLC with Spanish language proficiency are well-prepared to share the gospel with millions of souls, both here in the States and abroad," Bases says. "What a blessing to share the love of Jesus with people in their own language."
https://mlc-wels.edu/wp-content/uploads/2016/11/p12-13-Immersion-whole-group-1.jpg
516
800
Leah Matzke
https://mlc-wels.edu/wp-content/uploads/2015/04/mlclogo1.png
Leah Matzke
2016-11-10 08:30:14
2017-03-10 08:30:49
Spanish Immersion Equips for Ministry