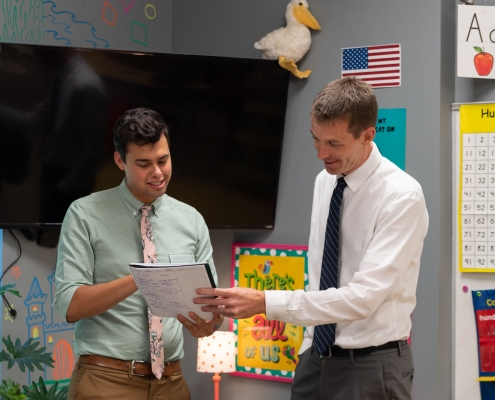 Zach Seeger ('05, '22) wears two hats. At Abiding Peace in Simpsonville, South Carolina, he carries a full load of administrative duties and teaches a full classroom of sixth and seventh graders. He's a principal who teaches. So it was important to him that his master's program increase his skills in both areas of his ministry.
MLC's program fit the bill.
He chose MLC. He started the program after about 10 years in ministry. He had always dug into plenty of conferences, workshops, and webinars, but the time came when he wanted to dig deeper. "I was ready to acquire new knowledge and skills," he says, "so I could give glory to God by growing in my roles as both principal and teacher."
Zach looked at several different schools, including one local program that appealed to him because it offered face-to-face instruction. But in the end, he says, "MLC beat the others in both cost and flexibility."
Another factor weighed even more heavily in MLC's favor.
"MLC's program," he says, "included a focus on ministry and Christian education that I felt was uniquely applicable to my context and role as a called worker."
He chose the Leadership emphasis. As a principal and a teacher, like so many WELS principals across the country, Zach wanted a program that allowed him to explore both parts of his calling. "I was hoping to grow as a principal," he says, "by getting some additional training that I may not have received because I was assigned as a teaching principal. As a teacher, I wanted to be sure I wasn't neglecting my classroom in favor of urgent administrative responsibilities. And through it all, I wanted to maintain a focus on the why of ministry—sharing the love of Jesus to children and their families."
The flexibility of MLC's leadership program allowed for the variety Zach wanted. "The Leadership emphasis," he says, "allowed me to take a wide variety of courses that pertained to both. I believe there were only three required courses, so for the other nine I was free to select from many different electives that fit my interests and duties."
The flexible pace was welcome too. "I took the slow and steady approach to the program," he says, "because I wanted to maintain a balance between my call to be a husband, father, teacher—and my new role as grad student. I also wanted to gain as much as possible from each course—not just check the boxes on assignments—so maintaining a healthy pace was important to me."
The program met—and exceeded—expectation. Zach is quick to note all the advantages of an MLC program. In addition to the flexibility and the ministry focus, he also appreciated the peer interaction and the direct application to his classroom. "I enjoyed the chance to learn from some excellent, ministry-minded instructors," he says, "and also to learn from colleagues in diverse ministry settings throughout the world who shared insights, experiences, and strategies. It was a joy to connect with others who share the goal of using our schools to build eternal relationships with children and their families. I also appreciated how many of the projects and assignments allowed for direct application to my school and classroom."
Even the online format, which he'd been leery of, proved to be beneficial. "Working online allowed for many voices to be heard on many topics," he says. "It exceeded my expectations."
Certain courses really hit home. Zach says every class had its impact, but a few stand out: "Change is a constant in ministry, and Leadership for Change helped me understand all that is involved in the change process for individuals and institutions. High-Impact Instruction was perhaps the most immediately applicable to my day-to-day teaching as I was able to implement simple, practical strategies right away. I also really appreciated Foundations of Ministry for the opportunities it gave to dig into Scripture, discuss it with others, apply biblical principles to my context, and ultimately return to the why of ministry."
The results are clear.
"When I compare where I was before and after completing the program," he says, "it's clear to me that I learned and grew a great deal. I'm better equipped and have more confidence in the way I operate as a teacher and principal. I humbly pray that God continues to use me as his tool to share the good news."
He encourages other teaching principals to try MLC. "While there is a significant investment of time, energy, and money to pursue a master's degree, MLC's program will provide you with a great return on that investment.  I believe you'll receive an excellent Christ-centered education that has direct application to your call like no other program could. And the leadership emphasis was an especially well-rounded program for someone wearing multiple hats."
Zach and his wife, Becky (MLC '05), have three boys: Seth (11), JJ (10), and Ryan (8). Zach likes spending time with his family, running, baseball, and traveling. He and Becky lived in Wuhan, China, for three years—long before COVID was a thing. "It wasn't me," he says. "I promise."