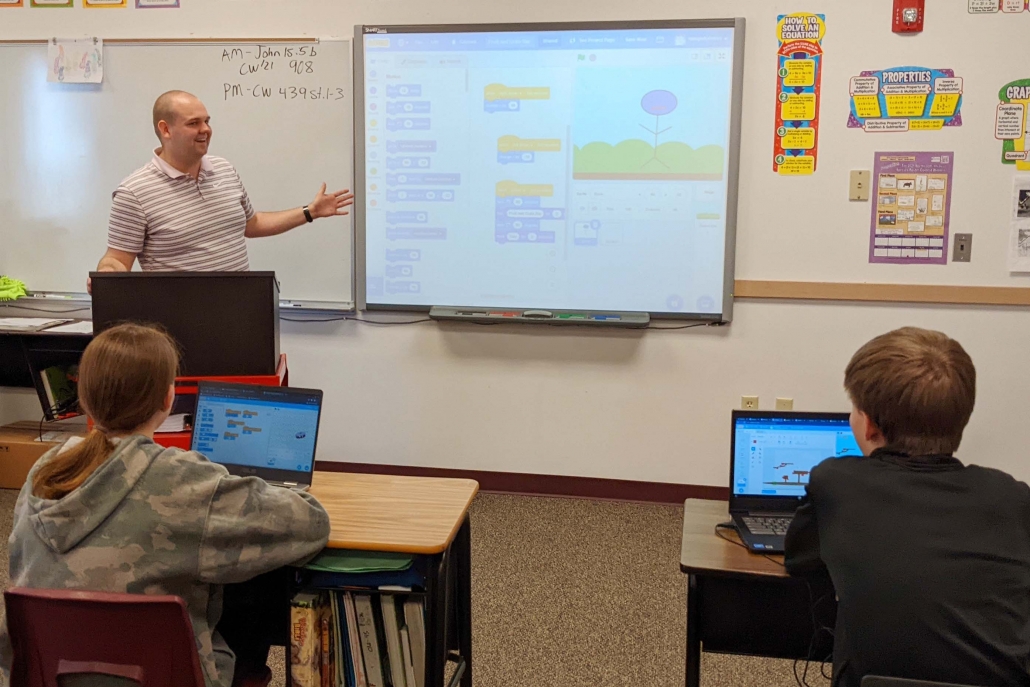 When Donovan Waege MLC '21 began his ministry last summer at Christ Lutheran School in Eagle River, Wisconsin, his duties expanded quickly. In addition to teaching grades 5-8, as assigned, he also found himself in the unofficial role of technology director. Using his own natural interest in technology, coupled with the training he'd received in his educational technology minor at MLC, Waege helped upgrade the school's network infrastructure and managed all the student devices. He also began teaching computer to grades 1-8.
"I've enjoyed watching all the students grow in their computer skills through typing, digital citizenship, Google Workspace essentials, coding, websites, and, most recently, videography and stop motion," he says. "And I'm constantly looking for more ways to share my love of technology with my students."
But Mr. Waege didn't keep his tech skills contained in his own school building. He also saw the needs in various congregations and began helping them build up their network infrastructure and live-streaming options. The news of his skills went a little viral—and he was happy to help.
He knew about the importance of technology. But now he was seeing firsthand how he could lend technology leadership to churches and schools. He could lead the way in updating and expanding tech so that God's people could carry out their school and congregational missions even more effectively.
That's why he decided to enroll in MLC's graduate program in Educational Administration with the Technology Director emphasis.
Truthfully, he didn't plan on starting a master's program right after finishing his undergraduate degree—nor was he sold on attending MLC for that degree when the time came. But when he saw that MLC had a program specifically dedicated to the work of technology directors, he knew it was the program for him.
Additionally, he was able to save time and money by sticking with MLC. He receives a 10% tuition discount for starting his master's within two years of earning his MLC bachelor's. He also had already completed a graduate-level course as an undergraduate. And as he makes his way through the program, he can retake other cross-listed (undergrad/grad) courses for half cost. Since he's already finished the undergrad requirements for these courses, he only has to complete the additional graduate-level work to earn graduate credit.
These little incentives will accelerate his completion of the program and put a little extra money in his pocket as well.
Waege knows all the courses will be applicable to his ministry, but he notes one that has already proved immensely beneficial. Leading Technology Professional Development emphasized planning and putting together a professional development session. The course challenged him to think of ways he could share his technology experience and expertise with other teachers and leaders. As with his own school and the surrounding congregations, he saw this as a way that he could be a resource for others.
One class he's looking forward to is School Technology Infrastructure. He doesn't have a lot of formal training in this area. He's mostly been learning by trial and error, he says. But this he knows that this will be instantly applicable in a number of different ways—and in any place he may be serving.
Though he's not too far into the program, he advises MLC graduates to give it a try—especially those who find themselves in school technology roles.
"Not only has this program been a great opportunity to grow in my knowledge of technology," he says, "but it has also been an opportunity to work with other teachers enrolled in my courses who share the same ultimate goal of sharing the gospel message with their students."
On Call Day, May 14, Mr. Waege will receive a new assignment. His call to Eagle River is a one-year assignment, and the position is filled for next year. So he's looking forward to seeing where the Lord will lead him next—to see "the ways I'll be able to use my God-given abilities in teaching and technology in service to God."
And wherever he goes, he'll continue his MLC master's program. It fits his ministry needs today—and tomorrow too. "Looking into the future," he says, "I want to make sure I am adequately trained and prepared to serve any of our schools, both elementary and secondary, in the administrative position of technology director if the Lord chooses to call me in this way."
Written by Laurie Gauger