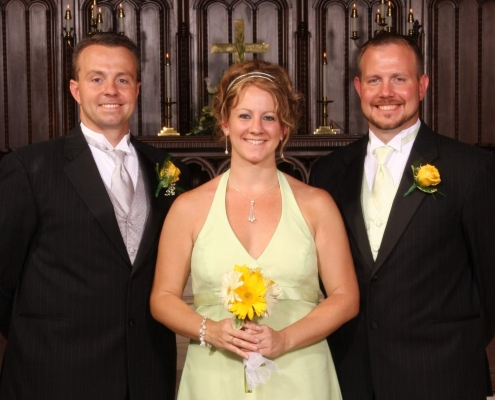 Kyle, Justin, and Kayte Gut (pronounced 'goot') went to school together at MLC about 20 years ago—graduating in 2000, 2001, and 2002. They found themselves at MLC again just a couple years ago, all of them enrolled in the graduate program. When they realized they would all graduate at the same time and could receive their diplomas together on the MLC stage in May 2020, they were excited.
But that was not to be.
In May 2019, Kyle suffered a heart attack and joined his Savior in heaven. In March 2020, the pandemic swept most major events right off the calendar.
Justin says, "What would have been three siblings walking across the stage of MLC to receive their master's degrees turned into no one walking across the stage."
The siblings' love for each other and for their gospel ministries are an inspiration. This is the kind of story that reminds us that some final awards are infinitely more precious than others and that a master's degree—though hard-earned and well used—pales in comparison to life with the Master.
Kyle: MS Educational Administration
Kyle MLC '00 (elementary ed, secondary social studies ed) was the first to enroll at MLC. He began while serving as principal at Good Shepherd-West Allis WI and continued while he served as principal at St. Mark-Green Bay WI. Described by Pastor Christopher Johnson as "genuine, humble, loving, everything you would want in a principal," Kyle was pursuing his degree in MS Educational Administration. His siblings would soon follow. Kyle finished everything but his thesis before he passed.
Justin: MS Education-Educational Technology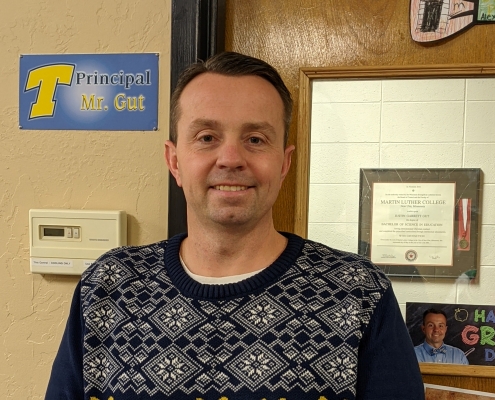 Justin enrolled next. He had graduated in 2001 (elementary ed and secondary science ed) and taught at Peace-Otsego MI, Hope HS-Milwaukee, and Bethany-Kenosha WI. Now he was at Trinity-Waukesha WI, teaching grade 6, music, and—his favorite—technology.
"I have a passion for seeing how technology can enhance the students' learning in ways that may not have been possible without it. I've also seen technology detract from the teaching going on, so I decided that I needed more education in how best to use technology and then share that knowledge with others."
He adds, "We didn't have a lot of teachers in the WELS who had formal training in technology when I began this program, so I felt it was an area of need at my school and in the WELS."
Justin didn't start immediately at MLC. He began his program at another college, but found it wasn't a good fit. With a full-time ministry and a young family—he and Cindy have three boys, Alex, Liam, and Bryce—he needed more flexibility.
Then he saw MLC's new program in MS Educational Technology. "MLC was great in working with me," he says, "transferring what I had completed and working with my schedule so I could complete the program without added stress."
He dove deep into the technology courses.
"I really appreciated the classes that were directly focused on the use of technology in the classroom. It was a great blessing to hear how other teachers were also using technology. Many times an in-class discussion would be the spark for an idea that I would then take and use in my own class.
"In one of my classes," he continues, "we studied how we could use different technologies together to allow students other ways to express what they had learned. At the end of a unit, I had my students use Google slides and Screencastify together to create a narrated cartoon to explain what they'd learned."
When a change in Justin's call occurred, the flexibility that had first drawn him to MLC was necessary again. Justin transitioned to the principal role at Trinity, and he was grateful that he could take administration courses like Supervision of Instruction as electives at MLC. "Those courses were invaluable to helping me grow in my changing call," he says.
Through it all, it was nice for Justin to go to school with his brother Kyle again. "While Kyle and I never had any classes together, we would often talk about our classes, and he would share the books he'd already purchased."
Kayte: MS Educational Administration-Early Childhood Director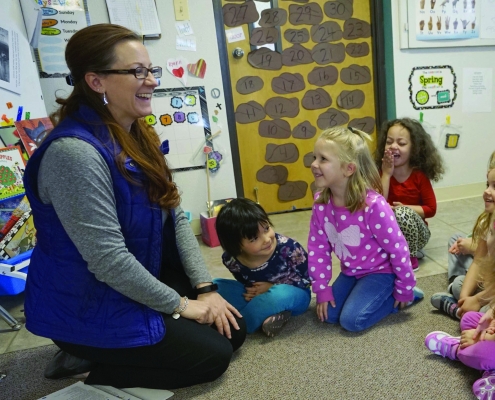 When Kayte MLC '02 enrolled at MLC, she admits it was partly because of her older brothers. "I thought, if they can do it, so can I. My goal was to get better grades than they did! There may have been a little sibling rivalry going on there."
A 2002 grad (elementary ed and early childhood ed), Kayte taught at Grace-Charlotte NC and Abiding Word-Houston before coming to Shepherd of the Valley-Westminster CO. She's the preschool director and teacher and a soccer and cheerleading coach.
Kayte loves teaching the little ones. "Teaching them about God's love for them and watching how it can change their attitudes and behaviors is amazing! I also love the variety of families I get to interact with. Most of these families are from the community, and I get to be their first experience with education for their children. The strong relationships we build with each other last past their time with me. Whether the families continue on to our elementary school or not, they know that Shepherd of the Valley is there for them whenever they need us."
When exploring master's programs, Kayte looked at several schools before choosing MLC. She enrolled in the new MS Educational Administration-Early Childhood Director program. She and two others are the first people to earn the degree.
"When I was looking, I knew I wanted my degree to relate directly to my passion," she says. "I wanted to learn more about early childhood ministry (ECM) so that I not only became better at my ministry, but I could also help others learn more about administration of early childhood."
"There are so many unique challenges in an ECM that many of our school boards and congregations are not equipped to address. I had learned a lot about administration 'on the job' and figured things out with help from fellow directors. In the master's program, it was nice to affirm most of what I had done and to learn about the things I probably should have done differently!"
Kayte especially appreciated the Legal and Ethical Issues class. "There are so many ways to misstep," she says. "Now I have a better understanding of what we should and should not do, say, or write to help our ECMs succeed. My eyes were opened to the importance of well thought-out and written policies so that we may protect our ministries while sharing God's Word with as many children and families as possible."
Justin and Kayte's encouragement: Both Justin and Kayte are quick to urge other teachers to take that important professional development step of enrolling in the graduate program at MLC.
"I say, try it!" Kayte says. "MLC is great at offering classes that work within your schedule, whether you want to take one a year or three a year. The instructors work hard to make the assignments and projects applicable to each person's unique ministry. And it was encouraging to see that there are certain issues that everyone deals with, no matter the size or type of ministry.
"Even if you're like me, and it's been 14 years since you took an official class," she says, "you can do it, and it will definitely benefit your ministry."
Justin agrees. "MLC understands that because this is a ministry and not just a job, we should be constantly striving to improve our skills to better serve our students. The professors are great at using gospel encouragement to keep us motivated to improve."
Kyle's legacy: "While God's plan was different than ours," Kayte says, "I am so very thankful for the time we had together throughout this journey, and for both Kyle's and Justin's example. I know that though I could have done this without them, I am blessed to have done it together."
"The whole journey," Justin adds, "is just another great reminder that while we make plans, God is ultimately the one who is in control of all things. Everything we have and are able to accomplish while we are here on this earth is a blessing from him."
Written by Laurie Gauger-Hested DMLC '87