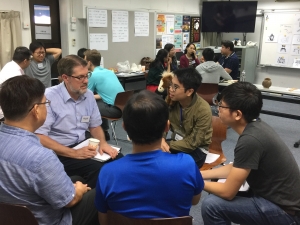 In the spring 2021 semester, Dr. Michael Smith will be teaching MLC graduate students from his office in Hong Kong, where he serves as academic dean and professor of Greek and New Testament at Asia Lutheran Seminary (ALS).
Over the course of his life, Dr. Smith has belonged to four Lutheran denominations: LCA, LCMS, ELS, and WELS—that is, Lutheran Church of America (now part of the Evangelical Lutheran Church of America), Lutheran Church-Missouri Synod, Evangelical Lutheran Synod, and Wisconsin Evangelical Lutheran Synod.
He earned his Master of Divinity at Bethany Lutheran Theological Seminary, his Master of Sacred Theology at Wisconsin Lutheran Seminary, and his PhD in Biblical Studies at Trinity Theological Seminary. He's a member of the Evangelical Theological Society and the Society of Biblical Literature.
Dr. Smith began his ministry as a parish pastor (1987-2002), helping to start mission congregations in Arizona and Michigan. In 2002, he was called to teach Greek and religious studies at Bethany Lutheran College-Mankato MN. Four years later he began teaching New Testament at Bethany Lutheran Theological Seminary on the same campus. He taught there until 2018, when he accepted the call to ALS.
Although Dr. Smith has taught theology in four different countries—India, Ukraine, Hong Kong, and the US—transitioning to a full-time ministry in Hong Kong was quite a change for him and his wife of 36 years, Anita.
"Hong Kong is, indeed, quite different from the upper Midwest of the US!" he says. "We'd never lived in a subtropical climate before, nor had we lived in a big city (over 7 million people). We have no car, so we rely on Hong Kong's amazing public transportation system to get around. It's hard at times to be so far away from family, but we're thankful for video chatting."
The couple's two adult daughters and their families were able to visit them in Hong Kong before the COVID-19 lockdown.
At ALS, Dr. Smith is part of a faculty of four full-time and a dozen part-time instructors. The seminary serves about 160 students and offers several programs, ranging from undergraduate certificates to a Master of Divinity. Some students are on a path to the full-time ministry, while others take a course or two simply to increase their Bible knowledge or become better leaders in their churches. Many courses are taught in Chinese, some in English, and some in English with an interpreter.
We're grateful Dr. Smith is sharing his expertise also with MLC students enrolled in the MA-Theological Studies program.
"I enjoy being able to get to know students from various places and in various vocations and to share God's Word with them," he says. "I enjoy learning from the students as they wrestle with how to apply what we're studying to their individual situations."
In his spare time, Dr. Smith enjoys exploring Hong Kong. "My wife and I have been trying to go to parts of the city we haven't been to yet," he says. "Hong Kong isn't just skyscrapers and tightly-packed apartments. There are mountains, huge parks, indoor and outdoor art displays, and lots of beaches to enjoy."
He also enjoys target shooting, which he practiced back in the States, and listening to music, especially classical.
Written by Laurie Gauger-Hested