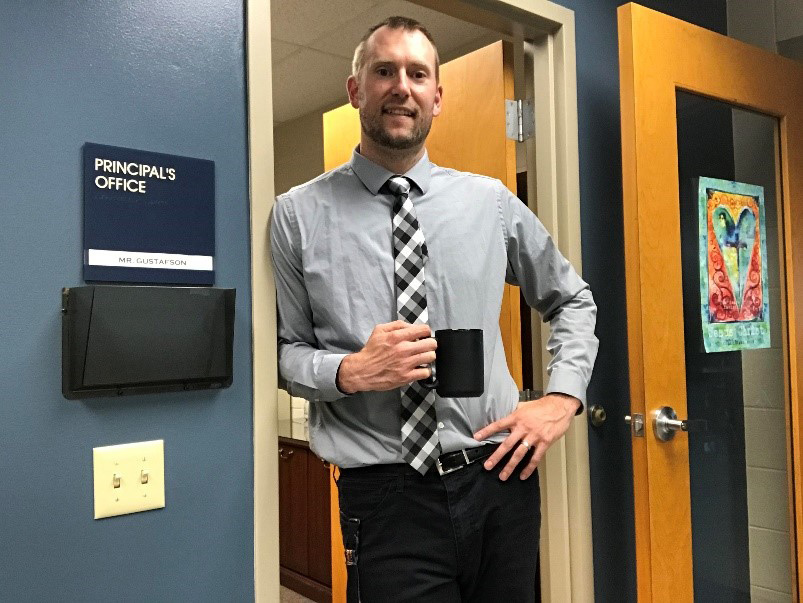 It took three calls and two master's degrees before he felt ready to step into the role of principal.
Phil Gustafson BS '09, MS '16, MS '19 was assigned to St. Mark in Eau Claire, Wisconsin, when he graduated from MLC in 2009. In his 11 years of ministry there, he served as assistant principal and grade 7-8 teacher, and helped with athletic director and technology director duties as well.
Although this range of experience might have prepared him to serve as a principal, he turned down two principal calls. He just didn't feel ready.
In the meantime, he enrolled in MLC's MS Education program with an instruction emphasis. And when he completed that, he enrolled in the MS Educational Administration program in conjunction with the WELS Principal Credential Cohort.
He completed that second master's degree in 2019, just in time to receive—and accept—a principal call to Trinity-St. Luke in Watertown, Wisconsin.
Master's program #1:
"I chose to pursue my first master's degree because I knew I wasn't done learning about how to be the best teacher I could be. Teaching is difficult, and after spending a couple of years in the classroom, I was searching for more training so I could be better equipped to serve my students."
Phil was encouraged by the fact that two other teachers at St. Mark had pursued master's degrees. His congregation urged him to continue his education as well—and paid for most of it.
He looked at other colleges, including nearby UW-Eau Claire, which has a strong education program. "However," he says, "only MLC could provide training specifically for WELS teachers. I was impressed with the classes that were a part of the program and how they would directly apply to a WELS setting. MLC also had a more affordable program."
Master's program #2: In 2016, he received his degree, and then he turned right around and entered the WELS Principal Credential Cohort, which included enrolling in another program, MLC's MS Educational Administration program.
Why a second master's program?
"I had received two calls before joining the cohort. Both were principal calls," he says. "I wanted to be fully trained before stepping into this role."
The MS in Ed Admin program has a track devoted specifically to principals and potential principals. Phil says all the courses were beneficial, but he especially appreciated The Principalship and School Business Administration. "The Principalship was a great overview class. I learned a ton. And School Business Administration made me think about our WELS schools in a different way, and it helped me with school marketing."
He's ready now: He's now putting all he learned to good use as the principal of Trinity-St. Luke (TSL). Other than one seventh-grade math class, he devotes his time to administration of the two campuses, which educate grades PreK-4 near the Trinity congregation and grades 5-8 a mile away, near the St. Luke congregation.
"I love working with the teachers, parents, and students at TSL!" he says. "It's a blessing to work with such wonderful people, all while looking for ways to improve the Christian education for all students!"
And he's grateful to MLC for the preparation. "I feel like the MLC master's program did a great job training me for this call! The courses were outstanding. They prepared me spiritually, as the focus of every course is the mission of our schools. That's something you won't find in other programs. Personally and professionally, I am more confident in my called position. I could not have handled the call I currently have before taking these courses."
His encouragement: Now that he has done the preparation and is filling the office, he wants to encourage others to develop the leadership gifts God has given them.
"Being a called worker is an honor, and it's important work," he says. "The next generation needs to hear God's Word. We need qualified teachers and principals. The MLC master's program is the best way to prepare yourself as a future leader or teacher in the WELS.

"While God certainly can do his work in his church without me," he continues, "I am confident God led me through the program so I could be properly prepared for the principal role. Thanks be to God!"
Meet Phil Gustafson
Family: "I've been married to my wife, Sarah, for six years. We have three children: Hannah (5), Aiden (3) and Isaiah (1). God has blessed us!"
Church: "We are members at St Luke's in Watertown. We've been members only since July, and with COVID restrictions, worship is much different now than it is normally, I'm sure!"
Interests/Hobbies: "I'm interested in all Wisconsin sports; I'm a big fan of the Packers, Brewers, Bucks, and Badgers. I love spending time outside and working on projects at home. I also love history. It's amazing to look back and see how God has been watching over all of us throughout the history of the world!"
Written by Laurie Gauger-Hested