Taking His Leadership to the Next Level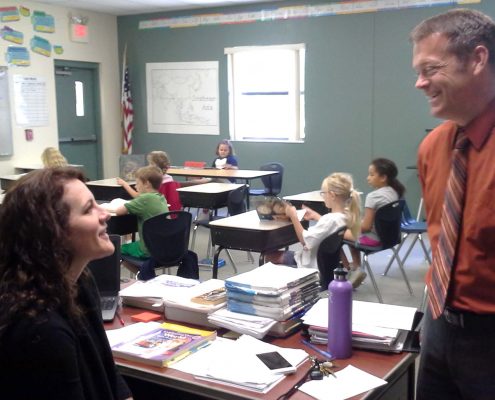 Kyle Bender DMLC '93 is taking his school leadership to the next level. Though Kyle's resume is already impressive, his experience in MLC's new MS in Educational Administration program is giving him new tools he can use immediately in his ministry.
"MLC is challenging me to grow professionally and spiritually through these job-embedded graduate courses," explains Kyle.
"I began MLC's Educational Administration degree for WELS principals because I wanted to grow as an administrator and principal leader. As I reflected on my 13 years as a principal, I saw a need for leadership growth in my life. It wasn't that people were saying I was a bad leader. But I saw in myself those talents that God had given me and the need to further develop those talents—to learn and to grow."
Kyle is principal, teacher, organist, and handbell choir director at St. Paul-Beverly Hills, Florida. He is grooming a recent MLC graduate as principal through the synod's new Principal Training Program—a program he created. Kyle is also a district school coordinator and already has a master's degree in curriculum and instruction.
Yet Kyle wanted to take his principal skills to the next level, so he enrolled in the principal track of MLC's new educational administration master's degree. His decision has been rewarded.
"This has been a huge blessing in my ministry," says Kyle. "I believe my teachers see it as well. I took what I learned in Curriculum Design and Implementation and applied it to my school's English/language arts curriculum. I never thought I would have seen myself leading a faculty through writing our own curriculum, but now I feel confident in doing so."
Kyle continues, "The course Educational Leadership has really led me to reflect on how I am doing as a leader and has given me the opportunity to challenge myself to grow as an educational leader in my school. What I have learned in that course directly impacts my leadership with the parents, teacher, and staff."
Compared to his previous master's degree at another institution, Kyle finds that MLC's program better meets his needs. "I am taking so much more out of this than my first master's degree in C&I 15 years ago. So far the MLC courses have been awesome—very applicable. The professors are very accommodating, as they understand the busy times of a principal and teacher."
Despite his busy schedule, Kyle has already completed nine credits and hopes to finish his new degree in 2018. "Part of my philosophy as a teacher and principal is to strive to do the very best I can with the talents and abilities God has given me."
MLC's new MS Ed Admin degree is helping him reach that goal. Read more about the MS Ed Admin degree.
Written by Dr. John Meyer