Advent Devotions: A gift to you from Martin Luther College, the WELS College of Ministry
Word Made Flesh: THE HISTORICAL REALITY OF CHRISTMAS
Discover how the gospels of John the Elder and Luke the Historian record the details of the incarnation—God becoming man. Each of these 25 devotions is prompted by a question about the historical accuracy of the Christmas account. Each reminds us that Christmas is not a sweet children's story or fairytale. It is a historical event. In our skeptical times, John and Luke help us reaffirm the objective reality of Christmas.
We hope these devotions will remind you that we need more than just a spiritual idea or inspiring story. We need a real flesh-and-blood Savior, one who stepped into human history, changing it—and us—forever.
Read devotions individually online below.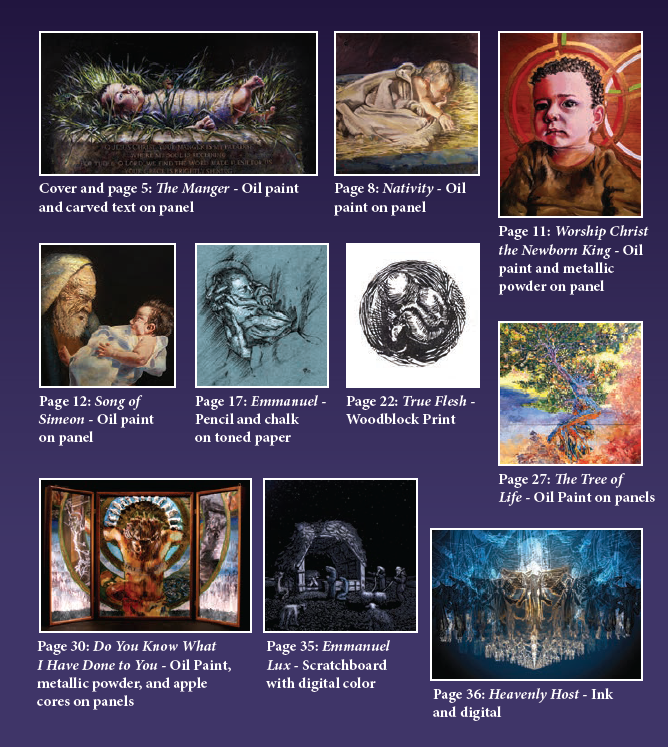 A Note on the Art
We are grateful to Jason Jaspersen for his beautiful art adorning our pages.
CREATED TO CREATE
Jason Jaspersen has been producing a diverse portfolio of art for the past 25 years. His creative work includes public monuments, painted murals, woodblock prints, Japanese ink paintings, sand animations, illustrations, motion graphics, and stacks of sketchbooks. Despite crossing into varied materials and methods, his portfolio has a consistent strain toward internalized Christian themes. He wrestles invisible qualities of the Christian faith into stimulating visuals for renewed contemplation. Jason's paintings, sculptures, and prints can be found around the United States in private and public settings.
A lifelong learner, Jason believes in personal growth. He gets a bit leery of too much comfort and likes to find new challenges in media, methods, and narrative. While he has a deep admiration for millennia of art history, he remembers that all art was once new. To make art that authentically speaks to this generation and remains relevant for the future, Jason carefully brings elements of the past into today's forms and addresses universal aspects of the human condition.
Jason regularly advocates for the intersection of creativity and Christianity at conferences, podcasts, presentations, and blog posts. He currently splits his time working as a studio artist and as a studio art professor at Bethany Lutheran College. Apprenticeship inquiries are welcome.
Thank you to those who helped create this devotion booklet:
Book concept & text selections: Professor Luke Thompson
Devotions: MLC faculty members
Editor: Laurie Gauger|
Art: Jason Jaspersen
Copy editor: Heidi Schoof
Digital media: Leah Matzke
Coordination team: Christy Frey, Tami Board, Beth Scharf
Bible translation: New International Version 2011
Hymns: Christian Worship 2021