December 15
---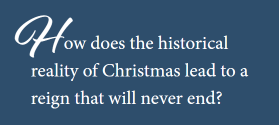 Never-Ending Christmas
[Gabriel said,] "He will be great and will be called the Son of the Most High. The Lord God will give him the throne of his father David, and he will reign over Jacob's descendants forever; his kingdom will never end." Luke 1:32–33
How would you feel—no matter what your occupation—if God were to tell you that you were going to have a descendant who would carry on your vocation forever? That's what God told King David around 1000 BC. David was to have a son who would rule over his kingdom forever (2 Samuel 7:13). Of course, David knew that this incredible promise could only be fulfilled in the coming of the Messiah who would be God himself.
Now fast forward to Nazareth, when the angel Gabriel came to Mary to announce that she was going to have a baby. Gabriel repeats the same words that were first spoken to David! Mary's child was to be the one who would sit on David's throne and have a kingdom that would never end.
We can see how God's plan of salvation from sin was tied to real people in history. First, David was given a remarkable promise. Then Mary, a descendant of David, had a remarkable baby.
As a result, we as believers in Jesus are the big winners! Now, in keeping with God's promise, we have a perfect King who will reign forever over a kingdom that will never end.
In the world of modern politics, I am often happy when a politician's term of service comes to an end, since I am hopeful that the successor may be better. More often than not, however, the next politician disappoints just as much, if not more, than the previous one.
How different and wonderful it is in the kingdom of Jesus. We have a perfect King. Jesus washes away our sins with his blood and reconciles us to God the Father. Jesus hears our prayers and lovingly provides everything we need. And then, best of all, we know that arrangement will continue for all eternity. Jesus' kingdom will never end.
Because of Christmas, we never need to hope for a better ruler to come. We have a perfect King, and he is sitting on the throne forever.
Lord Jesus, thank you for bringing us into your wonderful kingdom. We look forward to having you as our King forever. Amen.
---
Rev. Thomas Nass serves Martin Luther College as a professor of Hebrew.