December 12
---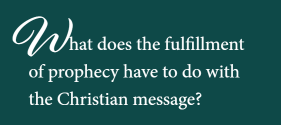 Promises Kept
And he will go on before the Lord, in the spirit and power of Elijah, to turn the hearts of the parents to their children and the disobedient to the wisdom of the righteous—to make ready a people prepared for the Lord. Luke 1:17
"What should we do?" That's the question John the Baptist heard from the people gathered around him at the Jordan River. After water and Word worked faith, the people longed to produce fruit in keeping with repentance. Farmers, tax collectors, soldiers. By the Spirit they were empowered to change their lives to honor and serve their Savior. They were "a people prepared for the Lord."
God promised that in the spirit of Elijah, John the Baptist would call parents to repent and set their hearts on the childrenGod had given them, that they might raise them in the nurture and admonition of the Lord. In the Spirit's power, God used John's message and ministry to prepare the people for the public ministry of Jesus, just as he said he would.
Please don't take God's accomplishment lightly. It's not as if the people through whom God worked were born cooperative and eager to serve. No, God changed them by the gospel, just as he changed you. By the gospel, he empowered John to call his people to repent. And when they did, God proved not only his grace and goodness, but his faithfulness to his promises.
Yes, God kept his promise to bless his people through the message of John the Baptist. And he kept his promise— fulfilled the prophecy—to send the one to whom John pointed. No small feat when you consider the enmity of Satan and the opposition of the world. But who can stop God from accomplishing his promises? No one. Luke teaches us that our God is a God who fulfills prophecies. A God who keeps promises.
To which promises of God are you clinging today? His promise to forgive you for Jesus' sake? His promise to hear and answer your prayers? His promise to provide what you need today? His promise to calm your fears in Christ? His promise to take you home to heaven? Because of his power, his love, his goodness and grace, God will keep his promises to you, just as he kept his promises about sending John and then a Savior. And so we trust him. There is no better life than a life of dependence on the God who keeps his promises.
I am trusting you for power;
you can never fail.
Words which you yourself shall give me
must prevail. Amen. (CW 816:5)
---
Rev. Dr. John Boeder serves Martin Luther College as campus pastor and a professor of theology.