Supporting First-Years
 President Gurgel Welcomes Them to the Family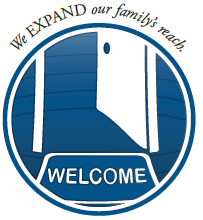 If you're a parent of a first-year student, perhaps your student has mentioned their meeting with the president.
President Gurgel schedules a 15-minute visit with every first-year and transfer student every year.
At a picnic table outside the Chapel of the Christ, or inside the cafeteria solarium, the president does his check-in. He arrives already knowing their hometown, high school, and intended major. From there, he asks about their family, their team and club involvement, their jobs, and how they're settling in. What led them to study for the public ministry? How have we made them feel at home and part of the family? What could we do better?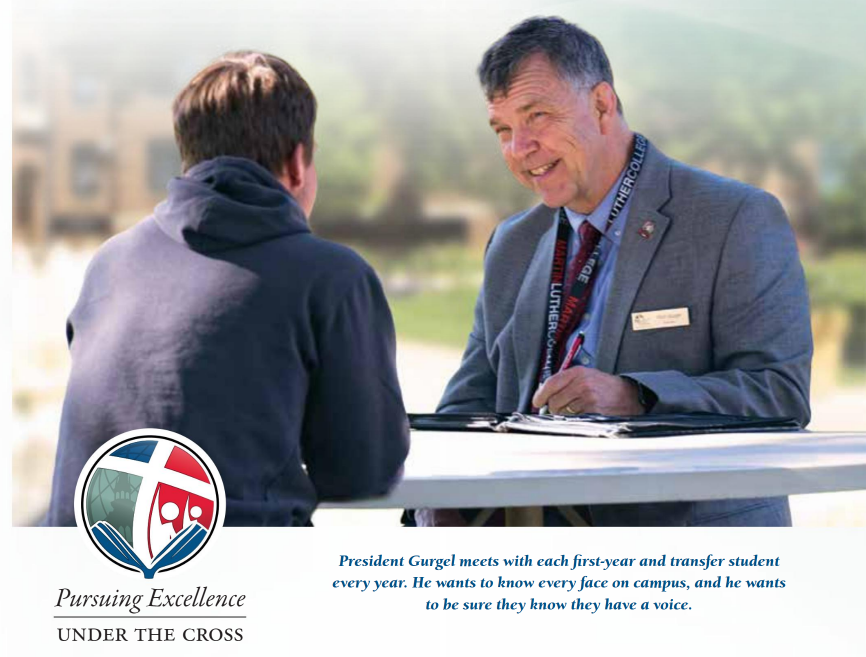 ---
President and Pastor: One purpose of each visit dovetails with President Gurgel's personal mission statement. "Being president of MLC is not unlike being a parish pastor. I have a very real flock to support and nurture. I want to be a shepherd who knows the name of every sheep God has entrusted to my care. I want to be able to call everyone in the campus family by name when I see them in the halls, at chapel, or in the caf."

After three years and 450 visits, that's a lot of names. But knowing people by name is important when you're a family.
"Our campus strategic plan is intentionally filled with references to MLC as a family of faith," he says. "The visits give me a concrete way to say individually to each new MLC student that they are a brother or sister in Christ."
---
We're Family: The students' responses are encouraging to him. "I am very, very thankful that, almost without fail, students will reflect on how much MLC does indeed feel like a welcoming family to them. They clearly pick up on the common faith and focused purpose of MLC, from chapel to classroom, from campus activities to competition field."
Another item many students mention is the individual attention they get from the RAs (resident assistants). The RAs make it their job every year to help first-years adjust to college, but this year they're doing something extra: resiliency training. (See pages 6-7.) This training is one answer to the mental health challenges—anxiety, depression, loneliness—that have increased among college students in the last few years. And the students notice. "Again and again," the president says, "they speak of how supported they feel on our campus."
The students also enjoy telling President Gurgel why they decided to join the MLC family and study for ministry. "They regularly mention the encouragement of parents and grandparents, of called workers in their congregations or schools, and of lay members who spoke about seeing gifts in them. They also talk about the impact of concrete, hands-on 'taste-of-ministry' opportunities. It is quite astounding the many different paths and the many different encouragers God uses to bring each student to our campus."
---
The "Magic Wand" Question: Another purpose of the visits is to assure each student that they have the ear of the president whenever they want it. President Gurgel initiates this through the "magic wand" question. He taps them with his pen—aka his magic wand—and tells them they are now the college president. What would they do to make MLC a better place to study for the ministry?
"I remind them that our strategic plan is all about pursuing excellence under the cross at MLC," he says, "so we do want to discuss what could be better. Most students ask to think about it, and quite a few have gotten back to me by text, email, or just catching me on the sidewalk."
---
We're Here for You: These visits with the president are important because the students' experiences during their first year are crucial to their feelings of comfort and safety as well as their decision to come back next year. MLC's freshman-to-sophomore retention rate is excellent when compared to the national average, but "for the sake of gospel ministry," the president says, "we want to be A+ instead of just 'very good.'"
He concludes: "We want every student to know that we at MLC care about them and want to see them succeed in their pursuit of ministry."