50 Years Ago, DMLC Led the Way for Women's Sports in Minnesota
Would you have thought that 50 years ago, little Dr. Martin Luther College in New Ulm would actually spearhead the movement toward women's collegiate sports in Minnesota?
It's true. At a time when few high schools or colleges had any interscholastic sports for women, DMLC led the way by implementing women's athletics—before the 1972 signing of Title IX.
In 2022, the world of sports commemorated the 50th anniversary of Title IX, which prohibits sex-based discrimination in education, including athletics. So we decided to look back at the beginning of women's athletics on this campus.
First Women's Interscholastic Team at DMLC: The April 1967 edition of Tower Topics noted that 1966-67 was the first season of interscholastic play. The Luther Lancerettes played—and lost—three basketball games, one against Gustavus Adolphus in St. Peter and two against Pillsbury Bible College in Owatonna. Marilyn Hilleman, PE instructor, coached the team of 16, and Sue Post DMLC '71 and Nancy Just Haferman DMLC '69 were captains. Spectator buses traveled to both away games.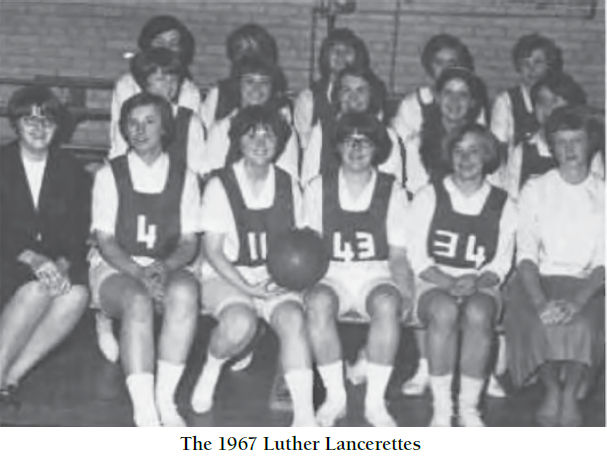 What Tower Topics doesn't mention is that the team played by the women's rules: Six players were allowed on the court, with the three forwards staying in the forecourt, and three guards in the backcourt. Only forwards were allowed to shoot, and players could only dribble the ball twice before shooting or passing.
In 1970, the first year under Coach Sue Post, the women switched to the five-person men's style of play and finished the season 8-1.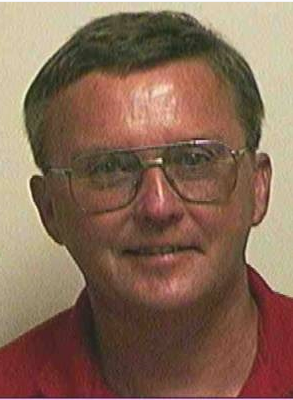 First Women's Athletic Association in Minnesota: DMLC was instrumental in forming the Minnesota Women's Intercollegiate Athletic Association (MWIAA), which boasted 21 member schools, under the leadership of DMLC's athletic director, Professor Emeritus Gary Dallmann  DMLC '66 (pictured left).
---
Professor Emerita Barb Leopold DMLC '74 (pictured left), who was both a DMLC athlete and, upon her graduation, a DMLC professor coach, recounted that AD Dallmann would conduct the in-person scheduling meetings by drawing lots. The entire year's schedule—volleyball, basketball, and softball—took just about four hours to complete. "Dallmann was ahead of the game," said Leopold. "He saw the rise of women's sports on the horizon, which led him to develop and grow women's athletics at DMLC."
---
First Women's State Basketball Tournament: DMLC hosted the first women's Minnesota state basketball tournament ever, on March 9-10, 1972, the year Title IX was signed. The tournament was held under the aegis of both the MWIAA and the Association for Intercollegiate Athletics for Women (AIAW), which governed women's athletics before the NCAA took over a decade later.  Four teams participated in the inaugural tournament: the University of Minnesota-Minneapolis, the University of Minnesota-Duluth, Mankato State College, and DMLC. DMLC had the deepest roster, with 14 players. All the coaches, game officials, and referees were women. The lone male on the program was the announcer.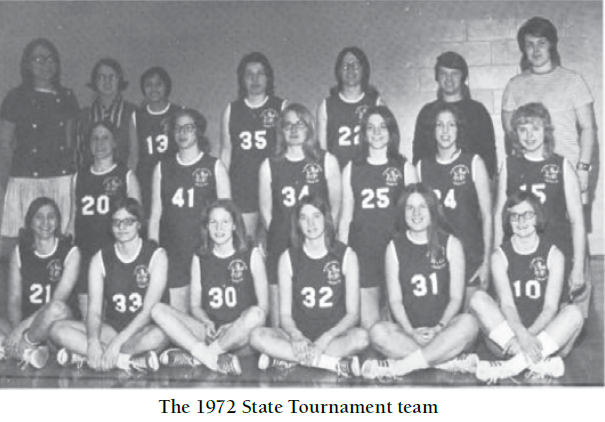 DMLC lost the championship game that year. But two years later the Lancerettes won first place in state in both basketball and softball.
Barb Leopold, Gloria Lohmiller Polfer DMLC '74, Carol Bauer Stuebs DMLC '74, Kathy Deines Dittrich DMLC '74, and Gayle Gilmore Bauer DMLC '73 were some of the mainstays of those first teams.
Coach Leopold Remembers: Barb Leopold was a member of several MWIAA championship basketball teams, both as a player and a coach. She was also a member of DMLC's inaugural softball team in 1971.
Leopold notes that their uniforms in the early years were a bit ragtag. The women would use the same uniforms for volleyball and basketball, while in softball, short-sleeve T-shirts were complemented by unmatched shorts and cutoff jeans—and no helmets. She particularly remembers her basketball shorts: tie-dyed, with a zipper up the side. When the 1974 state championship basketball team traveled to South Dakota for the regional tournament, though, their look got a boost: They were allowed to borrow the men's warmup jerseys.

Those years were filled with successes on the basketball court. Teams would play 15-16 games each season—and more if they continued to win. One of Leopold's most vivid memories is beating the University of Minnesota Gophers in basketball at "The Barn." Another is being invited twice to play a semi-pro team in Iowa sponsored by Look magazine.
When she was assigned to DMLC as a PE professor and coach, she didn't realize that she would also be the bus and van driver, the trainer, the laundry attendant, and the game manager. But that's how it was in women's sports.
Coach Leopold notes one more idiosyncratic custom. According to protocol in those years, the home team would supply cookies or bars for an after-game social event. She says they got to know their competitors on a different level. She misses that part of the early game. The sport took on an entirely new dimension as women's athletics became more competitive.
Fifty Years: When Title IX was signed in 1972, it marked the beginning of a new era in women's educational opportunities, including athletics. But thanks to people like Gary Dallmann and Barb Leopold, the DMLC women's athletic program was already off and running.
For many years now, MLC has offered eight women's sports—the same number as the men: volleyball, soccer, cross country, basketball, softball, tennis, track, and golf.
The athletes work hard. The competition is fierce. And no bars or cookies are served.
---
Special thanks to contributing writer, Professor Larry Czer DMLC '79, and to Professor Rebecca Cox DMLC '89, Senior Woman Administrator, who interviewed Coach Barb Leopold.
.