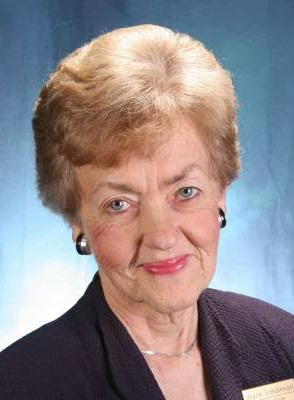 Professor Joyce Schubkegel served as a professor of music at DMLC and MLC for 52 years, 1970-2009 as a full-time professor and 2009-2022 as a part-time adjunct instructor. Prior to her ministry here, she served at First Immanuel-Chicago (LCMS, 1958-1959), St. John-Wheaton IL (LCMS, 1959-1960), Concordia Teachers College-River Forest IL (now Concordia University Chicago, 1960-1962), Bethlehem-River Grove IL (LCMS, 1960-1962), Good Shepherd-Palos Heights IL (LCMS, 1962-1966), and Milwaukee Lutheran Teachers College (WELS, 1966-1970).
Schubkegel's 52 years of service makes her one of the longest-serving instructor on this campus, and her 64 years of service to the church inducts her into a special society, one including the first professor of DMLC, Godfrey Burk, who served on this campus 59 years (1884-1943), and President J. P. Meyer, who, in his 68-year ministry (1896-1964), served as DMLC professor for 14 years, two as president, and Wisconsin Lutheran Seminary professor for 44 years, 16 as president.
Dr. Wayne Wagner, a colleague of Professor Schubkegel for many years, said: "One rarely meets someone with the exceptional combination of graciousness and conviction Joyce has. Whether in teaching, composing, worship, or routine daily activities, she shows kindness and caring while also reaching for excellence.
"Joyce faithfully attended to the tasks put before her, whether as a wife, mother, mentor, teacher, choral conductor, creative composer, or musical artist. Her highly organized manner served her and others well. Her impact on thousands of students through choir, organ, piano, teaching, and composing is immeasurable. As just one testimony to that, former students remained connected, either openly or sometimes in less noticeable ways.
"For many years, our offices were next to each other, which made stopping at the door to wish one another a good evening or weekend as we left for home (often late in the afternoon) a regular occurrence. Those moments regularly turned into longer talks. Joyce would express a kind compliment, concerns for students, ideas for serving the college better, and implications for the Church at large.
"Thank you, Joyce, for the many years of service not only to MLC, but to those everywhere whom your efforts touched. May retirement bring you much contentment and joy!"
Professor Emeritus Schubkegel is currently in Arizona, taking care of a family member with serious health challenges. 
As her prayer for MLC students, Professor Schubkegel cites the first hymn she arranged for the DMLC Treble Choir, which they recorded for a Chapel of the Air radio broadcast 45 years ago, in September 1977:
"Jesus lead you on, till your rest is won.
And although the way be cheerless,
may you follow, calm and fearless,
guided by his hand to our fatherland."