Commencement Sermon: An excerpt
By President Rich Gurgel NWC '81, WLS '85 
The word of the Lord came to me, saying, "Before I formed you in the womb I knew you, before you were born I set you apart; I appointed you as a prophet to the nations."
"Alas, Sovereign Lord," I said, "I do not know how to speak; I am too young."
But the Lord said to me, "Do not say, 'I am too young.' You must go to everyone I send you to and say whatever I command you. Do not be afraid of them, for I am with you and will rescue you," declares the Lord. Then the Lord reached out his hand and touched my mouth and said to me, "I have put my words in your mouth. See, today I appoint you over nations and kingdoms to uproot and tear down, to destroy and overthrow, to build and to plant." Jeremiah 1:4-10
---
. . . What exactly will the days ahead hold for you? For those of you heading to the seminary to complete your preparation for pastoral ministry . . . for those eagerly waiting to hear about your call into teaching or staff ministry . . . for those of you receiving your master's degree . . . how will the next years go, and will you be ready for the opportunities and challenges that come your way? Thoughts of the future can lead us to be more than a bit fearful and anxious.
In the portion of Scripture you selected, Jeremiah expressed fear and dismay about his calling as God's prophet. "Ah, Sovereign Lord," he said, "I do not know how to speak; I am only a child."
And he was right! Notice that God doesn't argue with him by saying, "No, no, Jeremiah. Don't underestimate yourself! You're capable and strong. You'll do just fine!"  
Instead, the Lord takes his fearful young prophet's eyes off himself and puts them on God's love and grace. And those promises of love and grace are also for you this day!  
The Lord begins with his promise of electing love. He knew you in Christ before you were born—before he created the world! That you sit here today, trusting in Jesus' forgiving love, is no accident. He knew he'd bring you to faith before there even was a you. 
He continues with his appointing love. Whether you are going to serve him in public ministry or in another godly calling, God appointed you to that long before this day. Nothing revealed today, or four years from now, or beyond that, will ever catch God by surprise. 
He continues with his directing love. The places you will go and the people with whom you'll live and work—all of that God has delighted to think through for you before the world began. You will never cross anyone's path by accident, and God will never be at a loss for what he can give you to say.  
He continues with his protecting love. Yes, God is sending you out to a world that hates the message of Jesus as its only Savior—and hates those who bear that message. But he is with you and holds you securely in his hands, marked by the nails he took for you. 
He continues with his equipping love. Now God hasn't given you a special sign, as he did for Jeremiah, by touching your lips to put his Word into your mouth. But let me ask: What's God been doing in your life ever since the water of baptism was wet on your forehead? Through parents and family, through pastors, teachers, and staff ministers, he's been placing his Word into your mouth day after day. That's also what your time on this campus has been all about as well. 
Just like Jeremiah, you live in a confused and confusing world. And just like Jeremiah, God is sending you—yes, you!—into that world to make a difference for his eternal kingdom. Whenever you want to recoil from that in fear, thinking that you are only a child, listen again to how the Lord answers you, just as he did Jeremiah. His grace has been at work from eternity to prepare you for this very place and time.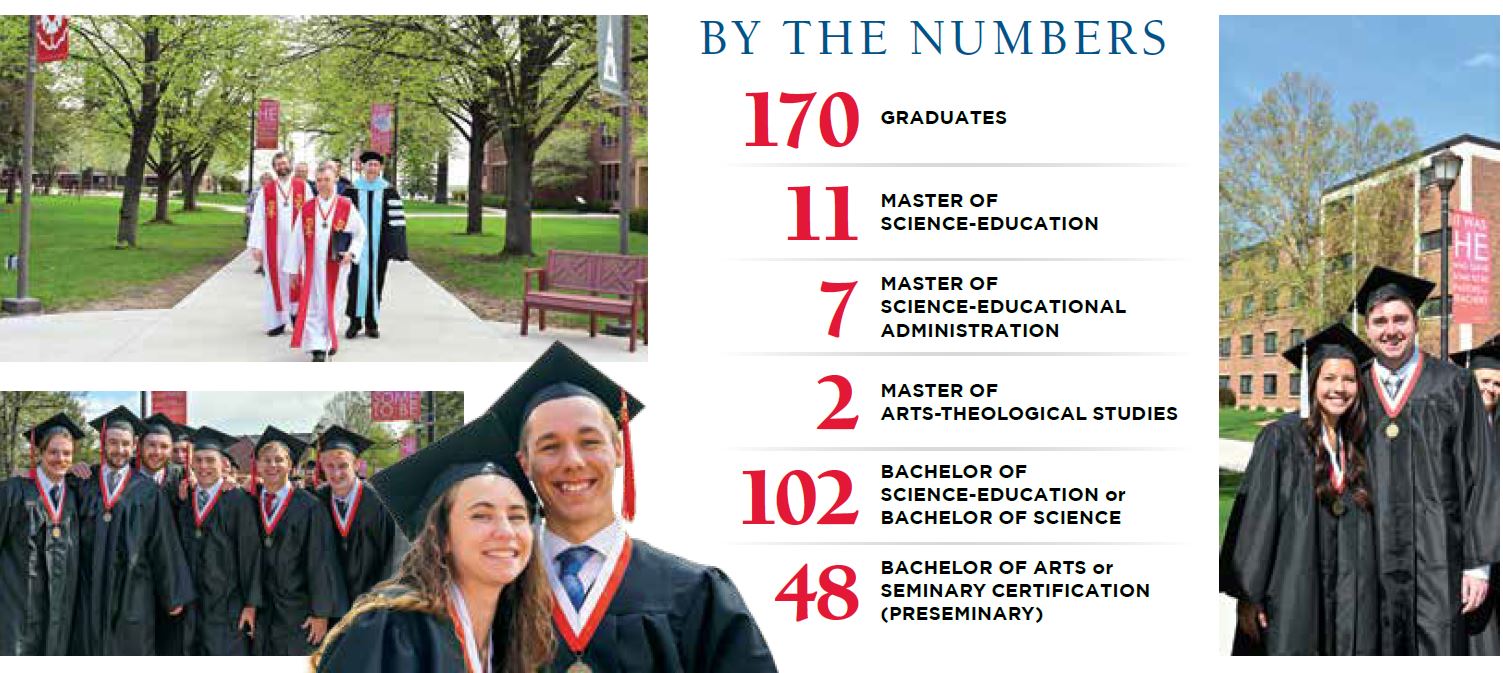 …
We congratulate the 150 undergraduate students and 20 graduate students who earned their degrees at Commencement on May 14, 2022. Rev. Dr. Timothy Grundmeier presided at the Commencement Service. Rev. Dr. Richard Gurgel preached the sermon. Dr. Jeffery Wiechman assisted with the diploma distribution. 
In the Saturday afternoon Call Service, 125 teacher candidates (including some from previous years) were assigned to every level, from preschool to high school.