Crown of Life – Fort Myers, Florida

In the seven years Rebecca Rixe '08 has served Crown of Life in Fort Myers, Florida, the school has seen incredible growth. An initial enrollment of two preschoolers in 2006 has now grown to 85 students: 60 in the preschool and 25 more in the academy, which includes kindergarten through grade 5—and next year, grade 6.
Miss Rixe is one of the 4K teachers and the director of the entire campus, the preschool and academy. She says she is incredibly blessed to serve with her team of four teachers and four teacher assistants, and they work together to make Crown of Life not just a high-quality school, but a loving family. "As director," she says, "I want our school to be a family for everyone who walks in the door. I want them to know we aren't just here to help their children grow, but we're partners with them."
How does she do this? "I try to be available every day when the parents pick up the children so I can communicate about how their child's day went. I keep my director's door open so they know I'm there for them at any time. We send home a weekly newsletter—with pictures—and hold
parent-teacher conferences. "I have such a passion for being there for the families as well as the kids, and I love being a listening ear for them, praying with them and for them, and doing what I can to help their family with anything they may be going through."
Working with families is just one facet of Becca's ministry.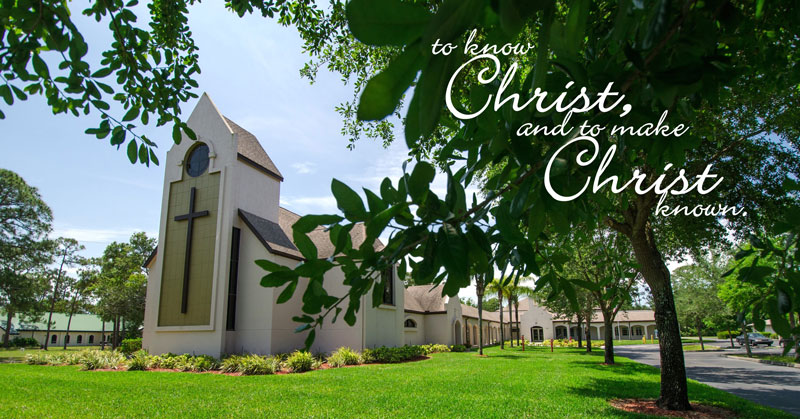 Let's take a look at her many roles:

Teacher: The preschool is open 7:30-5:30 every day. Miss Rixe teaches 4K Monday through Thursday, 8:30-12:45. Like all teachers, she does curriculum planning, daily prep, and plenty of observation and assessment. Academy Director: She attends Board of Education meetings and represents the school to the congregation. She meets every week with her staff, supervises instruction, and tries to "just be there for them. I feel it's important for us to remain a team and do all we can for Jesus' little lambs."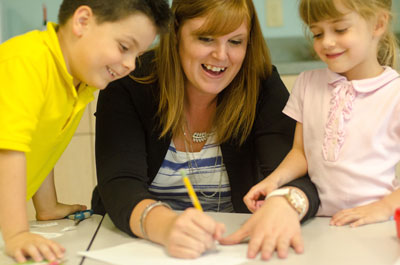 She looks over their lesson plans to be sure they're developmentally appropriate and offers help if needed. "All teachers have a different teaching style," she says, "so I want them to plan their lessons accordingly."
Administration: With the assistance of the administrative assistant, she completes paperwork, meets licensure requirements, and follows the guidelines for Florida's Voluntary Prekindergarten Education program, which is government-funded PreK for all 4- and 5-year-olds in Florida.
Marketing: Becca feels blessed to have a marketer who helps her communicate her school's mission to the Fort Myers community, including a Facebook page, top-notch website, brochures and flyers, and big banners outside the facility. "The banners are huge for us. Many families see them and either call or just drop in," she says. "I want people to know who we are so we can reach out to as many little lambs as possible."
Family Fun: She has facilitated game nights, movie nights, Parents' Night Out, and a huge fall festival—a kind of school Homecoming where current families and alumni families get together.
The result of all this work is a thriving campus where more and more children and families are becoming acquainted with their Savior. Like the Hindu boy who came to school knowing nothing about Jesus and didn't seem to be picking up much either, but then surprised her one day by saying, "Guess what, Miss Rixe? Jesus died on the cross to take away our sins so we can one day be with him in heaven!" Or the new family she accompanied to Bible Information Class so she could grow right along with them until they became members. Or the two 3-year-old girls who went home and taught their families the Bible stories they were learning, led mealtime prayers, and asked their parents if they could go to church. The little girls were eventually baptized and now continue at Crown of Life as third graders.
"It gives me goose bumps each time," Becca says, "knowing that these little children came to understand our Savior's grace!"
The Gospel Every Day: As in all WELS early childhood ministries, the children have daily Bible story time and prayers. They also present a Christmas program to share the gospel with over 350 friends and family, and Pastor Martin Luchterhand gives a weekly chapel service. Becca also appreciates the opportunity to share law and gospel with the schoolchildren in her discipline. "I love talking to them about their sin and then telling them God forgave them of their sin, praying with them every time, and helping them know that God loves them."
In her 4K classroom, she teaches intercessory prayer—even for strangers. When they hear an ambulance, they stop whatever they're doing and pray, asking God to be with the person hurt, the doctors, and the family. And when her 4-year-olds graduate, they each get a Bible from congregation members, so that if they don't continue at Crown of Life, they will still have the Word. "This is just one sign of the congregation's full support of Christian education," she says, "support I'm so grateful for!"
Mostly, Becca is grateful to her Savior for this ministry he's given her. "It's amazing how every day may be a bit different. It keeps me incredibly busy to be both teacher and director, but I'm blessed to teach his little lambs and to be there for the families."
---
Becca's Message to Those Considering Early Childhood Ministry
"Reaching out to Jesus' little lambs is challenging but so incredibly rewarding! To be in these children's lives and—for some—to provide stability, to care for them, guide them, and see them grow . . . To teach them God's Word and see their eyes just light up when they learn a Bible story for the first time . . . To hear them belt out "Jesus loves me" . . . To be a listening ear for their families and continue to connect with them for years on end . . . To watch little ones soak up everything we teach like little sponges . . . It's all so rewarding!
"Yes, it can be tiring, and patience is most definitely necessary. And sometimes God puts challenges in front of us, not because he wants us to fail, but because he wants to mold us into who he wants us to be as we serve him here on earth.
"But it's still a blessing and a joy that God uses me, a weak and lowly servant, to tell others about his Word. I am humbled each and every day that God has called me to do this work, and I pray that others can see this as their passion too."
---
This feature was originally published in the MLC InFocus, Spring 2018 issue.
https://mlc-wels.edu/wp-content/uploads/2018/02/p16-17-Becca-with-kids-1.jpg
265
400
MLC News -
https://mlc-wels.edu/wp-content/uploads/2015/04/mlclogo1.png
MLC News -
2018-02-26 10:18:55
2018-02-27 11:01:08
From Preschool to academy, it's all about family.