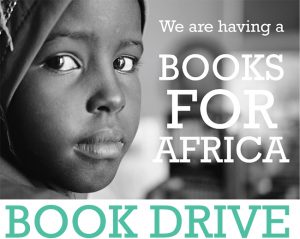 Anchor, MLC's student led, service organization, will host a book drive January 22 through February 10, 2017 to help kids in Africa receive proper reading materials. While at home over Christmas break, please consider bringing some of your lightly used books back to campus for this wonderful cause.
A few of Books for Africa's guidelines are below:
"We send textbooks, other reference books, and leisure reading (paperback and hardcover novels, picture books, etc.) that are less than 15 years old and in great condition (no "dog ears," compromised bindings, etc.). Picture/reading books for primary aged children are greatly desired. School supplies (like pens, paper, rulers, etc.) are also desired.
We do not send Spanish or any other foreign language books. As we are interested in sending books that are culturally relevant to an African learner, please do not donate books about American History/ Government/holidays/culture/self-help. We no longer ship academic journals, used encyclopedia sets or National Geographic magazines."
https://mlc-wels.edu/wp-content/uploads/2017/12/book-drive-graphic.jpg
518
650
MLC News -
https://mlc-wels.edu/wp-content/themes/mlc/images/mlc-logo.png
MLC News -
2017-12-18 09:26:00
2017-12-18 09:26:00
Books for Africa