Accessing Library Resources
Here is a slideshow demonstrating ways to locate articles from the MLC library resources.
Outline and slide number.
Access to Online Database Resources-#2

Online Catalogs-#4

MLC Catalog-#5
MnLink-#12
WorldCat-#15

EBSCO Discovery-#16

Using Limiters-#17
Full-Text Articles-#27

Back Door to Full-Text-#38

Databases A-Z-#41
Publications A-Z-#46
Citation Finder-#56
Faculty Borrowing Privileges and Fines
Loan Periods
The regular library loan period of most MLC items is 3 weeks.  You may renew items beyond that time; if you know that you'll need an item for a longer period, please contact Liz Wessel (x242) and she can extend the loan period for your item(s).
*Student staff are not generally authorized to extend due dates.
Access your Library Account
Fines
Faculty do not accrue fines on library items if they are checked out at MLC using your faculty ID.  Your ID card may also be used at nearby libraries that are part of the Traverse des Sioux Library Cooperative (including New Ulm Public Library). You do not need to have a public library card in order to check out materials at these libraries. The faculty fine exemption will not apply to those items checked out at other libraries.
Interlibrary Loans
(Items borrowed from other libraries and checked out at MLC)
Loan periods may vary for ILL items, the items may or may not be eligible for renewal, and fines may be owed for overdue items.  The policies vary according to where the item came from.
To be good citizens of the ILL community and to avoid fines, please pay careful attention to due dates and return items on time. Please contact the Reference Librarian by email or by phone at (x249 or x209), with any questions regarding ILL items.  If you find that you need certain ILL items repeatedly, you may choose to place a request for the items, to be purchased for our collection.
Faculty Requests
The library director welcomes faculty requests for items that would be useful in our library collection. and will honor these requests as much as possible while considering budget constraints and current collection status.  Make a Request
ILL Search Process
In order to be most efficient with our resources and to obtain your items most quickly, please use the following sequence in searching for items.
1. MLC/Traverse des Sioux Online Catalog: The catalog will default to search ALL the libraries in the TdS System. Items put on "hold" will arrive by the carrier within a few days.  You will receive an email notifying you of its arrival.
2. MNLink Gateway: Finds materials throughout Minnesota. These items are sent through a courier service. This service takes 3 to 9 days to receive.
3. OCLC WorldCat finds materials throughout the US and beyond. Items are shipped through the US Postal Service. This service takes 3 to 9 days to receive.
Reference Instruction
As always, we are happy to provide any help or instruction that you or your students need in order to use our library resources well.  Please contact the Reference Librarian to set up an orientation or instruction session.
Placing Materials in Course Reserves

November 28, 2017
LIBRARY: RESERVE SHELF POLICIES
The Reserve Shelves are located behind the circulation desk. Professors can hold materials in Reserves specifically for a course, or other school-related activity.  Reserve materials are classified into two types.
Material Type 1:

Are items that can be used in their entirety or partially within a 2-hour period.
The materials are to be used in the library.
Are available for a 2-hour time period. Items can be renewed at the end of the 2 hours unless another student is waiting for it.
Overdue fines are .25 cents per hour.

These guidelines prevent the books from being out of circulation and unavailable for long periods of time.

Material Type 2:

Material that is needed for a longer time period to complete the assignment.
Items will have a regular book checkout period of 3 weeks with 2 renewals unless another student has placed a hold on the item.
Materials that a professor wants to prevent from being requested by outside patrons. (ILL or TdS requests)

Items for the reserve shelf must be part of the library's collection or personal property of the professor. Our library does not accept items from other libraries (ILL) for our reserve shelf.
Professors are asked to complete the Google Doc Form.

Submit the form no later than 48 hours before the start of classes.

The materials to be designated for the reserve shelf will be processed by the reserve librarian. Materials may be placed on the reserve shelf for the upcoming school year a month before school starts.
The items on the reserve shelf should be current for the courses taught during each semester of the school year.
Please review your reserve material list at the end of each semester to maintain the current status. The library appreciates your cooperation in keeping the reserve materials up to date.
Requests for library purchase (request of new material) of reserve items can be directed to Linda Kramer (kramerlm@mlc-wels.edu)
Notes:
The Library catalog is designed with specific facets that don't allow altering the item checkout time limits. The Library can no longer place materials with special checkout policies that are different than those programmed by the computer software. See Borrowing Policies.

This prevents overdue materials and misunderstandings by students and desk workers.
If necessary, Professors are asked to make other arrangements with their students.

Professors are also required to check out materials from their Reserve shelf if needed for class.
Personal books, tapes, and materials can be put on your reserve shelf.

The item will be barcoded and linked to a record in the library catalog. Security tags are available by personal request.
Please direct any questions or comments about the Library Reserve Policies to Jan Nass, Reserve Librarian. E-mail: nassja@mlc-wels.edu, or call extension 327.
*Please speak to the Reserve Librarian if you have further questions.
Reviewing Your Reserve Materials
Finding Course Reserve Materials using the Library online catalog.
Reserve materials for your courses can be found by searching the Encore catalog by instructor or course name.
Insert your last name, course number (MUS4201), or course name (Teaching Reading) into the search box.  Search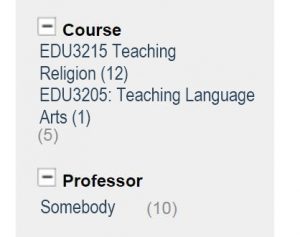 a. Browse the Results Menu on the left, look for Course. If there is more than one course that matches the search query, choose the appropriate item from the browse list.
b. Selecting a course title will retrieve all the items on reserve for that course.
c. Selecting "Course Reserves" on the item page will take you to the detail page, which also lists the Course Title and Professor's name.
2. Choose Professor, all the items the professor has placed on reserve for his/her courses will be displayed.
Item page:
Detail page:

Request Library Instruction for your Class
Our reference librarian, Linda Kramer, is happy to work with your classes in providing library tours, or instruction and orientation in the library or in your classroom or computer lab.  The scope and timing of these services can be tailored to meet your needs.  To arrange instruction or tours, contact Linda by phone or email or complete the classroom instruction request form.
Add Library Resources to Moodle Course Reading Lists with Curriculum Builder
The Curriculum Builder tool works with Moodle and the library's Discovery search to allow you to place links to library-subscribed articles and information in your Moodle course reading lists.
See our tutorial for step-by-step instructions in using Curriculum Builder.  For more information, see the Curriculum Builder section of the "Moodle Tips for Faculty" course in Moodle, or contact Linda Kramer in the library.
Online Learning Resources during COVID-19
Offers free loans of many college textbooks until the end of the semester.  It's really easy to set up an account.  To create an account and see if it's the right book, go to https://bookshelf.vitalsource.com/#/.
More info, including publisher list, is at  https://get.vitalsource.com/vitalsource-helps.
Among the publishers currently opting to make content free on Project MUSE are Johns Hopkins University Press (all books and journals), Ohio State University Press (all books and journals), University of Nebraska Press (all books and journals), University of North Carolina Press (all books), Temple University Press (all books), and Vanderbilt University Press (selected books). We expect to announce additional participants and will continually update the list of publishers offering free access to content.
Content that is freely available on the Project MUSE platform during the COVID-19 crisis will display a distinctive "Free" icon, different from the "OA" icon used for fully open access content on MUSE, or the familiar green checkmark that users associate with content held by their library. MUSE search results, by default, include any content to which a user has access, so will offer the researcher any relevant free, Open Access, or entitled articles and books.  There are over 2000 open access books and a small number of fully OA journals on the MUSE platform.
Pearson (working with VitalSource)
Give your students access to Pearson digital materials through the remainder of the term at no additional charge
Together we are facing a truly unprecedented situation. We want you to know that our top priority is to ensure you and your students can access the materials you need during this critical time.
As you make the transition to online classes, we understand that many of your students will need to switch from printed to digital versions of Pearson materials. We are committed to helping you with this, with several ways to ensure your students can access these materials at no additional charge for the remainder of the term.
For as long as schools are closed, we're open. Starting today, kids everywhere can instantly stream an incredible collection of stories, including titles across six different languages, that will help them continue dreaming, learning, and just being kids.
All stories are free to stream on your desktop, laptop, phone or tablet.
Explore the collection, select a title and start listening.
READ FREE FOR 30 DAYS NO CREDIT CARD REQUIRED
Available anytime and on your favorite devices
Faculty Select is a single interface where faculty can easily discover and access Open Educational Resources (OER), as well as find and request access to unrestricted, DRM-free e-books from top academic publishers.
With this option, EBSCO is offering a simplified version of Faculty Select that includes access to OER material as well as the option to discover more than 225,000 DRM-free EBSCO eBooks™ in one place, available at no charge for faculty to use through June 30, 2020.
Faculty can use this link to access now.
JSTOR  (books and journals)
Expanded access to content
Access to all unlicensed collections at no cost for participating academic institutions that currently license some, but not all, JSTOR Archive and Primary Source collections.
More than 25,000 books available at no charge for JSTOR participating academic institutions and secondary schools that do not participate in our books program. The number of books available through this effort is growing daily as more publishers opt in.
Instructions for remote user access during COVID-19:
The newly created National Emergency Library will serve readers around the country, who cannot physically access their local libraries, through the end of the academic year or until the end of the emergency.
The announcement explains: That's where our collection fits in—we offer digital access to books, many of which are otherwise unavailable to the public while our schools and libraries are closed. In addition to the National Emergency Library, the Internet Archive also offers free public access to 2.5 million fully downloadable public domain books, which do not require waitlists to view.
Requesting Library Material for Online Instruction
Requesting Library Materials
The library staff is working from home during the Covid-19 Crisis. Please be patient as we get your materials in the mail or by email.
The staff will be physically in the library for one-half day on Tuesday and Thursday. That means that mailings will go out on Wednesday or Friday of each week. Please plan accordingly and maybe a few days earlier if there is a problem with delivery.
If you need lessons from textbooks please include the following.
Subject area
Publisher, if you have it.
Textbook title, if you have it.
Grade level
Specific information about the kind of lesson you need.
If you need sections of books scanned please include
Title
Author
Call number
Chapter or page numbers
We are here to help you!
Mrs. Nass