Faculty Borrowing Privileges
Loan Periods
The regular library loan period of most MLC items is 3 weeks.  You may renew items beyond that time; if you know that you'll need an item for a longer period, please contact Liz Wessel (wessellea@mlc-wels.edu or ext.242) and she can extend the loan period for your item(s).
*Student staff are not generally authorized to extend due dates.
Access your Library Account
Fines
Materials checked out at MLC using your faculty ID, do not accrue fines on library items. Your ID card can also be used at nearby libraries that are part of the Traverse des Sioux Library Cooperative (including New Ulm Public Library). You do not need to have a public library card in order to check out materials at these libraries. The faculty fine exemption will not apply to those items checked out at other libraries.
Interlibrary Loans
(Items borrowed from other libraries and checked out at MLC)
Loan periods may vary for ILL items, the items may or may not be eligible for renewal, and fines may be owed for overdue items.  The policies vary according to where the item came from.
To be good citizens of the ILL community and to avoid fines, please pay careful attention to due dates and return items on time. Please contact the Reference Librarian by email or by phone at (ext.170), with any questions regarding ILL items.  If you find that you need certain ILL items repeatedly, you may choose to place a request for the items, to be purchased for our collection.
Faculty Requests
The library director welcomes faculty requests for items that would be useful in our library collection. She will honor these requests as much as possible while considering budget constraints and the current collection status.  Make a Request
ILL Search Process
In order to be most efficient with our resources and to obtain your items most quickly, please use the following sequence in searching for items.
1. MLC/Traverse des Sioux Online Catalog: The catalog will default to search ALL the libraries in the TdS System. Items put on "hold" will arrive by the carrier within a few days.  You will receive an email notifying you of its arrival.
2. MNLink Gateway: Finds materials throughout Minnesota. These items are sent through a courier service. This service takes 3 to 9 days to receive.
3. OCLC WorldCat finds materials throughout the US and beyond. Items are shipped through the US Postal Service. This service takes 3 to 9 days to receive.
Reference Instruction
As always, we are happy to provide any help or instruction that you or your students need in order to use our library resources well.  Please contact the Reference Librarian to set up an orientation or instruction session.
Placing Materials in Course Reserves

July 27, 2022
 LIBRARY: RESERVE SHELF POLICIES
Reserve materials are held behind the library service desk and have specific restrictions.
Short-term, in-library use: 2-hour reserves

Checked out for 2-hour use in the library, making them available to many students.  

Typically books of which students only need to read a chapter or two, and having them on reserve keeps them from having to purchase another textbook.

Regular checkouts, but not loaned to other libraries:  3-week reserves

Checked out for three weeks and renewable if no other students have a hold on the item.

Typically books that students may need for a longer period of time but that we want to reserve for the use of our students.
Guidelines
Reserves may be items from the MLC library's collection or your personal items, or you may request that the library purchase a reasonable number of copies to be put on reserve.

Please

email

the Serials Librarian (

serials@mlc-wels.edu

) if you plan to

maintain or remove items

from your reserves list.

If there are

no changes

, please email the

Serials Librarian

with

the course number, course name, and semester and "no changes" in the body of the email.

To

remove items

from your reserves list, please email the

Serials Librarian

with

the course number, course name, semester(s), title, and the call number of each item to remove

To

add items to your reserves list, please deliver the items to the Serials Librarian's desk area with a note that includes

your name, course name, course number, semester(s), and whether it is for a 2-hour or 3-week reserve
*Please contact the Serials Librarian with any questions or purchase suggestions you may have. 
Reviewing Your Reserve Materials
Finding Course Reserve Materials using the Library online catalog.
Reserve materials for your courses can be found by searching the Encore catalog by instructor or course name.
Insert your last name, course number (MUS4201), or course name (Teaching Reading) into the search box.  Search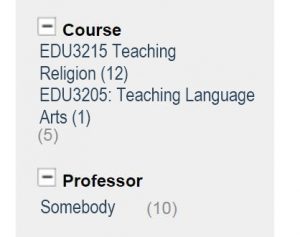 a. Browse the Results Menu on the left, look for Course. There could be more than one course that matches the search query, choose your course from the result list.
b. Selecting a course title will retrieve all the items on reserve for that course.
c. Selecting "Course Reserves" on the item page will take you to the detail page, which also lists the Course Title and Professor's name.
2. Choose Professor, all the items the professor has placed on reserve for his/her courses will be displayed.
Item page:
Detail page:

Request Library Instruction for your Class
Our reference librarian, Sue Gurgel, is happy to work with your classes in providing library tours, or instruction and orientation in the library or in your classroom or computer lab.  The scope and timing of these services can be tailored to meet your needs.  To arrange instruction or tours, contact Sue by phone (ext.170) or email or complete the Classroom Instruction Request Form.
Suggest a Title for Purchase
Faculty and staff may suggest titles for purchase.
Email Linda Kramer at kramerlm@mlc-wels.edu and provide as much information as you can (title, author, ISBN, etc.).