Martin Luther College uses EZProxy to access e-resources from off campus.
EZproxy is a web service used by MLC, to give access to patrons from outside the campus computer network to restricted websites, that authenticate users by their location. This allows the library patrons at home or elsewhere, to gain access to bibliographic databases and other online resources to which the library purchases.
Login to the MLC network on the Portal website with your student account username and password. Once logged in you will have access to the library's purchased, online resources, databases, eBooks and more.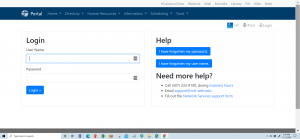 Access to online materials is also available by using the Library Resource Database Login, shown below.  This window will display when you try to access online resources and have yet to log into the portal.


For more information, see our help sheet:  Grad Student Library Cards