MLC opens its campus to the public
Friday, May 28, 2021
As the social distancing and occupancy limits for the state of Minnesota ended on May 27 at 11:59 pm, Martin Luther College is currently open to the community. Following are some details regarding services you might be interested in during our summer months. The MLC Planning Committee continues to discuss plans for a normal opening to our 2021-2022 academic year! More details will be published as we confirm state and local protocols.
FITNESS CENTER: MLC students, faculty, staff, and their families, as well as other WELS members, are welcome to use the MLC Fitness Center. For more details regarding hours and access, visit mlc-wels.edu/fitness-center/.
MLC BOOKSTORE: The MLC Bookstore is open to the public this summer on Mondays, Wednesdays, and Fridays from 9:00 am to 3:00 pm. We carry Christian greeting cards, books, piano and organ music, MLC apparel, and much more! We are located on the upper level of the Luther Student Center. Please stop by!
MLC LIBRARY: We once again welcome our community and visitors to the library. The library is open from 8:00 am to 4:30 pm, Monday through Friday. Our library staff look forward to welcoming you back and assisting you with your library needs.
MLC PRINT SERVICES: MLC Print Services, located in the lower level of the Old Main building, welcomes the community back to our shop Monday through Friday, from 8:00 am to 4:30 pm. We provide a diverse selection of printing options, from basic copying to large-format printing and bindery. Call 507-233-9140 for more information, or visit mlc-wels.edu/print-services/.
MLC CAFETERIA: As is our normal procedure, the MLC Cafeteria is not serving the public over the summer months since regular classes are not in session. We are looking forward to providing excellent breakfast, lunch, and dinner options when MLC classes start in the fall! Watch for dates and times.
MLC OFFICES: We are open to the public but are temporarily relocated to accommodate a summer rewiring project. Please call 507-354-8221 to make arrangements for your visit.
---
Governor's Mask Order Lifted
Friday, May 14, 2021
Dear MLC Family,
Today, Friday May 14, Minnesota Governor Walz issued executive order 21-22 which lifted the mask mandate for the state of Minnesota.
The statement from the office of Governor Walz and Lt. Governor Flanagan reads, "Governor Tim Walz today announced the end of Minnesota's statewide mask requirement, aligning Minnesota with new Centers for Disease Control and Prevention guidance on face coverings. Minnesotans who are not fully vaccinated are strongly recommended to wear face coverings indoors. Minnesota's Safe Learning Plan, along with the existing face covering guidance for schools and child care settings, remain in effect." ["schools" refer to K-12]
Since distancing protocols and capacity limits are still in place, tonight's concerts and tomorrow's commencement service are open only to invited guests. However, starting today the MLC campus will follow these new mask guidelines. We are thankful for these positive developments and pray that the Lord bless our efforts to keep our campus family and community safe.
---
A Message from MLC President Rich Gurgel
Friday, April 23, 2021
Dear MLC Family,
Rejoice with us! Our MLC campus is beginning to reopen!
In many ways, this semester has felt like the beginning of a spring thaw after a long winter! For the first time in three challenging semesters, God has permitted us to be only three weeks away from completing an entire semester together on campus!
During this semester, our campus family's patience with admittedly annoying COVID protocols has enabled us to be one of the only schools in our athletic conference that did not cancel a single game or match because of our responses to the virus. God has seen fit to bless us as we have studied and worshiped, worked and played together here on the hill.
All of that leads to that eagerly anticipated reopening of campus to those beyond our current students, faculty, and staff.
That first step of reopening MLC's campus will occur during graduation week. Our graduates have already been given the opportunity to reserve places for their invited guests. Those guests will be welcome at our Commencement concerts on Friday, May 14, at 4:00 pm and 7:30 pm, and at our combined Graduation/Call Day service on Saturday, May 15, at 10:00 am. These events will also be 
livestreamed
.
Please also allow us to thank the faculty members who agreed to give up their seats at graduation to create maximum space for our graduates' guests.
Some have wondered whether we considered the possibility of having our Graduation/Call Day service outside in our football bowl. According to current Minnesota guidelines for large gatherings, however, our socially distanced seating capacity is actually greater in our gymnasium than in our football bowl.
In addition, our streaming capabilities in the gym will provide a far higher quality livestream for our invited guests who will be watching the stream in our chapel and auditorium, as well as for those who will be watching at home all around the synod.
And all this is only a prelude to a fuller reopening of our campus. This summer, God willing, we plan to host several class reunions and sports camps, which will provide us practice runs for this fall!
While only God knows the details of the future, we are expecting a return to regular campus life for the 2021-2022 school year! That will include welcoming back to campus our students' families, our emeriti, our alumni, and the rest of our extended MLC family. It will be good to see and greet many of you in person—not just virtually!
Please pray for God's blessings on our graduates! Pray for many students to join us on the hill again this fall! The harvest is still plentiful, and the workers are still few. So keep asking for the Lord of that harvest to bless us with young women and men willing to consider the public gospel ministry!
In Him,
Rich Gurgel
President
---
An Easter Message from MLC President Rich Gurgel
Sunday, April 4, 2021
Dear Sisters and Brothers in Christ,
On this Holy Saturday, we send to our extended MLC family throughout the WELS (and in our sister synods around the world) the prayer that God gives your hearts a rich measure of Easter peace and joy in our risen Savior!
This Easter video brings a brief encouragement from President Rich Gurgel and requests your specific prayers on behalf of the MLC campus family.
He is risen! He is risen indeed!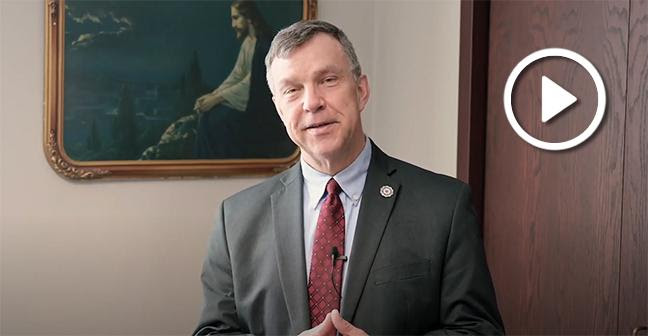 ---
Morning Chapel Announcement from MLC President Rich Gurgel
Monday, March 22, 2021
MLC President Rich Gurgel presented this information to the MLC campus family after increases in positive COVID tests over the weekend.
---
A Spring Planning Announcement from MLC President Rich Gurgel
Friday, March 12, 2021
MLC joins many in our country in being thankful for the progress God has allowed in available and effective vaccines for COVID-19. This gives us hope for a return to a more normal campus life for summer activities and especially for our fall semester.
Until then, our MLC administration has been balancing a myriad of issues as we write guidelines and protocols that would honor state and federal guidance and protect our campus family and the New Ulm community.
Since living, worshiping, and growing together on campus are all instrumental in preparing the next generation of gospel servants, it has been our goal to do everything possible to maintain in-person instruction until the end of the semester. We pray for the privilege of concluding this semester together by celebrating on our campus both Commencement and Call Day on Saturday, May 15.
With that goal clearly in mind, we have continued to operate as a closed campus, with access restricted to active faculty, staff, students, and essential visitors. We sadly recognize that our closed campus has hindered our broader MLC family from enjoying with us many important events this semester; however, since our goal of finishing the semester together still remains the focus, our campus will remain closed until Thursday, May 13.
Between now and May 13, we invite our broader MLC family to join us for these events via our website, social media, and livestreaming:
Athletic competitions
Concerts
Recitals
Forum dramatic productions (when possible)
Worship services
Betty Kohn Fieldhouse groundbreaking
MLC Day
Fishers of Men statue dedication
Good news! We look forward to a partial opening of campus during the last half of graduation week. Beginning on Thursday, May 13, we will welcome to campus two guests for each of our May 2021 graduates. Here are the events those two guests can attend in person:
Thursday, May 13: Recital showcase (plans still tentative)
Friday, May 14: Commencement concerts
Saturday, May 15: Commencement service
Saturday, May 15: Call Day service
We will communicate more details regarding Commencement weekend to students and families in the near future. Please continue to pray that God might bless these plans as we seek to do all we can to partner with our students to grow toward the goal of gospel ministry.
In Him,
Rich Gurgel
President
---
A Message from MLC President Rich Gurgel – Monday, December 14, 2020
MLC President Rich Gurgel shares details about the spring 2021 semester and the updated Knights Return plan along with his message from MLC's final morning chapel of the fall 2020 semester. In addition, the December 2020 graduates are announced with prayers for their future ministries.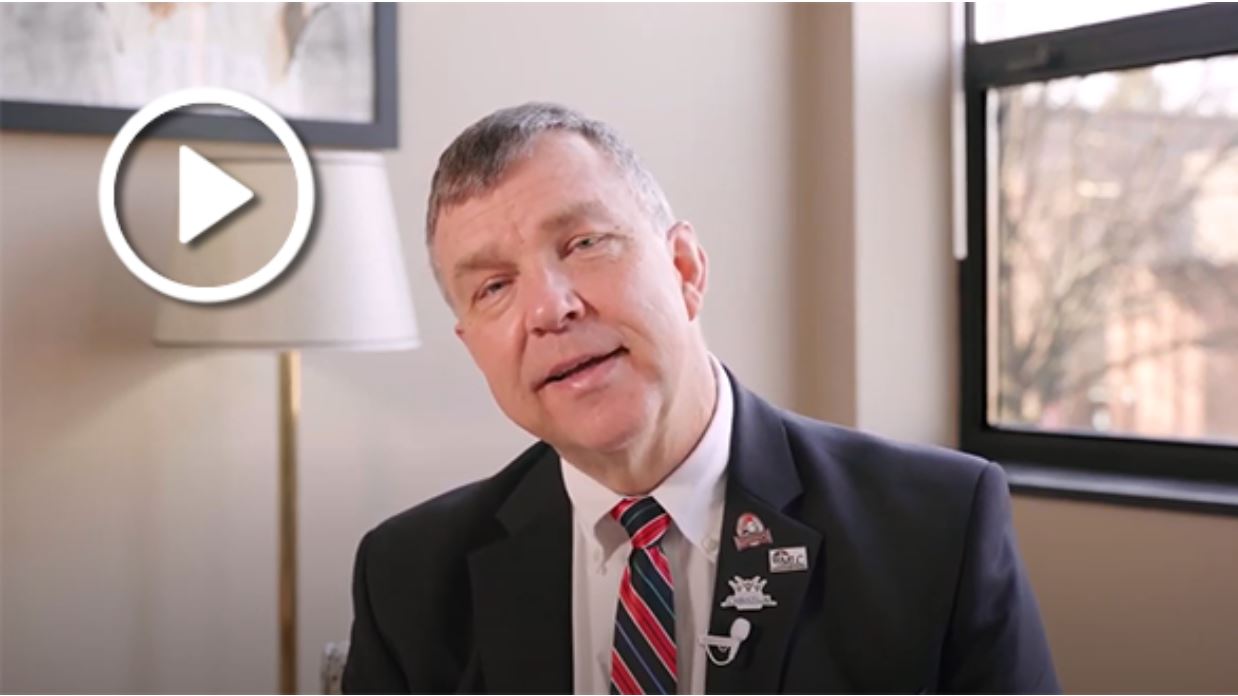 ---
Distance Learning FAQ's Answered by MLC Student Body President – Friday, November 13, 2020
Dear Friends of MLC,
MLC Student Senate President Phil Balge responds to some frequently asked questions regarding the recent shift to distance learning at MLC. He also reflects on our fall semester as we enter the final weeks. Thank you, Phil!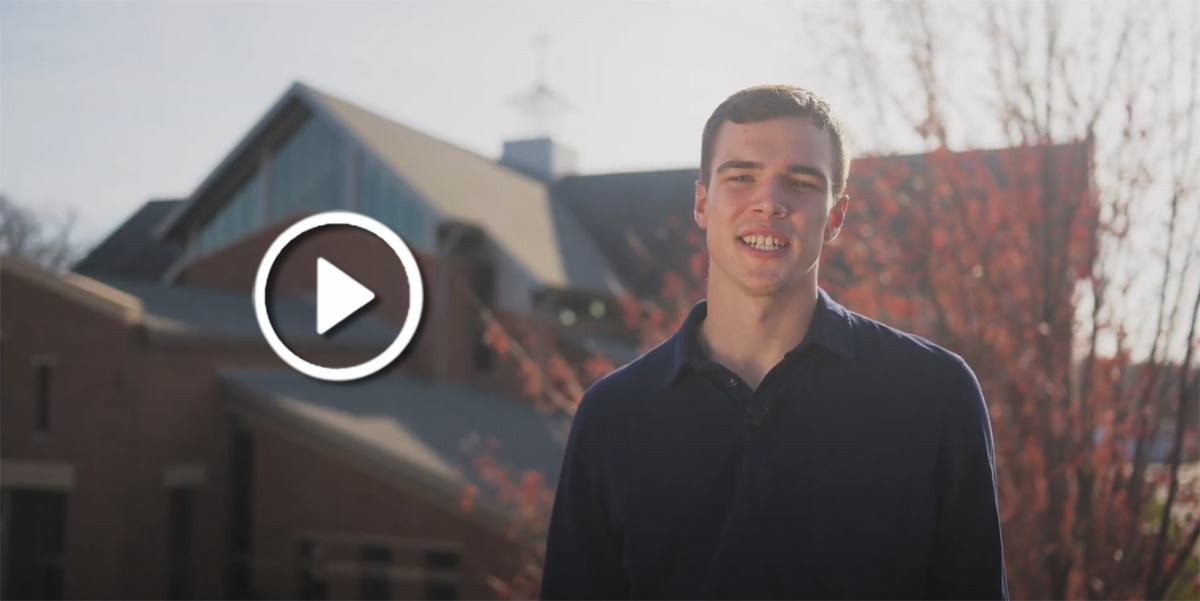 ---
Chapel Announcement by MLC President Rich Gurgel –
Tuesday, October 27, 2020
>> Click here to download official Distance Learning Pivot Announcement (PDF)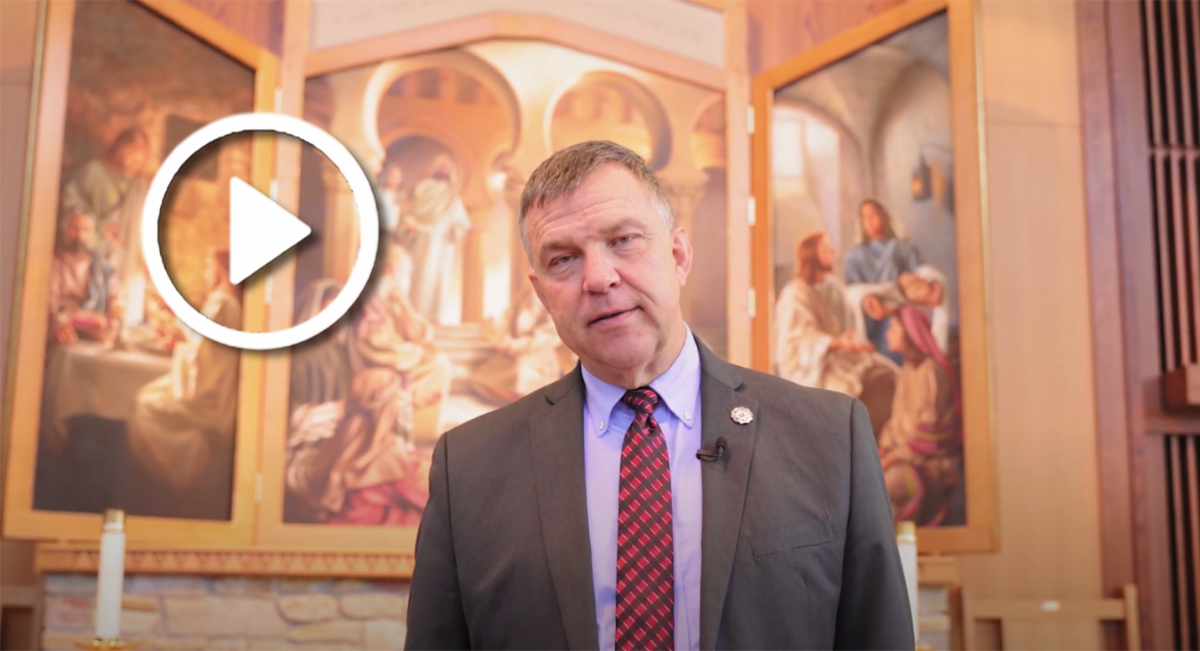 "The LORD will watch over your coming and going both now and forevermore" (Psalm 121:8). For many of us, do you know when the first time our ears heard those words? In the baptismal liturgy commonly in use among us, those were the final words of blessing spoken over us as the water of baptism was still wet on our foreheads. In the water and the Word, we had just been sealed by the Holy Spirit as God's dear child, washed from the guilt of our sins, and clothed in the holy life of Jesus. And as God's dearly loved in Jesus, every promise of God is "yes" to us in Jesus. Including this one: "The LORD will watch over your coming and going both now and forever more."
So, my brothers and sisters, as we had planned it the coming to campus was the third week of August, and the going we prayed to achieve was November 25. But we have tried to always emphasize that these plans were made "as God wills." And while the coming to campus happened as scheduled, the "going" for many of you is going to happen earlier than we hoped.
Our campus is a safe place. The masking and distancing protocols, the quarantine and isolation procedures, continue to keep us safe under God's blessing. And we thank God for all the work of our dorm staff, and also for overwhelming cooperation on your part, dear brothers and sisters of the student body. God used all of that to make this work for 10 weeks. There is no one to blame. There are many reasons to say words of thanks under God's grace for what we did enjoy.
But the rising number of positive test results, and the rapidly growing number of close contacts that puts more students into quarantine, have brought the day when we cannot continue in face to face instruction and still maintain our safety protocols.
So, effective immediately, as of this chapel service, face to face classroom instruction for this semester and all athletic practices, have come to an end for this semester.
Now, that doesn't mean you have to rush to your dorm room and leave – in fact many should NOT do that.
We will be pausing all instruction until Friday to give those who are able to return home safely a comfortable amount of time to do so. Your Friday classes will meet as directed by your professors. By Friday you will also be contacted by your other professors with details about how those classes will proceed for the rest of the semester. Information about a room and board refund will be coming to your inboxes in the days ahead.
Also, we are aware there are those who need to remain, and our campus and dorm staff will make sure you are well taken care of. Who are those?
Those who live at a distance who need to stay because of airline tickets already purchased for Thanksgiving, you will be able to remain on campus as needed.
Those who are living on campus for student teaching will continue to follow the schedule of your schools and their safety procedures just as you have been.
Those in isolation on campus need to finish their time of isolation here.
Those in quarantine on campus will need to finish their time of quarantine here.
Those who are in the process of waiting for test results or who have had close contact with them, need to remain on campus until you have been cleared.
For all those staying on campus, check in with dorm staff for instructions. For all who will be leaving campus, please do not leave until you have checked out with your dorm supervisor. Please do not schedule impromptu group gathering. Say your goodbyes digitally for the sake of your friends.
Also, it is important to remember, for the safety of your family at home and the community in which you live, to consider yourself essentially under quarantine for 14 days so that you guard the health of your family and your home town: mask, social distance, shelter at home. You will be receiving further details by email from the dorm staff exactly what this means.
Those of you who are watching this who are already at home, if, after finishing your time of isolation or quarantine you need to pick some things up from campus, the dorm staff will be informing you how to partner with them to make such arrangements.
Your faculty, the dorm staff, and the rest of our MLC staff will greatly miss seeing you in person. This campus exists to train you for ministry. And while none of us will argue that distance learning can replace everything we gain when we are able to live and meet together on this hill, yet we are thankful for the digital tools that are available to us, and the hard work of faculty and staff that will enable learning and growth toward ministry to continue. And we will look forward to January 25 when, God willing, we will see one another again!
We love you in Christ. And more importantly, God loves you beyond measure. And the promise spoken at your baptism remains our confidence: "The LORD will watch over your coming and going both now and forever more" (Psalm 121:8).
We pray with that thought in mind:
Lord God, you have called your servants to ventures of which we cannot see the ending, by paths as yet untrodden, through perils unknown. Give us faith to go out with good courage, not knowing where we go but only that your hand is leading us and your love supporting us; through Jesus Christ, our Lord. Amen.
Close with God's Word Is Our Great Heritage (sung a capella).
---
COVID Update for Monday, October 26, 2020
Our MLC dorm staff and administration have been working hard to achieve what has been our goal from the very outset:  on-campus, face-to-face instruction through November 25.
Last week that goal led to the painful decision to quarantine all the men in Concord dormitory.   Our key challenge on campus continues to be maintaining sufficient isolation space for those who have tested positive and sufficient quarantine space for those who have been in close contact with those who tested positive.  We cannot compromise the health of our campus family, or of the New Ulm community, by altering those protocols.
We want to be very transparent with our current considerations. Over this past weekend, our campus family has experienced significantly more positive cases as well as related increases in those who need to quarantine. We've come to realize that if the current trend does not reverse or lessen very quickly, our isolation and quarantine space will soon reach capacity and we will need to pivot to distance learning.  (This is the reasoning behind asking students to quarantine at home if possible. It allows us to maintain on-campus capacities for those who cannot travel home.)
Here are three things we ask you to note:
We are encouraging all in our campus family to continue following all our COVID 19 protocols, especially for masking and social distancing. Each of our actions on campus impact our entire campus and beyond. We thank God that so many in our campus family have done this very well.  God has used that to help us reach our 10th week of face-to-face instruction.
We are also encouraging our campus family to be mindful of their health and use Campus Clear, our symptom monitoring software, daily. It is important for our campus and community health that we deal with symptoms, tests, and follow-up protocols in the most effective manner possible.
Our MLC administration has begun daily meetings to monitor this situation very closely. It is very possible that if trends continue, we may need to quickly shift to distance learning.  Our professors will be sharing all pertinent information regarding that shift with their students.
But most of all may we all remember this:  when anxiety and worry and frustration want to grab our hearts, remember that we are not, and have never been, in the fickle hands of an invisible virus.  Each of us – and all of us in this family of faith – rest in the nail-marked hands of Jesus.   Even when we cannot fully, or even partially, understand all that he is allowing into our lives, he has promised that his blessing for each of us must be behind it all!    He has not, and never will, forsake us or fail us!
---
Fall semester 9 week update (10/23/2020)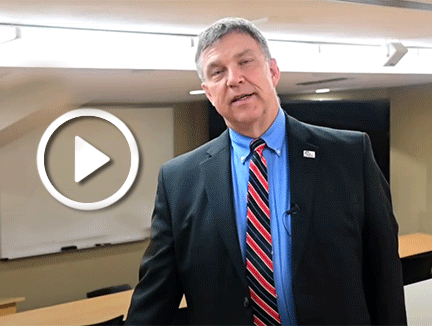 Dear extended MLC family, we've made a lot of adjustments on campus recently, and we're finalizing plans for our second semester. Yesterday, MLC President Rich Gurgel shared some important updates as we look forward to Thanksgiving.
We welcome your thoughts and concerns because they help us serve you better. You may submit them through this form.
As we close this unique fall semester, consider sending a message of encouragement to our students, faculty, or staff online. Thank you, and please keep our ministry in your prayers.
---
Fall semester 6 week update (10/2/2020)
Dear extended MLC family,
The video below was recorded on Saturday evening, September 26, at the close of our campus worship.
The MLC administration wanted to take a couple minutes after all three of our on-campus worship services that weekend to do three things:
We wanted to thank God for his blessings as we complete the first third of our fall semester. He has been incredibly kind to us in how well our semester is going.
We wanted to thank God for our students in whom a gospel-worked spirit of cooperation, patience, and perseverance has been evident in many ways. God has no doubt used that to enable us to avoid some of the campus pandemic horror stories that have shut down some other campuses around the country.
We wanted to encourage our students to continue to be thoughtful and considerate for the welfare of each other, for our whole campus family, and for the New Ulm community in which we live. Our goal was not to make it together on campus until the end of September, but until the end of face-to-face instruction for the first semester on Wednesday, November 25.
We are sharing this with you since so many of you, as part of our wider campus family, keep our students and our faculty and staff in your prayers. We thank God for you too. We cannot fully quantify the impact of that support on our campus family as God answers your prayers!
And I will add one other note. Recently, a positive test of a women's soccer player, shortly after they competed against one another in an intra-squad scrimmage, led Brown County Public Health to ask us to quarantine the entire team for the sake of avoiding an outbreak on our campus and in our community. That means these 29 young women from our campus family are in a 2-week quarantine or isolation. As you pray for our whole campus family, please remember those young women from our campus family as they attend classes remotely and endure a time of separation from friends and classmates.
Through this too, our gracious God, who wastes nothing, knows how to bless them and us.
In Him,
Rich Gurgel
MLC President
---
Fall semester 5 week update (9/25/2020)
Derek Gulrud, MLC senior and a member of the Knights football team, gives us his views on life at MLC this semester. Thanks for your perspective, Derek!
---
Fall semester 4 week update (9/18/2020)
Ruth Buchholz, one of our dorm supervisors in Augustana Hall, provides our update this week. Thank you, Ruth, for this student's perspective on the fall semester at week 4!
---
CARES Act Funds – Higher Education Emergency Relief Fund (HEERF) Reporting Update (9/18/2020)
Section 18004€ of the Coronavirus Aid, Relief, and Economic Security Act (CARES Act), Pub. L. No. 116-136, 134 Stat.281 (March 27, 2020), directs institutions receiving funds under Section 18004 of the Act to submit (in a time and manner required by the secretary) a report to the Secretary describing the use of funds distributed from the Higher Education Emergency Relief Fund (HEERF).
Click here to view Martin Luther College's responses to the items requested by the Department of Education.
---
Fall Semester Opening Message from MLC President Rich Gurgel (8/25/20)
Students have moved in, orientation for new students is completed, and classes for the fall semester 2020 at MLC have begun! As predicted, our safety protocols have brought about valuable discussions with our community and among campus family members.  MLC President Rich Gurgel shares some of the joys, challenges, and prayers from your WELS College of Ministry.
We welcome your thoughts and concerns because they help us serve you better. You may submit them through this form.
As we start this unique fall semester, consider sending a message of encouragement to our students, faculty, or staff online. Thank you, and please keep our ministry in your prayers.
---
Encouragement from MLC Student Body President (8/21/20)
As Orientation/Move-in Weekend is underway, MLC Student Body President Phil Balge sends this message of encouragement to all new and returning students. The MLC faculty and staff are excited to welcome our students back to campus! We are also excited to see such great student leadership from our Resident Assistants, Student Ambassadors, and from Phil!
As we start this unique fall semester, consider sending a message of encouragement to our students, faculty, or staff through this online form. Thank you, and please keep our ministry in your prayers.
---
MLC Cafeteria Update (08/20/2020)
Faculty, students and staff, please view the video below for a walk through of the current dine-in rules and operation plan. The MLC Cafeteria is not open to the public at this time. 
New MLC Cafeteria dine-in rules and operation plan:
Our dining area capacity is currently set at 250 by the Minnesota Department of Health (MDH), so seating is arranged to allow for necessary social distancing.
Students will be able to eat with anyone in groups of four (similar to restaurant rules).
The Pioneer Catering staff will wear PPE to maintain the health and safety of our campus family.
Buffet and self-serve options will limit the number of diners who can dine in and also the number who can be present on the buffet line at one time.
Individual sanitation practices will be required for everyone who uses self-serve options.
In addition to dining in, students will be able to utilize to-go options. Additional seating will be available outside in campus green space for those who make use of to-go options.
As the school year begins and cafeteria staff is adjusting to new serving procedures, only students will be served in the cafeteria. Faculty and staff will have access to the employee lounge and campus picnic tables for dining. We anticipate this to be a short-term necessity.
Late Nite will run from 7:30 to 11:30 pm.
---
Martin Luther College COVID-19 Summer Update (08/10/2020)
In this final summer update from MLC President Rich Gurgel, he reflects on upcoming installations and the beginning of the fall semester.
We have been gathering your questions and updating our plans to serve you in the best way possible. You can view some of these questions and answers in our Knights Return FAQ document. We welcome your ideas and perspectives to help us in our planning. You may submit them through this.
---
Martin Luther College COVID-19 Summer Update (07/24/2020)
MLC President Rich Gurgel provides this message from Scripture to help MLC students understand the purpose of our Knights Return policies. We pray this update will encourage our whole campus family toward a spirit of Christian love and understanding as we near the start of our 2020 fall semester.
Watch for more website, email, and social media updates that will provide policy and procedural details as they become available.
---
Knights Return – 2020 Planning Document
(07/17/2020)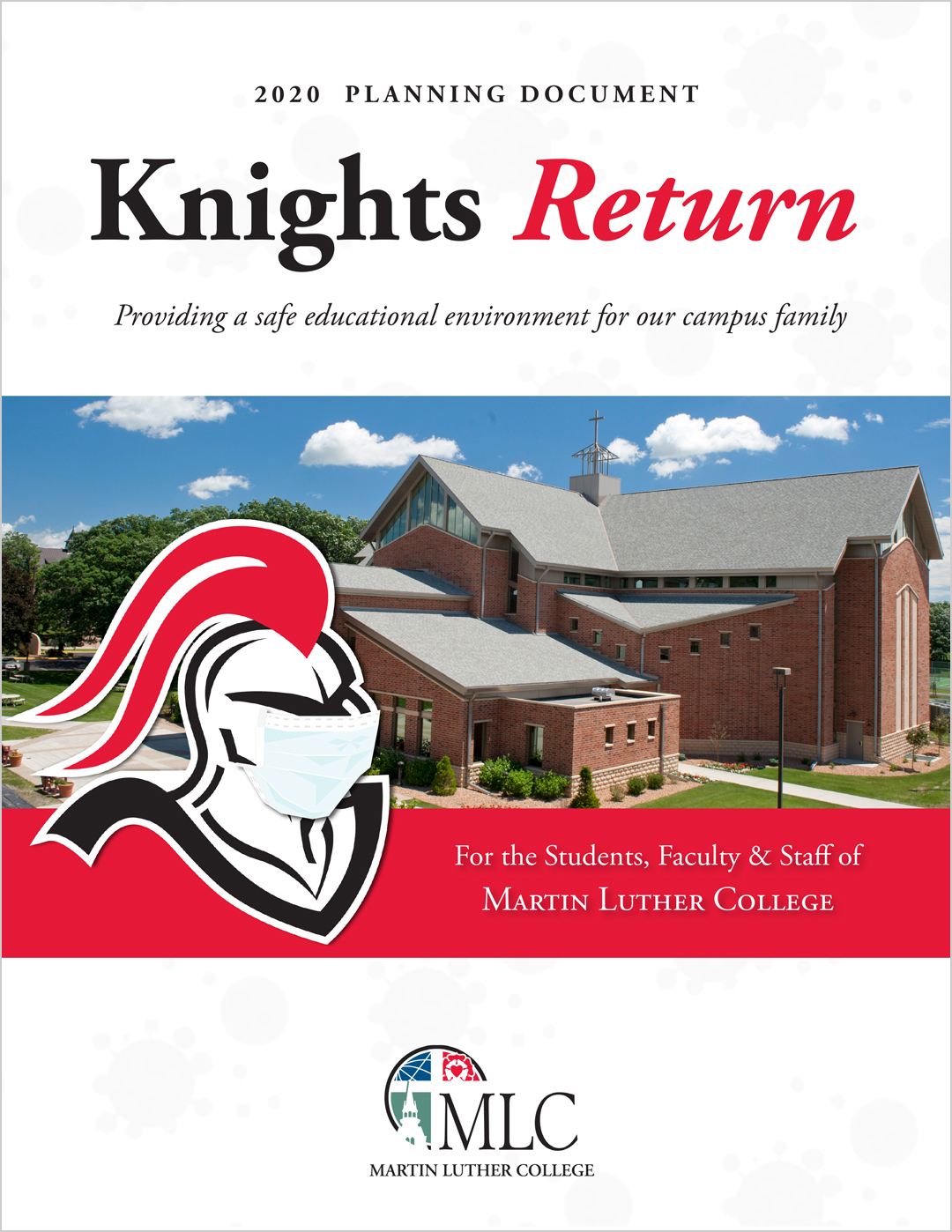 For two months our Martin Luther College fall planning team has prayerfully and carefully assembled a plan that will, God willing, enable MLC to resume on campus instruction this fall.
Click here to view the plan (PDF)
The plan was formed after many hours of listening to government officials, health professionals, collegiate organizations, new and returning students and their families, our faculty and staff, and to many others in our synod.  While we recognize that the rapidly shifting environment around us prohibits us from speaking with certainty about what this fall will bring, today we are releasing our Knights Return document.  We will keep updating this document as necessary.  Subsequent drafts will always highlight any changes that have been made.
We offer this plan trusting in God's gracious care for us in our Lord Jesus.  At the same time, we also recognize that such trust does not diminish the responsibility God himself entrusts to us to be wise stewards of our health for the sake of our whole campus family as well as for the entire community of New Ulm.
As always, we at MLC welcome your ideas and perspectives to help us in our planning. You may submit them through this online form.
In Him,
Rich Gurgel
President, Martin Luther College 
---
Martin Luther College COVID-19 Summer Update (07/10/2020)
MLC President Rich Gurgel and his wife, Sue, have moved to New Ulm! We are thankful for their safe arrival and for the leadership President Gurgel is providing for our campus. As the planning progresses for our fall semester, he wanted our students to know the guiding principles MLC will follow for a successful school year. Take a few minutes to hear his perspectives.
As always, we welcome your thoughts. If you have comments you feel would be helpful for our planning, you may enter them through our 
website
 form.
---
Martin Luther College COVID-19 Summer Update (06/19/2020)
MLC's future president, Rich Gurgel, provides this update to all MLC students, and we thought everyone would like to hear about our preparations for the 2020-21 school year! One of our strongest strategies right now is listening – to changing regulations, to insights from experts, and to you! While we are still working through many changing government health directives to develop a responsible plan for the fall, we also welcome your thoughts. If you have comments you feel would be helpful, you may enter them through our website form.
---
Martin Luther College COVID-19 Summer Update (06/5/2020)
MLC's future president, Rev. Richard Gurgel, introduces himself and introduces this series of updates from MLC that will detail our work to prepare for the 2020-21 school year. While we are still working through many changing government health directives to develop a responsible plan for the fall, if you have questions you feel we can answer now, email them to mlcinfo@mlc-wels.edu.
[DISCLAIMER]
The novel coronavirus (SARS-CoV-2), the virus that causes COVID-19, has been identified as a worldwide pandemic by the World Health Organization. At present, there is no vaccine to prevent a person from contracting COVID-19 and no standardized, effective treatment for those who are infected. While it is true that the majority of people who are infected with coronavirus are asymptomatic or suffer only mild symptoms, some infected persons have extremely negative health outcomes, including long-term respiratory damage and/or death.  The coronavirus is highly contagious and is believed to spread mainly from person-to-person via respiratory droplets.
As a result, federal, state, and local governments and federal and state health agencies recommend social distancing and have, in many locations, prohibited or dramatically limited the congregation of groups of people.  The public health response continues to evolve as we learn more about the virus and the disease it causes.
Martin Luther College (MLC) takes the safety and well-being of its students, faculty, staff, children of families served, visitors, contractors who serve MLC, and our community seriously.  We are called to love our neighbors.  Accordingly, MLC has put in place a number of preventative measures to attempt to reduce the spread of COVID-19; however, MLC cannot guarantee that you or others in your family will not come into contact with the coronavirus or with someone infected with the virus while you are on campus or attending/participating in an MLC sponsored event.  Likewise, we cannot guarantee that you will not become infected with COVID-19.