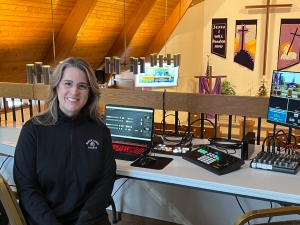 Curiosity, a love for learning, and a proven talent for teaching—what more could we want in a graduate professor at Martin Luther College?
Dr. Lyn DeLorme, a technology professor in MLC's Graduate Studies Program, lays claim to all of these—and harnesses them in the course she teaches for us, Leading Technology Professional Development. Yes, it's a course where she teaches teachers how to teach teachers.
About the Professor: Dr. Lyn DeLorme
"I was endlessly curious as a child and always enjoyed learning new things," says DeLorme. "I never spared my parents or caregivers from answering my complicated questions. One of my favorite bedtime stories was, 'Daddy, tell me how the blood goes.' In the face of this daunting request, he would always oblige with a detailed description of the human circulatory system, complete with medical terminology."
DeLorme's love for learning led to a BS in elementary education and a BA in apparel design (with a minor in French), an MS in instructional design and technology, and a PhD in adult education and occupational training. (She earned the BA and PhD at North Dakota State University, and the BS and MS at the University of North Dakota.)
A 2010 Bush Leadership Fellowship fueled her pursuit of her PhD. "Without that award," she says, "my research plans would not have been possible, which would have significantly changed the trajectory of my doctoral studies. The application and award process was highly competitive. The circumstances leading up to the opportunity to apply and receive the award were certainly a demonstration of divine intervention."
DeLorme's early work experience included helping produce a TV news show and serving as a teacher's aide and after-school program teacher at River Heights LC-East Grand Forks, Minnesota (ELS).
For the last 20 years—10 of them at the University of Minnesota—she's been an instructional designer. Her studies in education are easily transferable to that career, but DeLorme notes that every stop along the journey—including the apparel design degree and the work at a TV station—led her here. "The media production and visual art skills I learned enhanced my ability to produce training materials—skills I use to this day."
She has designed and delivered dozens of formal training events and provided one-on-one academic technology support for hundreds of teachers and faculty in nearly every discipline.
"I work directly with instructors," she explains. "I've assisted in developing curriculum and training software for the aviation industry, designed disaster preparedness training for medical professionals, created small business websites, and collaborated with college faculty to develop courses ranging from anatomy to zoology, including teacher education."
Working with technology has proven especially exciting for her, because it changes so rapidly. She says she enjoys the challenge of keeping up with the latest innovations—some of which—like Zoom—became staples during the pandemic.
She maintains that beneath the waves of change in technology, fundamental design principles remain constant. "The mechanisms or modes for learning may change, but our understanding of what makes a high-quality learning environment and the cognitive support that students need to support learning—these are unchanged. I learned these principles at the beginning of my career 20 years ago, and they still apply today."
About the Course: Leading Technology Professional Development
Dr. DeLorme brings these design principles to her MLC course, Leading Technology Professional Development. In this course she provides participants a foundation in adult learning theory and then leads them through best practices for designing and delivering professional development.
The goal is that the K-12 teachers in her course will be able to teach other K-12 teachers how to integrate technology into their classrooms.
Course participants will . . .
compare what they already know about teaching children with what we know about teaching adults. They'll define their own philosophy of adult education and adapt their own teaching practices to an adult audience.
apply practical strategies for designing and leading teacher training, choosing coursework and project topics that directly relate to their own classrooms or other professional environments.
engage with academic research that will increase their professional expertise.
create a training plan that they can implement immediately in their own schools.
"This course," she says, "is an ideal fit for our WELS teachers, IT staff, or school administrators who are seeking to grow in their ability to plan and lead teacher training events and programs that have a lasting impact."
Dr. DeLorme says she doesn't believe in a sink-or-swim approach to learning. That's why the course includes opportunities to reflect, revise, and receive feedback. "Classmates participate in collaborative discussions and assignments to share their experiences and connect with peers in similar work circumstances. There are also individualized consultation sessions with me to assist each student in developing a teacher training plan they could actually use in their own school."
She finds it personally rewarding to pass along her expertise and enjoys the "aha!" moments when participants discover the perfect strategy or solution for their particular situation.
"Most of all," she says, "I treasure the ability to do this in the context of celebrating our shared faith in Christ Jesus. Each of us has a God-given vocation, which prospers God's kingdom. 'For we are God's handiwork, created in Christ Jesus to do good works, which God prepared in advance for us to do' (Ephesians 2:10). Education is an important way to prepare for one's vocation, and I'm pleased to be part of that system. The freedom to express my faith as part of my professional work is a blessing."
Dr. DeLorme says, "Originally from North Dakota, I now call Shakopee, Minnesota, home, which I share with my husband and several houseplants that manage to stay alive despite my lack of gardening expertise. We are members of Faith-Prior Lake, where I help lead the Media Committee that provides the livestream of our worship services (pictured), including training in committee members and related IT support. In my spare time, I enjoy traveling, watching movies, cooking, and listening to Korean pop music."
By Laurie Gauger-Hested