Special Education Emphasis Improves Teaching Techniques
Even as an upper-level math instructor, Nicole Lehman '10 sees the need to increase and improve her teaching techniques for students with learning difficulties. That's what led her to the special education emphasis in MLC's Master of Science in Education program.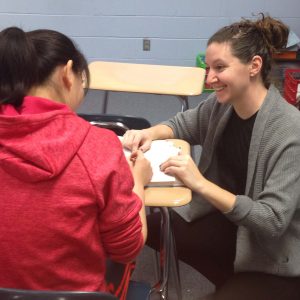 Nicole teaches Algebra 2, Pre-Calculus, and AP Calculus at Minnesota Valley Lutheran High School. She also coaches cross country and JV girls' basketball. "I love the students I get to work with every day," she says. "They have great attitudes and make coming to school worth it. I love seeing the lightbulb moments in the classroom, and I love seeing the hard work pay off in the classroom and on the course or court.
"But I've noticed an increasing number of students who come into high school with learning difficulties and disabilities. I want to be able to help them, but I don't feel like I have the toolbox of resources I need."
For the past couple years, she's been picking up professional development webinars and workshops, but then she decided to pursue a full program. "My dad went through MLC's master's program, as did a close friend," she says. "Both spoke highly of it. MLC was a great place for my undergraduate degree, so I figured I can't go wrong with MLC for my graduate program!"
She chose the special education emphasis, and although she's only a year in, two courses are already improving her classroom practice: Diagnosis and Assessment of Students with Special Needs and Teaching Children with Learning Disabilities.
"I teach upper-level math," she says, "so my students don't have any severe learning disabilities, but the courses I've taken have helped me recognize the difference between learning difficulties in math and indifference or laziness in math. And I have worked with a student who has severe learning disabilities in all subjects. It was humbling to see her desire to learn, even though it was a daily challenge for her to recall even the simplest of facts.
"The MLC courses are making me more prepared to help all my students, especially those who are struggling."
Nicole is highly attuned to difference and diversity—not only in the ways students learn but also in the ways they see the world.
Teaching overseas refined this instinct. After graduating from MLC in 2010, she spent three years teaching English in Southeast Asia, to fifth and sixth graders for one year and then to university students for two more years. At university, she taught public speaking, business English, and oral communication skills, specifically to students who were planning to study abroad.
"It was an amazing experience," she says. "I was able to develop some wonderful friendships and share God's Word with many people hungry for the Good News."
She says it was also humbling to see how much there was to learn about the world. "I learned a lot about their culture and thoroughly enjoyed traveling around the country and trying new foods. On school breaks, I traveled to several other Asian countries as well, including India, Nepal, Malaysia, Thailand, Singapore, and the Philippines. The whole experience really prepared me to be able to adapt to any situation and made me eager and ready to continue gospel ministry back in the States."
As someone who has lived abroad, Nicole does not take for granted the Christian worldview that permeates the courses at MLC. "I really enjoy how everything is taught from a Christian perspective. The courses don't ignore other worldviews but instead talk about how we can use our Christian perspective to teach our students how to stand up to opposing worldviews.
"For example, in Family Issues in Education," she continues, "the entire class focused on the reality that our culture is heavily influenced by conflicting worldviews. I feel more aware of the possible issues that some of my students may be dealing with, both academically at school but also socially, emotionally, and spiritually at home and in the community. The group discussions—with classmates in varying areas of the country and with varying years of experience—were always full of insightful ideas to help me in my current call and I'm sure in any future calls I have."       
With all that she's lived and learned at MLC, MVL, and across the globe, Nicole is prepared for any classroom challenge.
In Brief:
Her family: My parents, Ken and Laureen, both teach at First Lutheran in La Crosse. My older brother, Steve, and his wife, Katie, live near Fond du Lac, where my brother teaches and my sister-in-law stays home with their 2-year-old twin daughters and 8-month-old son. My younger brother, Andrew, and his wife, Bethany, and their 8-month-old son live in Wauwatosa, where he's a marketing manager and she's a patient care coordinator and marketing director.
Her hobbies: Reading (especially the O'Malley series by Dee Henderson), traveling, playing board games, and playing sports.       
Her gratitude: My school and association has been very supportive—both financially, by paying tuition for courses, and emotionally, through words of encouragement and prayers for my success. Coworkers, board members, and even parents come up and ask how my courses are going and offer words of encouragement. I very much appreciate all of that! 
Her advice to others contemplating the MLC master's program: Go for it! It does require time and energy, but the professors are good about respecting the fact that everyone has work and family. And the end result of bettering yourself so that you can better the work you do for your students, families, and schools is worth it.
Written by Laurie Gauger