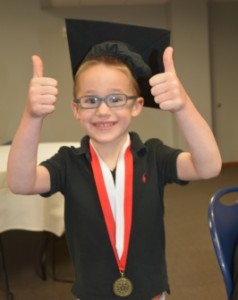 This year 23 students will graduate with an MLC master's degree – 15 from our Master of Science in Education program and eight from our Master of Science in Educational Administration program, including our first three graduates from the early childhood emphasis.
The graduates of our master's programs are an example of faithful service for those receiving their bachelor's degrees and an inspiration for all current master's degree students.
We thank God for their dedication and pray the Lord uses their professional development and commitment for the building up of his kingdom.
This year's graduates are . . .
Master of Science in Education
Educational Technology – Instruction – Leadership – Special Education
Xingwei Ao
Chongqing, China
Instruction Emphasis
Current Service:
Rising Eagles Lutheran School
Beijing, China
Teacher
2015-
Craig R. Breitkreutz
Twin Lakes, WI
Leadership Emphasis
Current Service:
Faith Lutheran School
Antioch, IL
Principal/ Teacher
2018-
Timothy P. Fischer
Appleton, WI
Educational Technology Emphasis
Current Service:
Fox Valley Lutheran High School
Appleton, WI
Teacher
2017-
Nathan R. Gartner
Appleton, WI
Instruction Emphasis
Current Service:
Mount Olive Lutheran School
Appleton, WI
Vice Principal/ Teacher/ Athletic Director
2014-
Kurt D. Gosdeck
Green Bay, WI
Educational Technology Emphasis
Current Service:
St Mark Lutheran School
Green Bay, WI
Teacher/ Technology Director
2015-
James S. Groth
Burlington, WI
Educational Technology Emphasis
Current Service:
Shoreland Lutheran High School
Somers, WI
Teacher/ Band
1999-
Peter A. Gumm
Racine, WI
Instruction Emphasis
Current Service:
Shoreland Lutheran High School
Somers, WI
Teacher
2014-
Justin G. Gut
Milwaukee, WI
Educational Technology Emphasis
Current Service:
Trinity Lutheran School
Waukesha, WI
Principal/ Teacher/ Technology Director
2015-
Philip A. Haefner
Bay City, MI
Leadership Emphasis
Current Service:
Trinity Lutheran School
Bay City, MI
Principal/ Teacher
2012-
Joel T. Plocher
Des Moines, WA
Educational Technology Emphasis
Current Service
Holy Trinity Lutheran School
Des Moines, WA
Teacher/ Technology Director
2017-
Jonathan M. Plocher
Garden Grove, CA
Leadership Emphasis
Current Service:
King of Kings Lutheran School
Garden Grove, CA
Principal/ Teacher
2014-
Veronica B. Pratt
Merrill, MI
Educational Technology Emphasis
Current Service:
Alma High School
Alma, WI
Teacher
2018-
Molly A. Ring
Lake City, MN
Educational Technology Emphasis
Current Service:
St John Lutheran School
Lake City, MN
Teacher/ Technology Director
1985-
Jason R. Rupnow
Mankato, MN
Leadership Emphasis
Current Service:
Risen Savior Lutheran School
Mankato, MN
Principal/ Teacher
2010-
Kristian K. Walta
Fond du Lac, WI
Leadership Emphasis
Current Service:
Faith Lutheran School
Fond du Lac, WI
Teacher/ Athletic Director/ Coach
2015-
Master of Science in Educational Administration
Early Childhood Director – Principal
Brett J. Bengel
Citrus Heights, CA
Principal Emphasis
Current Service:
St Mark Lutheran School
Citrus Heights, CA
Vice Principal/ Teacher
2016-
Michelle K. Dobberstein
Manawa, WI
Early Childhood Director Emphasis
Current Service:
Emanuel Lutheran School
New London, WI
Early Childhood Director/ Teacher
2013-
Philip M. Gustafson
Eau Claire, WI
Principal Emphasis
Current Service:
St Mark Lutheran School
Eau Claire, WI
Vice Principal/ Teacher
2009-
Kathryn S. Gut
Westminster, CO
Early Childhood Director Emphasis
Current Service:
Shepherd of the Valley Lutheran School
Westminster, CO
Early Childhood Director/ Teacher
2015-
Lynn M. Jungen
Manitowoc, WI
Early Childhood Director Emphasis
Current Service:
St Peter's Lutheran Tiny Treasures Preschool
Mishicot, WI
Early Childhood Director/ Teacher
2011-
Nathan L. Schultz
Hartford, WI
Principal Emphasis
Current Service:
Peace Lutheran School
Hartford, WI
Vice Principal/ Teacher
2015-
Kyle A. Seim
Wayne, MI
Principal Emphasis
Current Service:
St Paul Lutheran School
Lake Mills, WI
Teacher/ Athletic Director
2011-
Steven K. White
South Haven, MI
Principal Emphasis
Current Service:
St Paul Lutheran School
South Haven, MI
Principal/ Teacher
2017-